Cobblestone Farm Winery and Vineyard
by
K.L. Sullivan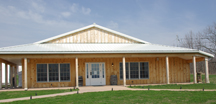 Cobblestone Farm Winery and Vineyard was busy bottling wine on the day of our visit. We appreciate the time both owners took talking to us while the important work of bottling wine was taking place. We spoke first with co-owner, Bob Rozzano, and he talked about the history of Cobblestone Farm. The cobblestone house was built in 1833 and the tasting room and winery is a renovated orchard and vineyard barn to which additions have been made. Bob and Cal Bltman, co-owner and winemaker, bought the property in 2004. The property was an established vineyard and orchard at the time they purchased it. Bob and Cal opened the tasting room January 14, 2006. Now they are in their third year of bottling wine. Starting with 1,800 cases, they are now producing 3,000 cases. The old vineyards are 30 years old and the new owners have added six acres of new vines including Riesling, Cabernet Franc and Lemberger. Today Cobblestone Farm is composed of 148 acres with approximately 29 acres planted with grapevines.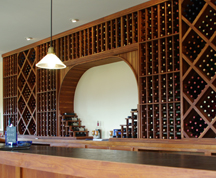 Cobblestone Farm Winery's tasting room is lovely with dark wood wine racks. The racks are beautiful and functional as they create needed storage for the bottled wines. On the wall, behind the tasting bar are numerous bottles of wine stored in wine racks. In the center is a large white piece of wallboard and one of the ideas is to have a mural of the property painted on the wallboard.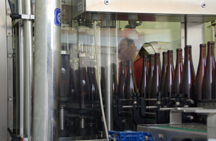 We met Cal and he took us outside where the bottling truck staff was busy bottling a dry Riesling. We tasted the Riesling from the tank. It was good and will get better as it settles in the bottle for a while. This was the first dry Riesling they have made at the winery. Using the bottling truck, Cobblestone Farm bottles wine two times a year.
Our discussion with Cal included many topics. We discussed how many kinds of wines exist and while many think in terms of red and white wines, we feel there are three kinds of wines, those you like, those you do not like and those you have not tried. Cal mentioned an English saying, "there are three kinds of wines, those you buy and drink, those a friend gives you and you drink, and those a friend gives you that you would never drink."
We discussed the different flavors that Riesling may have depending on the terroir where it is grown. Riesling wines made in the Alsace area of Europe tend to have a petrol taste whereas Riesling wine made in the Finger Lakes region of New York State have a light, fruity taste. Although Cal likes the Riesling with the petrol taste, as a winemaker he produces Riesling with fruit flavors.
Cobblestone Farm won their first gold medal with their Cabernet Franc. In the past the New York Wine and Culinary Center featured Cobblestone Farm wines. Wines we tasted included a 2005 Chardonnay, a dry wine with a little butter and a long aftertaste and a 2005 Riesling with a residual sugar of 2.6, in which the acid balances the sugar. The 2005 Country House is 67% Vignoles and 33% Seyval with a long pineapple and mango aftertaste. The 2005 Cabernet France has a nice fruit flavor. The 2005 Cobblestone Blush made with the Catawba grape, a Native American grape, has a nice bouquet similar to Niagara. The 2005 Cherry is one of their best sellers. Visitors buy it to drink or to use in recipes. Made with 100% cherries, it has many uses in cooking. Suggested uses include substituting Cherry wine for water in chocolate recipes. By putting cherry wine in a crock pot and heating uncovered, cherry aroma will scent the whole room. The tasting room sells 99% of the winery's wines.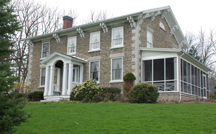 Plans for Cobblestone Farm include increasing production each year and building a new winery to increase capacity and storage. Cobblestone House built in 1833 is located several hundred feet from the winery. Current plans are for the house to become a Bed & Breakfast. With cottages on the lake, Cobblestone Farm will have ten bedrooms to rent.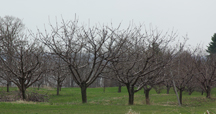 One of the big events at Cobblestone Farm is the Cherry Festival in July. The winery and vineyard is located on property with a 5-acre cherry orchard including the popular Montmorency cherries. Each year more and more families attend the Cherry Festival. Outdoor games are available for children. Hayrides are part of the fun. The first year of the festival, 800 people attended and last year 2400 visitors attended the Cherry Festival.
We hope you enjoy your visit to Cobblestone Farm Winery & Vineyard as much as we enjoyed our visit.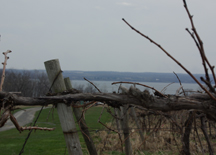 Cobblestone Farm Winery & Vineyard
Romulus, New York
GPS N 42° 46.879feet W 076° 46.230 feet
---