Dr. Frank's Vinifera Wine Cellars
by
K. L.Sullivan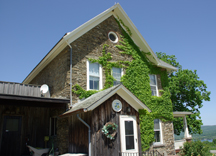 Just before reaching Dr. Konstantin Frank Vinifera Wine Cellars, we passed a stunning, large stone house. Two stories tall and reaching back out to the fields of green, we later learned that the Chateau Frank champagne style wine is produced in the back of this house built in the 1860's.
Further down the road is the winery and tasting room. Off the side of the tasting room is a large deck. Upon entering the wine tasting facility, we soon met Fred Frank, the grandson of Dr. Frank. Dr. Frank's name is well known throughout the Finger Lakes region, as he is considered responsible for successfully introducing vinifera grapes into the region.
Dr. Frank arrived in America in 1951. With a degree from the University of Odessa and his thesis on growing vinifera grapes in cold climate he was fully knowledgeable about wine growing techniques. Dr. Frank was fluent in five languages. Unfortunately, English was not one of his fluent languages. Arriving in New York City, he found a job as a dishwasher.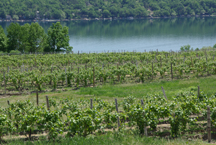 Within a year, he began work at Cornell University's Geneva Experimental lab in New York State. Again, because of language difficulties, he had only a menial job. Dr. Frank believed that the Finger Lakes provided a suitable environment for growing vinifera grapes. Luckily, for Dr. Frank and the Finger Lakes region, a conference was held at Geneva and Dr. Frank had the chance to meet Charles Fournier, a French champagne maker. They began speaking to each other in French and Dr. Frank was provided with the opportunity to prove that vinifera grapes would grow in the Finger Lakes region. Dr. Frank developed a root stock resistant to the cold. In the late 1950's, Dr. Frank planted vineyards. In 1962, Dr. Frank produced his first commercial vintage
Dr. Frank's son, William Frank, was the marketing genius and worked for Vinifera Wine Cellars on the business side. He was responsible for marketing and sales.
Today Fred Taylor seems to be a combination of Dr. Frank and his father. Currently Fred is the owner and primarily works on the business angle of the winery. However, he studied winemaking in Germany and is fluent in German. His son is interested in continuing the winery as the fourth generation family run winery.
We discovered that the winery has a distributor in thirty states. According to Fred Frank, "we are a leader and a pioneer" in going beyond state borders. Vinifera Wine Cellars has a number of attributes including currently being a multi-generation family run winery, having a world class winemaking team, benefiting with the existence of old vines, having a good vineyard management team and having their own grapevine nursery. Together these features contribute to the winery's success.
The tasting room uses Riedel glassware. They purchase a special commercial Riedel glass. Does using a Riedel wineglass make a difference in the taste of wine? Fred indicated that he believes using Riedel wineglasses does make a difference.
The winery owns one hundred plus acres of grapes and buys grapes from the Finger Lakes region and sometimes from Long Island. The winery produces an average of 30,000 to 40,000 cases of wine.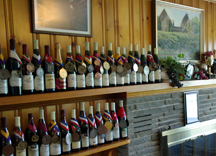 We tried several wines including Rkatsiteli, Pinot Gris, Riesling with clone 90, Riesling Semi-dry, Pinot Noir, Meritage, Cabernet Franc and Cabernet Sauvignon. The Rkatsiteli has a floral nose with a fruit taste. It is dry but with the hint of sweetness from the fruit flavor and has a balance of acid, fruit and alcohol. Grapes from forty-five year old vines make the Pinot Gris. Those vines are older than the Pinot Gris vines planted on the west coast of the United States. The Pinot Gris was full flavored and crisp. The Riesling with clone 90 has a floral nose, some mineral component and a long aftertaste. Pinot Noir produced from the oldest Pinot grapes on the east coast has 12% alcohol, high acid, with a fruit flavor.
After talking with Fred, and tasting a few wines, we drove to the stone house next door. Behind the house is a stone extension that houses the champagne area. This facility started by Willy Frank is the "sister winery" to Vinifera Wine Cellars. Eric Bauman, Sparkling Winemaker, took us on a tour of the facility. The thick stonewalls facilitate keeping the wine at a cold, stable temperature.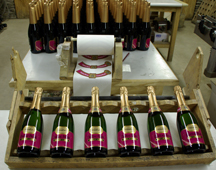 Eric uses both a traditional riddling rack and a modern gyropalette to riddle the bottles. Although he has a labeling machine that puts on the labels, he has to apply a neck label by hand. Eric enjoys the attention he gives to each bottle of sparkling wine he makes. He personally touches each bottle several times through the traditional process of making a sparkling wine. Although Eric produced more sparkling wine while working at a winery in California, he likes working at Vinifera Wine Cellars and his ability to produce five different sparkling wines.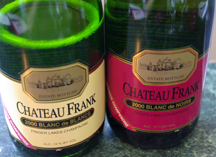 The wines at Dr. Konstantin Frank Vinifera Wine Cellars have won more awards than any other area winery. You are certain to find a wine that you will enjoy. There are three lines of wine. The Dr. Konstantin Frank Wines are premium wines made with grapes from the estate. The Salmon Run labeled wines are a value line with three wines priced below $8.00. The Salmon Run Meritage is an excellent choice and priced at $12.99 makes it a great buy. There are five different sparkling wines from the Chateau Frank Champagne line. The Blanc de Noirs was a personal favorite.
Dr. Frank's Vinifera Wine Cellars
Hammondsport, New York
---