Kings Garden Vineyards
by
Meghan Anne Neumeier

Photos by
Andy Neumeier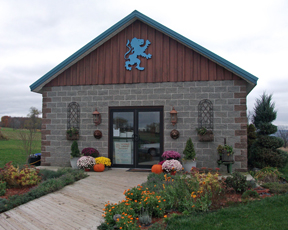 Summary: Kings Garden Vineyards is an estate winery in Lodi, New York. Owners Mike and Corinne Oleksyn hand-grafted plants for their vineyard in 1998 and opened a tasting room 10 years later. Kings Garden concentrates on making quality Cabernet Sauvignon and other dry reds. Mike and Corinne hope their wine will bring about more respect for red wines in the Finger Lakes. Visitors who do not like dry red wines can still find something to enjoy, as Kings Garden produces semi-sweet and sweet wines, as well.
The name "Kings Garden" comes from the annals of history - French and English colonists who settled in the area brought grapevines with them and christened the nutrient-rich land "Kings Garden." In 1998, Mike and Corinne Oleksyn selected nutrient-rich land in the banana belt region of the eastern shore of Seneca Lake for their vineyard. They began making wine in 2005, went into full production in 2007, and opened a tasting room in 2008. Mike has a background in engineering and international business. During his business travels, he became well acquainted with wineries in California and Europe. This acquaintance led him to invest in the winery business with the goal of making California-style wines. Mike's passion is Cabernet Sauvignon. "Trying to make Cabernet Sauvignon in the Finger Lakes," he acknowledges, "is a very hard goal." Yet, Mike and Corinne hope to gain more respect for red wines in the Finger Lakes by producing high quality red wines.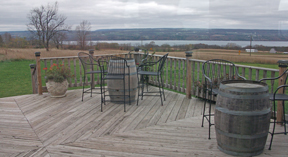 Kings Garden owns 28 acres of vineyards,16 of which are currently planted. The vineyards contain Cabernet Sauvignon, Cabernet Franc, Merlot, Pinot Noir,Syrah, and Chardonnay. In addition to growing their own grapes, Mike and Corinne supply grapes for other wineries. At Kings Garden, quality trumps quantity. Mike and Corinne handpick and hand process their grapes to ensure that they are of the best quality. "I don't pick it if I can't eat it," Mike explains. Kings Garden is an estate winery, and all of their grapes are vinifera.
Kings Garden produces 2500-3000 cases of wine a year. Their Cabernet Sauvignon, called "King's Cab," is their number one selling wine. It won a gold medal and the "Best in Class" award at the New York Food and Wine Festival in 2012. This wine is dark purple and contains notes of berries, chocolate, and spices. It has bold tannins on the finish and would pair well with steak. The 2008 King's Cab Reserve is dark ruby in color and oaky in scent. It has hints of berries, contains strong tannins, and is very dry. Other popular wines include the Knight's Blend I and the Cabernet Franc. The Knight's Blend I combines Cabernet Sauvignon, Cabernet Franc, and Merlot. It is dark purple, has spice on the nose, and is smooth and fruity. It contains some tannins on the finish and some residual sugar. The Knight's Blend II is a mixture of Cabernet Sauvignon, Cabernet Franc, Merlot, and Syrah. This wine is dark red and has an earthy and spice-laden scent and flavor. The Cabernet Franc is dark ruby, oaky, medium-bodied, fruity, and spicy. This wine will leave fans of red wines licking their lips for more. Kings Garden also makes several white wines, including oaked and unoaked Chardonnay. Their oaked 2008 Chardonnay won a silver medal at the 2011 Grand Harvest Awards competition. This wine is light gold in color. Grapes and vanilla are noticeable on the nose, and fruity flavors dance along the taste buds. A nutty finish adds to the wine. Kings Garden's 2011 unoaked Chardonnay won a silver medal at a California wine competition. This Chardonnay is light yellow in color and has a light, bread scent and taste with a crisp taste. It is a young wine that will age well. Visitors who prefer sweeter wines will feel at home sipping Kings Garden's semi-sweet Sinister Sister white blend or semi-sweet Wicked Wench blush. Kings Garden also offers sweet blends, creatively named Jester's Juice and Royal Pain.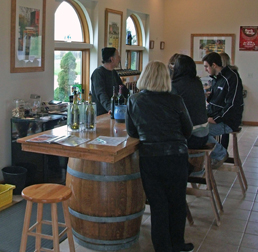 The tasting room at Kings Garden features high ceilings, photos of the winemaking process, and large windows with views of Seneca Lake. A small gift area gives visitors the opportunity to buy t-shirts, sweatshirts, candles, jewelry, wine glasses, cutting boards, and sauces. In the summer, visitors can bring their own food and enjoy tastings on the deck, which offers panoramic views of the lake.
Kings Garden participates in Seneca Lake Wine Trail events such as Deck the Halls. The winery also hosts private events and has partnered with nearby Suzanne's Restaurant to offer a winemakers' dinner. Mike and Corinne hope to eventually offer intimate case club parties with barrel tastings.
Kings Garden Vineyards
9085 State Route 414
Lodi, New York
---