Torrey Ridge Winery
by
K. L. Sullivan
Bring a picnic lunch and enjoy it with your favorite Torrey Ridge wine. Just steps away from Earle Estates Meadery, this is a convenient stop.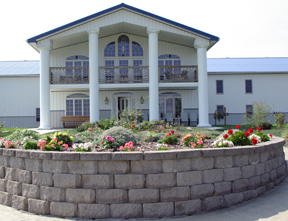 Torrey Ridge Winery and Earle Estates Meadery share the same large facility on the west side of Seneca Lake. The entrances to both tasting rooms are impressive. You will notice the four large columns and glass windows and doorways as you approach the tasting rooms from either direction. The Torrey Ridge Tasting room faces west towards Seneca Lake while the Earle Estates Meadery tasting room faces south. Connecting the tasting rooms is the wine making facility. The first Torrey Ridge vintage, produced in 1998, occurred six years before Earle Estates first vintage. About 65% of the grapes used are from the Seneca Lake area and the other grapes are from the Finger Lakes region. Today, Torrey Ridge produces 13,000 cases while the adjacent Earle Estates Meadery produces about 4,000 cases.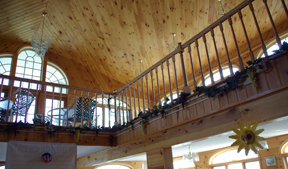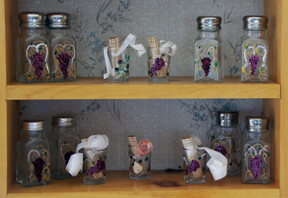 The tasting room is lovely. Upon entering the tasting room a display of Torrey Ridge wines are viewed. Beyond is an elegant wood staircase leading up to the second level. The second floor can be used as an additional tasting room area. Chairs and tables are available for a more relaxing time. A door leads out to the balcony. If you have the opportunity, take advantage of the beautiful view of Mennonite farms and enjoy a picnic lunch with your favorite wine.
Displays of wine are enhanced by displays of giftware. Enjoy Torrey Ridge wine while browsing handcrafted items. Many of the crafted items are hand painted with grape designs. One can choose wine glasses, candles, or salt and pepper shakers. Many other unique gift items are available.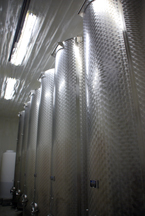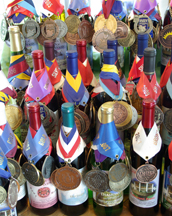 As we walked through the large winery building, various sizes of tanks are seen. Torrey Ridge uses stainless steel and plastic tanks. Many fruit wines do not need to be aged extensively unlike grape wines - many of which tend to improve with several months of aging.
Using a bottling machine helps to speed the bottling process. On the day of our visit, two people were busy using the machine to label bottles of wine.
We tasted wines including Gewurztraminer, which has a spicy citrus flavor and is medium bodied. Riesling is dry with a slight floral and mineral nose. It has a fruit taste and aftertaste. Lemberger is sweet on the mouth feel and dry on the aftertaste. Midnight Blue is 100% Marechal Foch and has a slight, red fruit on nose. It tastes sweet with red fruit flavor with a long fruit aftertaste. Scarlet Red is a great selling wine.
The owners of Torrey Ridge Winery would like the public to know that visitors to the winery will have a wonderful experience. This is a "must stop." Come and enjoy the award winning wines.
Torrey Ridge Winery
Penn Yann, New York
---