Red Newt Cellars
by
Meghan Anne Neumeier

Photos by
Andy Neumeier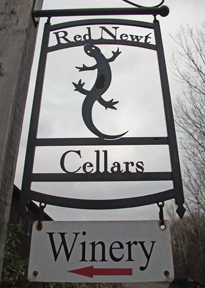 Summary: Red Newt Cellars, located in Hector, New York, was founded as a winery and restaurant in 1999 by Dave and Debra Whiting. Red Newt goes out of its way to locally source grapes for the wine and food for the restaurant. All of the grapes used in Red Newt wines are sourced from the Finger Lakes, and 95% of the restaurant menu is local. Visitors, especially connoisseurs of fine food, should be sure to visit the restaurant.
Dave Whiting has a long history of working in the Finger Lakes wine industry. He contributed his winemaking skills to McGregor Vineyard and Winery, Chateau Lafayette Reneau, Swedish Hill Winery, and Standing Stone Vineyards. Dave's appreciation for wine led him to establish Red Newt Cellars, a winery and restaurant, with his wife Debra in 1999. At Red Newt, local is everything. Not only does Dave source his grapes from several vineyards within a five mile radius of the winery and offer a menu which is 95 percent local, but he also named the winery and restaurant after the eastern red-spotted newt, a local amphibian.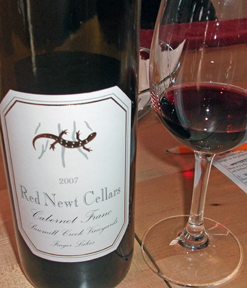 Red Newt's case production is just under 20,000 a year. Popular wines include the Circle Riesling and the Blue Newt White. The Circle Riesling is translucent in color and has a floral nose and fruit-forward flavor. It is relatively sweet and is similar to what most visitors to the Finger Lakes would expect in a Riesling. The Circle Riesling also pairs nicely with food. Other Rieslings include the Dry Riesling and the Dry Riesling Reserve. Both of these wines are clear in color, dry and smooth, and contain citrus notes in the aroma and palate. Red Newt offers a number of other white wines, including a Pinot Gris and three different Gewürztraminers. The Pinot Gris is a single vineyard wine. It is translucent in color; contains an earthy nose; and is smooth, dry, and fruity. The 2008 Gewürztraminer is light yellow in color, sweet and earthy in aroma. It contains notes of peach that are especially apparent on the finish. Red Newt red wines include Cabernet Franc and Merlot. The 2010 Cabernet Franc is a nice, everyday wine that pairs well with Italian food. It is ruby red, contains hints of oak on the nose, and pleases the taste buds with notes of berries and tannins. The 2007 Merlot is dark red/purple, oaky in scent, and full and complex in flavor. It has a slight kick and, like the Cabernet Franc, contains tannins on the finish.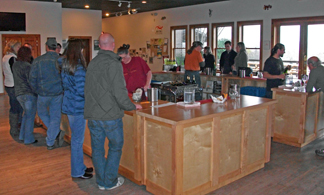 The tasting room at Red Newt maximizes space with tasting bars lining the periphery of the room and another tasting bar forming a square in the center of the room. Tall windows let in ample light, and artwork adds a sophisticated feel to the room. A bulletin board advertises local events. T-shirts, photos, and hats - most adorned with a red newt - are for sale in a small gift area. The red newt also makes an appearance on tasting wine glasses, wine bottles, and decorations. Although Red Newt does not offer a view of the lake, it does have a deck with picnic tables for visitors who enjoy outdoor weather and picturesque scenic views.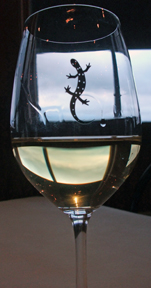 The restaurant at Red Newt is as pleasing to the eye as it is to the taste buds. Earthy tones, windows showcasing scenic views, artwork, and live music create an atmosphere of fine dining. Since so much of the menu contains dishes prepared with local food, many of the dishes are seasonal. The fall menu contains duck pate, pumpkin gnocchi, leek and sweet potato ravioli, pumpkin creme brûlée, and pumpkin cheesecake. Other notable dishes are the charcuterie plate, the winter salad, the hector mac, and the pork rib chop. The restaurant's wine list is extensive and contains Red Newt wines as well as wines from other wineries in the Finger Lakes.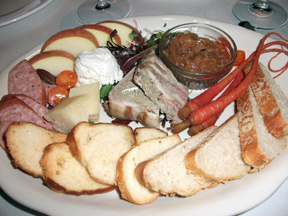 The winery and restaurant at Red Newt often combine forces to host events. Wine and food pairings are popular. The 9 Wines Blind event, for example, features a five course meal with blind wine pairings. Red Newt also offers cooking classes on property through the Experience the Finger Lakes Company.
Red Newt charges $5 for a tasting that includes six wines.
Red Newt Cellars
3675 Tichenor Road
Hector, New York
---