Belhurst Winery
by
K.L. Sullivan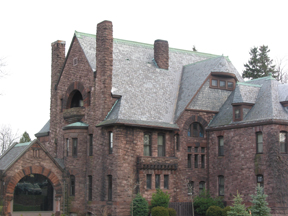 Our next stop was Belhurst. The long approach to the large parking lot is leisurely. Before we reached this winery, we were able to see the large, stone castle from the distance. At the time we visited Belhurst Winery, it was one of the newest wineries on the Seneca Wine Trail. The winery is located in a new section of a large complex that consists of lodging, casual dining and formal dining.
The vineyards for Belhurst are at White Springs Farm where wine vines were first planted in 2003. The first crushing was in 2004.
As we entered the spacious tasting room, the head bar/wine server greeted us. Walking past displays of wine and accessories, we went to a long counter that overlooks Seneca Lake. After we began tasting wine, he came and answered some of our questions. Afterwards we took time to browse the displays of wine accessories and arts and crafts available for purchase.
If you are looking for lodging with wine tasting, this may be the right place for you. Casual and formal dining are available for you.
Belhurst Winery
Geneva, New York
---