J.R. Dill Winery
by
Kathy Sullivan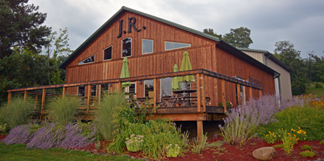 Summary: J.R. Dill Winery is a small, boutique winery named for its owner and winemaker. Visitors to the winery will discover views of Seneca Lake. The wine production area is adjacent to the tasting room/retail area.
J. R. Dill Winery is a small family operated winery and Jeffrey ( J.R.) Dill, owner and winemaker, does everything by hand. Dill continues to focus on improving the quality of his wines.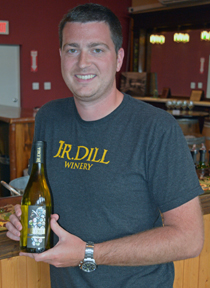 The winery was started in 2009 and the tasting room opened in 2010. J.R. began making wine as a hobby at the age of 18 in his parents' basement. His first wine was made with De Chaunac grapes. J.R. has a passion for producing quality wines. He noted that he has always wanted to make wine. Eventually J.R.went to Philadelphia for a while but decided to return to his local home in the Finger Lakes region. Passion for wine may be in J.R.'s blood. His great, great grandfather and great grandfather H.J. Dill worked in the vineyards in this wine region over a century ago. Although J.R.'s parents are retired, they spend a lot of time helping at the winery and tasting room.
J.R. Dill Tasting Room
The tasting room offers beautiful views of Seneca Lake. Outside, a deck with tables and chairs is located where people can relax and enjoy views of the lake. One wall holds a large mirrored back bar. An assortment of wine-related gift items and local products are available for browsing. Be sure to look at the wood cutting boards with the image of the Finger Lakes embedded. These might be just too beautiful to use and a delightful decorative touch to your home.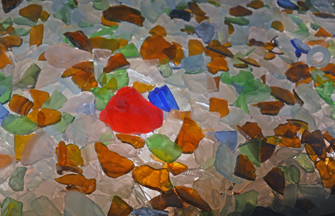 The tasting counter is colorful and unique. Under heavy glass, broken bits of colorful glass bottles portray an attractive tasting counter top. Dill credits his mom who saved bottles that were washed up on Seneca Lake. She saved bottles for several years for the decorative countertop.
Winery
Behind the tasting counter a large rollup door with windows separates the winery production area from the retail area. Visitors can easily see the winery production in progress. Stainless steel tanks, oak barrels and a press are comfortably spaced throughout the production area.
J.R. contracts for grapes with grape growers from within five miles of the winery. Grapes are hand harvested and hand sorted. Today he is producing 4,000 cases of wine, a level of production he likes, but he would like to eventually reach five or six thousand cases.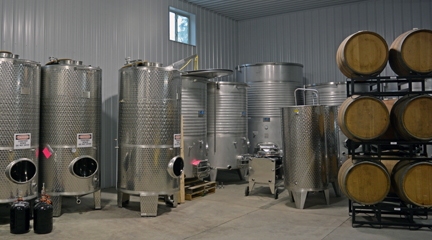 J.R. Dill Wines
Dry Riesling 2014 with 9 grams per liter residual sugar and 11% alcohol was a light yellow color. There was an aroma and taste of floral, peach and citrus notes. The finish was crisp and very fruity. Riesling 2014 was aromatic and offered notes of fruit. The wine had 25 grams per liter of residual sugar. The wine was crisp. This wine is food friendly or can be used as an aperitif.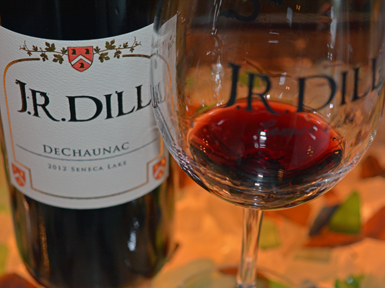 Pinot Ries was produced with Riesling and Pinot Gris. This aromatic wine offered notes of citrus, notably lime, and was dry. The wine also had green apple notes with a lingering finish. Cayuga White was a sparkling version of Cayuga and had bubbles forming a mousse on the surface. It was a light yellow color, crisp with American grape notes.
De Chaunac 2012 was 11.5% alcohol. This translucent dark ruby wine offered dark fruit notes of plum, black raspberry and black cherry. The wine was medium/full bodied and had mild tannins. The finish was crisp and fruity.
At the Wine Bloggers Conference in 2015, Terry tasted and wrote a haiku about the J.R. Dill Cabernet Sauvignon 2013:
Fruity dark, cassis
With kissing tannins, leather
J. R. Dill Cab S
When visiting wineries in the Seneca Lake region, stop at J.R. Dill winery to taste the wines. Plan to spend some time with a glass of wine on the deck.
J.R. Dill Winery
4922 State Route 414
Burdett, NY, 14818
GPS: N42º 28.321' W76º 51.973'
Article written September 2015
---