Barley Yards Brewing Company
by
Terry Sullivan
Summary: Have you ever traveled to a winery with someone who prefers to drink beer? There is usually a wine they like but you know they would rather taste beers. Three Brothers Wineries and Estates is the ideal destination for beer lovers. Not only will they find wines that they'll like, beer lovers will discover a brewery with beer tastings.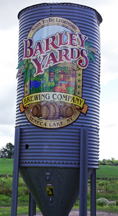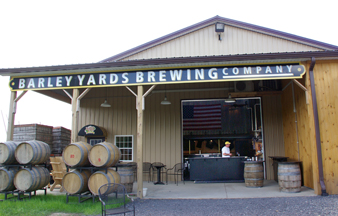 Dave, Mark and Mike Mansfield all work with the brewery. They came up with the idea of adding a brewery on the estate after asking many wine tasters, "Where's your husband?" The response was frequently, "They like beer." So why not build a brewery? In some circles we've heard that the way to make fine wine is to drink a lot of beer. The brothers went ahead and created the Barley Yards Brewing Company. Wine lovers and families shouldn't miss this stop. It has something for everyone.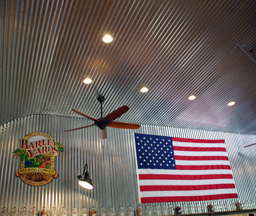 The Barley Yards tasting room is designed to look like a World War II aircraft hangar. A steel curved ceiling and several aircraft models and regalia adorn the walls and displays. The tasting counter has three sides one of which can be opened to the outside during nice weather. Visitors can taste several beers including a very unique beer made from the Riesling grape. After all, this is an estate with vineyards and wineries. Tastings include American Riesling Ale, East Coast Amber Ale, American Black Lager, India Pale Ale, and Raspberry Wheat Ale. If you prefer not to taste the ales or if you have children with you try the Iron Fireman Root Beer. Hand crafted root beer is a treat for everyone in the family. This root beer is the number one selling item from the entire estate portfolio.
If you are use to tasting wines and not beers, the process is the same. Note the color of the beer and smell the beer noting the aromas. Lightly swirl the beer to release more aromas and smell. Taste the beer keeping it in your mouth for a while. Note its tastes and then the aftertastes.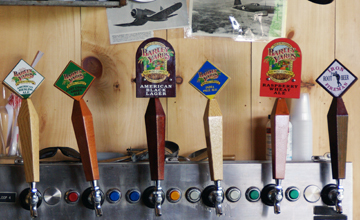 On the day of our visit we sampled two of the ales and the root beer. The American Riesling Ale was a blend of Riesling juice and wheat beer. It had a golden yellow color and a typical beer nose, however there was a hint of floral from the Riesling grape. The beer was light with just a hint of fruit from Riesling. In complete contrast was the American Black Lager. It had a very dark brown color and a definite coffee and chocolate nose. It had a strong coffee taste and aftertaste. The root beer had the distinctive root beer nose and taste. Although carbonated it was smooth.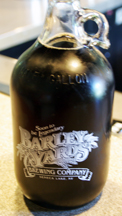 If you wish to purchase the ales or root beer, first purchase a glass half gallon bottle and then purchase your drink. The bottle will be filled from the tap. You can return in the future with your bottle and just purchase a beer or root beer to fill it.
Barley Yards Brewing Company is a delightful tasting room to visit and just a short stroll from two of the tasting rooms located on Three Brothers Wineries and Estates. If you enjoy beer this is a must stop. If you prefer to taste wine, stop and enjoy the root beer.
Barley Yards Brewing Company
623 Lerch Road
Geneva NY 14456
GPS N 42° 82.302' W 076° 92.351'
---