Pleasant Valley Wine Company
by
K. L.Sullivan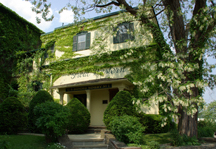 Pleasant Valley Wine Company also known as Great Western Winery, located in Hammondsport, New York has a long history to stand behind its wines. Today it is known as the first bonded winery in United States history. Several of its buildings are on the National Register of Historic Places.
Prohibition had a major affect on the Keuka Lake wineries. In 1919, before the start of Prohibition, there were 29 wineries in the Hammondsport area. Three years later only three wineries were still in operation. They were producing wine juice and sacramental wine.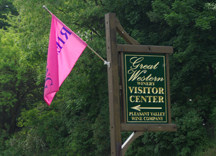 Today Pleasant Valley Wine Company produces 256,000 cases of wine each year. Ten percent of the wine is sold out of their visitors center and 90 percent is sold retail. Ninety percent of the grapes used in their wines are from the Finger Lakes region.
Visitors should look for the sign for The Great Western Winery Visitor Center. This Visitor Center has a museum, large tasting area and retail store. When we arrived we met our guide, Pat Centofinti, an enthusiastic sherry lover, who took us on a short drive to the buildings built in the 1800's.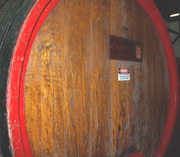 The first section built in 1861, has a different stone construction compared to the additions added on a few years later. Our first stop was in a stonewall room where several large redwood barrels are stored. Currently if wine was added to these barrels, the wine would leak out due to the drying of the wood. According to Pat, these redwood tanks can be renewed and used if they undergo steam treatment for two to three days. The steam moisturizes the wood and expands the wood forcing a tight fit between the staves. Since Federal law protects redwood trees today, it is important to keep these redwood tanks, for possible use in the future.
Continuing on our tour, we saw an unusual shaped door. Pat told us that during Prohibition coopers' skills were not needed to make barrels. Anticipating that Prohibition would eventually end, the winery wanted to keep its experienced coopers. The coopers put their skills to good use by making doors, and elegant dark wood staircases. When those jobs were complete, they began making furniture. We passed through one room where a large table and several chairs were seen which had been made by coopers.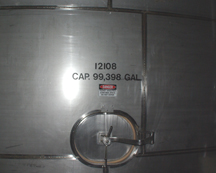 In another room, we saw three huge redwood tanks. Two of the tanks are aging sherry. The third tank is empty but maintained. If one of the tanks begins to leak, the remaining wine is pumped into the third tank. Other large diameter stainless steel tanks are a short distance away. Pat noted how heavy these filled tanks are and that in order to sustain the weight the building is on solid rock.
Proceeding on the tour, we came to a small room with hose connections and hoses. Red hoses transport red wine; white hoses are for white wine. This room is similar to a "command center" as wine can be pumped anywhere in the winery from this center. There is one other "command center" in the winery.
We saw a champagne storage area. Pat explained that the bottles were empty and went on to explain that beginning in 1873, workers had to be paid a bonus to work in these rooms because of the danger of bottles exploding. At that time, glass technology did not make glass bottles resistant to the high pressure of champagne.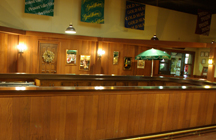 Back at the tasting room, we tried several wines including Pleasant Valley Spumante, Delaware, Chocolate Lab and Port. The Spumante made as a sweet sparkling wine has a residual sugar of 8.0. The Delaware wine is sweet at almost 4% residual sugar. Delaware is a native American grape. Chocolate Lab is reminiscent of dark chocolate and has a chocolate aftertaste. It is made from the Concord grape but does not have the usual grape juice taste. Pat mixed the Chocolate Lab with the Blackberry Merlot and it was full of flavor and full bodied. Chocolate lovers should try the Chocolate Lab and experiment blending it with other wines.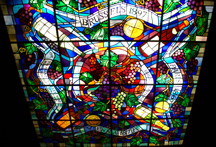 Above the tasting bar is a beautiful stained glass image. The entire tasting room area is large and can accomodate many visitors.
Visitors to the winery often include those who are sweet wine drinkers, champagne drinkers, people who come to see their first big winery and those who come to see what is new. With more than 30 wines to choose from, there is something for everyone in the tasting room.
After our wine tasting, we were encouraged to tour the museum area of the tasting room. This is a self-guided museum and includes a large model with a running model train of the Champagne Trail. This is the train route from Bath to Hammondsport. Numerous pieces of old wine equipment and artifacts, some over 140 years old, are in the museum as well as a theater inside a very large barrel. On one glass-enclosed wall, historical articles are mounted. Information is also printed on the glass including, "The natural place for wine is beside a plate of food. Or in the food. Wine is made to complement food. The smells and flavors harmonize in ways that can be endlessly fascinating."
Pleasant Valley Wine Company is definitely a winery you will want to visit. In addition, model train lovers will enjoy the model train "Champagne Trail." This large winery will offer a different perspective on winemaking. With a long history of wine and more than 30 wines to choose from, there is something for everyone.
Pleasant Valley Wine Company
Hammondsport, New York

---