White Springs Winery
by
K.L. Sullivan
If you are looking for a winery stop with a beautiful view of Seneca Lake, White Springs Winery may be the perfect place to stop. With tables on a covered deck, overlooking Seneca Lake, it makes a lovely spot to sip a glass of wine along with cheese and crackers available in the tasting room.
Tasting Room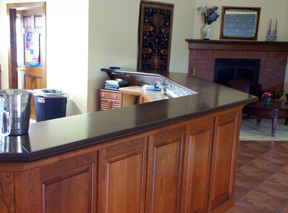 Outside the White Springs Winery tasting room, flowers are in full bloom. A covered patio overlooks Seneca Lake. Upon entering the one story wine tasting room, walk past displays of giftware and wine to a large elegant wood tasting counter, at the other end of the room. Beyond the tasting counter, you will see a fireplace offering a warm, friendly seating area on a cold day. Giftware available includes logo clothing, a wine funnel with a filter, wine glasses and decanter sets. Chilled wine and cheese is also available with a sign "Enjoy them both on our patio!"
The wine consultant was quick to greet everyone as visitors came into browse the giftware and make their way to the tasting counter.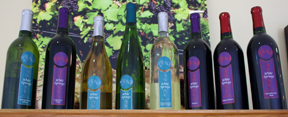 We tasted several wines. Sauvignon Blanc has an intense fruit (peach) nose with a fruit taste and is light bodied and dry, with a peach aftertaste. Cherry Picker is a Chardonnay and Riesling blend with a fruit nose and flavor. It is crisp and is lemony on the finish. Dry Riesling has a floral (honeysuckle) nose with a fruit taste, acid and fruit on finish. It has a long fruit aftertaste. Sportsman Blend of Cabernet Sauvignon and Cabernet Franc has a red fruit nose with raspberries on taste and a crisp finish. Cabernet Franc has an oak nose with dark red fruit. This wine has a dark red fruit flavor with a hint of sweetness. There is some oak and fruit on the finish.
Vineyard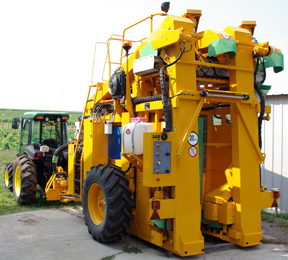 The vineyard and winery are located about two miles from the tasting room. The vineyard consists of 30 acres of grapevines with 10 additional acres recently planted, bringing the total to 40 acres. Beach ball-like spheres rise up over the grapevines scaring the birds away from the ripening fruit. Grapes growing include Riesling, Chardonnay, Cabernet Franc, Merlot, Pinot Gris, Pinot Noir, Gewürztraminer and Sauvignon Blanc. The vineyard manager tries to harvest about 5 tons of grapes per acre. The wines produced by White Spring Winery primarily are from these grapes. White Springs sells grapes to other wineries.
The vineyard manager, Warren Colvin, is proud of the newest equipment. The winery recently purchased a harvester with a tractor. Warren is anxious to use the new harvester. He explained the parts and functions. The harvester can adjust itself as it moves down a row of grapes even if the row isn't straight. The harvester will harvest grapes for two months of the year and that means the tractor can be used for other vineyard work throughout the year.
Winery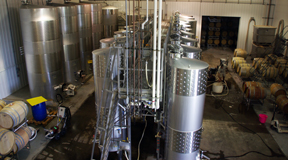 Derek Wilber is the winemaker and president of White Springs Farm Estate Winery. On the day of our visit, we met Andrew Wilber who is the Cellar Master. Andrew was preparing the tanks for juice from the fall crushes. The crush pad is outside the tank room. White Springs Winery also helps others wineries with their crush.
On the day of our visit, the company who manufactures stainless steel tanks was videotaping. We met Chris Jennings, Vice President of Vance Metal Fabricators, Inc. located in Geneva, NY who is pleased with the installation of the tanks at White Springs Winery. Vance Metal also made the stainless steel walkways.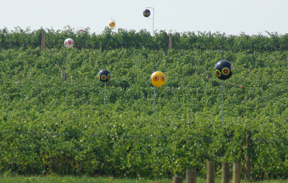 The goal at White Springs Winery is to diversify their wines, making custom wines that are food friendly and enjoyable by many different consumers. Derek uses all French oak barrels. Currently the winery produces 5,000 cases of wine. Within the next two years, White Springs hopes to produce 15,000 to 20,000 cases. Currently 80 to 85% of the wines made are with estate grapes. Last year 160 tons of grapes were crushed. This included 125 tons of White Springs' grapes.
Andrew enjoys the complete process of winemaking from "start to finish." He enjoys everything from the harvesting of grapes to the bottling of the wine.
White Springs Winery
Geneva, New York
GPS N42° 49.794 W 076° 58.883
---