New Zealand Wine Day in NYC
by
Erin Sullivan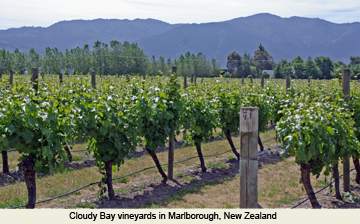 "Surprised." That is the feeling I took away from a brilliant wine tasting of NZ wines for New Zealand Wine Day. Before this event I, like many, only associated New Zealand with Sauvingnon Blancs. Here's an amazing secret, (that I selfishly want to keep to myself but it's just too good,) New Zealand is a hot spot for tasty Pinot Noirs and Chardonnays that made me second guess my entire wine tasting career.
Let's start with the Sauvingnon Blancs. The first one we tasted was a "Cloudy Bay" Sauvingnon Blanc from Marlborough. It wasn't the typical Sauv Blanc that most Americans are used to however. It was filled with floral buttery notes that seemed more reminiscent of a Chardonnay than your stereotypical Sauvingnon. The second Sauvingnon was much more what I expected. "Saint Clair Wairau Reserve," also from Marlborough showed immediate grass, grapefruit, and lychee on the nose. Classic, tasty, and more of what I had expected.
Ok, enough about Sauv's. Here's why I really wanted to write this article. Most people know that I don't like Chardonnays. It's nothing personal, it's just the grape itself that I don't particularly care for. The only Chardonnay I ever cared for enough to finish the whole glass was a Chablis. So I wasn't just surprised, I was shocked when I took a sip of "Kumeu River Estate" Chardonnay from Auckland. It was crisp and clean, just the way I like my wines. According to a fellow wine taster, from New Zealand, Auckland has some of the earliest vineyards in New Zealand, planted by immigrants before the idea of wine even took off in New Zealand. Perhaps it has something to do with the age, perhaps the cool breezy coastal weather, or maybe the care and love itself that is taken with the grapes. Or maybe all of the above. Whatever it is, I am happy to say that this is the best Chardonnay I have ever tasted. I could easily drink a whole bottle myself and still want more.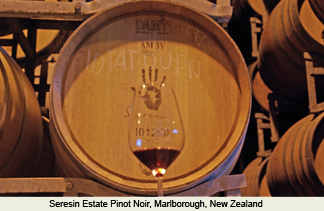 On to Pinot Noirs. Pinot Noirs are perhaps New Zealands best kept secret, but not secret enough for famous cinematographer, Michael Seresin not to get involved. Seresin fell in love with wines once he moved to Italy and decided to bring that love back home with him again. His Pinot Noir , with it's medium body and dark fruit far trumps many California and Oregon Pinots I've tasted.
All in all, it's no wonder New Zealand wines are so tasty. The brisk coastal winds, limestone, sandstone, and rocky soils, make it the perfect climate for something amazing. Try something other than a Sauvingnon Blanc the next time you pick up a New Zealand wine. You may just be "surprised."
---