Magnanimus Wine Group at Campovida
by
Kathy Sullivan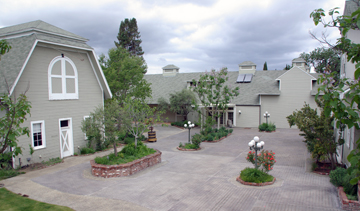 Summary: Taste the four Magnanimus Wine Group brands at Campovida, a destination center for people to enjoy food, wine and gardens. Campovida will be available for events and weddings in 2010. Enjoy wines produced from sustainable, organic and biodynamic grown grapes.
Campovida
In Spring 2010, Gary Breen and his wife, Anna Beuselinck, have become the proud owners of property in Hopland, California that was once known as Fetzer Valley Oaks Food & Wine Center. The grounds are now called Campovida meaning "Field of Life." Many buildings and large gardens make up the property. The center had been closed for the previous five years. While the buildings are in very good condition, touch ups and renovations are in the process of taking place and decisions are being made as to how each building will be used.
Originally the property Valley Oaks belonged to Fetzer Vineyards. In 1992 the property was sold to Brown-Forman of Louisville, Kentucky. Until five years ago, this was a hospitality center where wine lovers would come to enjoy wine and fine hospitality.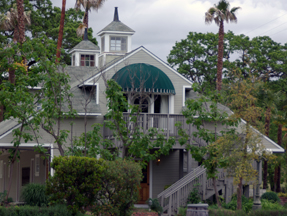 Several buildings and large gardens comprise the property. We enjoyed talking with Josh and Megan Metz both of whom are involved with the enterprise. Josh is the General Manager of the Magnanimus Wine Group and Megan is the Experience Creator for Campovida LLC. We walked from building to building discussing the possibilities open to the new owners. Potential building usage for one building will include a large tasting room and a deli-market with seating. Another building has the potential to offer small production wineries the opportunity to have their own tasting room.
Guest rooms for overnight accommodations will be included. A three-bedroom farmhouse, cottage and one building with six rooms are available. On the far side of large gardens is a demonstration kitchen setting on the edge of a water storage reservoir. Renowned chefs such as Julia Child and Emeril Lasgasse have been hosted here. Plans include refurbishing the kitchen area and using the building for special events.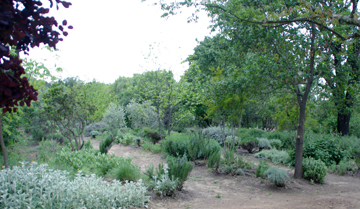 Gardens
Large organic gardens are in the process of being restored after five years of neglect. Once maintained the gardens will provide the opportunity for visitors to taste, compare and contrast herbs and wines. An example would be comparing lemon verbena with Chardonnay. The garden is the "heart and soul" of Campovida. A large learning arbor is also part of the garden. This learning arbor is also available for weddings.
A sign posted in the garden begins with "Our organic garden caters to the five senses as well as being an educational experience in diversity in the plant and insect world. Planted twelve years ago, it contains six different theme gardens to experience. There are many different fruits and berries for your tasting pleasure, including numerous berries and herbs specifically for tasting with wine. Many flowers in various compositions and colors delight the eye. Some are planted for their beauty, while others attract or feed insects beneficial to the garden. Texture and foliage color are as important as flower color. Altogether a profusion of insects, birds and flowering plants causes the garden to vibrate with life."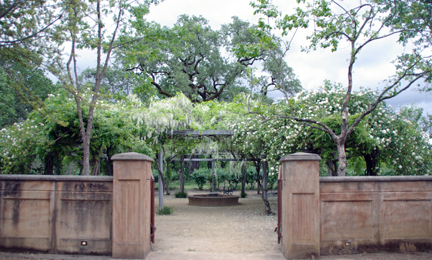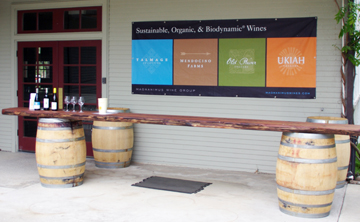 Magnanimus Wine Group
While walking through the buildings and gardens we enjoyed tasting four wine brands provided by the Magnanimus Wine Group. This wine group focuses on wines that are sourced from sustainably farmed, Biodynamic and certified organic vineyards.
Ukiah Cellars produces a Chardonnay and Cabernet Sauvignon. We tasted the Chardonnay 2008. This wine offered an aroma of apple pie with green apple nuances on the taste. The finish was crisp. There was a perceived sweetness from the fruit. This unoaked wine was very fruity.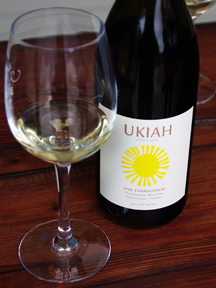 The Old River Cellars brand was a Cabernet Sauvignon 2006 that had a red to sienna color. There were blackberry notes on the aroma and taste. The finish was fruity with tannins.
Talmage brand produces five wines. The first Talmage wine we tasted was the Talmage Syrah from Mariah Vineyard. This was a dark purple to black wine with a floral aroma. The taste offered plum nuances. The fruity finish offered bold tannins. Talmage Pija was a blend of Zinfandel, Petite Sirah, and Charbono. The aroma and taste were of black fruit nuances. The fruity finish had bold tannins.
Mendocino Farms brand produces four wines. We tasted the Cabernet Sauvignon 2006. This wine offered blackberry nuances. There were bold tannins with a berry finish.
Campovida is definitely a wine center to keep you eye on. It has much to offer the traveler as a destination site. Enjoy wandering through the large organic garden with a glass of wine in hand.

Magnanimus Wine Group at Campovida
13601 Old River Rd.
Hopland, California 95449

GPS: N38º 58.230' W123º 05.894'
---
Visit these California organizations and wineries that partner with Wine Trail Traveler.