Paul Dolan Vineyards
by
Terry Sullivan
Summary: Paul Dolan Vineyards specializes in organically and biodynamically grown grapes. Wines made with organically grown grapes and biodynamically grown grapes can be tasted at the Parducci Winery tasting room in Ukiah. Paul believes that as more consumers become ecologically aware, the demand for organically and biodynamically grown grapes will increase.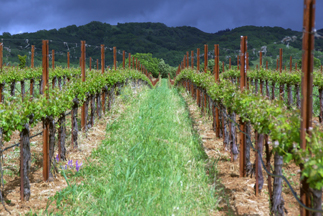 Paul Dolan, owner, grower and winemaker took us on an extensive tour of his vineyards at Dark Horse Ranch. Discussion centered on farming, organics and biodynamics. The topics were of interest because of previous experiences with growing vegetables and tending the soil as well as a future project of planting a row of grapes, perhaps persuading others not to use chemicals for weed control.
Paul suggests that farmers need to make a shift in the paradigm. Rather than fertilizing individual plants, they need to put the life energy back into the soil. When an individual plant receives fertilizer, its root system adapts to the zone containing the feeding. On the other hand, when organics are added to the soil a plant's root system will extend further and thus become stronger.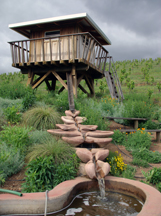 Biodynamics: Preperations
There are many ways to tend to the soil in a vineyard. Biodynamics involves a holistic approach to farming. Paul discussed the process of making preparations to spray on the vineyard or compost. Biodynamic farmers will take a female cow's horn and fill it with manure. The horn is buried one foot deep after harvest. In the middle of spring, the horn is dug up and the manure now has the aroma of potting soil. This changed manure is ground into smaller particles then added to water in a structure called a flow form. It resembles a waterfall. A tower collects rain and a solar powered pump moves the water up to the top where it then runs to the bottom becoming oxygenated along the way. The manure mixture is added and mixed with the running water. This preparation is similar to making tea. After three hours of mixing with the water, the preparation is sprayed on the soil in a vineyard. A little of the changed manure goes a long way. Some other preparations include those made with yarrow, chamomile, stinging nettle and dandelions.
Biodynamics: Animals
A preparation sprayed on the vineyard is just one biodynamic process. Adding life energy back to the soil involves both animals and plants. Sheep and goats control ground cover and add manure to the rows. Chickens move about the vineyards feeding on vine threatening insects. Insects are attracted to flowers planted near the vineyards. A healthy insect population makes it difficult for harmful insects to establish a stronghold. A bug strip was planted alongside a vineyard. This beautiful garden includes verbenas, lavender, sage, alyssum, butterfly bush and poppies. Insects are attracted to this bug strip. A larger bug farm is located at another vineyard. Bird houses are scattered throughout the vineyards to attract a diversity of birds.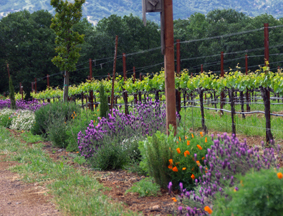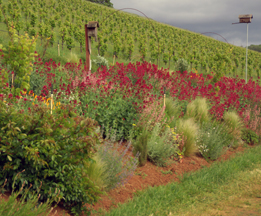 Biodynamics: Compost
Compost is made often with manure and pumice. This compost is worked into the soil to add nutrients to the soil. The compost does a better job of creating a healthy soil than synthetic fertilizers.
The 70 acres of vineyards are on a 160-acre property. Paul acquired the land in 1988 and immediately began to farm organically. A few years later he started the biodynamic program. Grapes planted include Cabernet Sauvignon, Grenache, Mourvedre, Petite Sirah, Syrah and Zinfandel.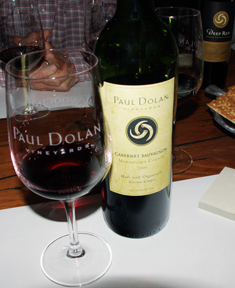 The Wines
Paul makes wines from organically grown grapes and biodynamic grapes. Some grapes are sourced from nearby organic vineyards. Wines can be tasted at the Parducci Winery tasting room in Ukiah.
The following wines tasted were made with organically grown grapes.
The 2007 Sauvignon Blanc was a blend of predominantly Sauvignon Blanc with some Sauvignon Musqué clone added. This stainless steel fermented wine offered a citrus aroma and taste with hints of tropical fruit. The crisp fruity finish had a long citrus aftertaste. The 2008 Chardonnay was crafted from 30% barrel aged Chardonnay and 70% stainless steel aged Chardonnay. The aroma and taste offered baked apple notes. The apple yielded to pear with a hint of butter on the finish.
The 2007 Pinot Noir was a red color that had a raspberry aroma and taste. There were very mild tannins on the raspberry finish. The 2006 Cabernet Sauvignon had a blackberry aroma. The smooth blackberry taste had bold tannins on the finish.
One wine tasted was made from biodynamic grapes.
Deep Red, 2006 was a blend of Syrah, Petite Sirah and Granache. It had a dark purple to black color. It offered dark fruit on the aroma and taste. Bold tannins on the finish were complemented with the fruity aftertaste.
These quality wines are a reflection of the terroir of Paul Dolan's vineyards.
Paul Dolan Vineyards at Dark Horse
5341 Old River Road
Ukiah, California
Tasting Room at Parducci Winery
501 Parducci Road
Ukiah, California 95482
---
Visit these California organizations and wineries that partner with Wine Trail Traveler.