Golden Vineyards
by
Kathy Sullivan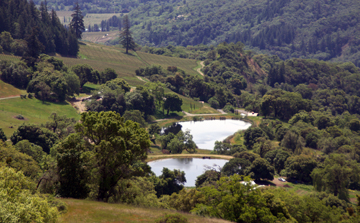 Summary: Golden Vineyards, a certified organic and Biodynamic® vineyard, produces wines to showcase their vineyards. Wines are bottled as vineyard designated. Wineries that purchase grapes from Golden Vineyards must indicate the vineyards name on their labels.
Golden Vineyards in Mendocino County, California is owned and managed by Julie and Joe Golden. Julie grew up on a vineyard in Mendocino County and Joe has always loved wine so when they met in Germany they had an automatic connection. Eventually they decided to settle in Mendocino County and establish their own vineyards.
Golden Vineyards is located in a beautiful, hilly area of Mendocino County. Originally the property was a longtime cattle and sheep ranch. Extensive soil testing has been done on the property to determine the best grapes to grow. The property consists of 1,200 acres and includes 25 acres of Cabernet Sauvignon, 5.5 acres of Petite Sirah, 4.5 acres of Zinfandel as well as 7 acres of olives. Twenty-two acres of Syrah are planted on the Fairbairn Ranch site.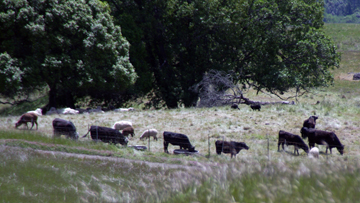 The focus of Golden Vineyards is to produce the finest quality fruit. They are maintaining their certified organic and Biodynamic® vineyards. Julie commented that the proof of organic and Biodynamics® is in the quality of the fruit. Two ranches make up the vineyards, Heart Arrow Ranch and Fairbairn Ranch. Heart Arrow Ranch received Biodynamic® and Organic certification in 1999. Fairbairn Ranch has been certified Biodynamic® and Organic since 1986.
Animals are an important part of the Biodynamic® farming. Cattle, sheep and chickens are used at times in the vineyard. Manure is composted and added to the vineyards for fertilizer. Julie believes that the answer to harmful insects such as the grapevine moth in the vineyards is not to eradicate them but to encourage the beneficial insects. If you have a diverse insect population harmful insects won't be able to get a foothold.
Julie believes that Mendocino Valley is about collaborative farming not farm managers. Golden Vineyards supports the organization CSA – Community Supported Agriculture. CSAs supports farmers and is a way for consumers to obtain locally produced produce. Many CSA programs are available across the country. At Golden Vineyards, a winter CSA operates which provides baskets of vegetables for 21 weeks to those who have contributed money to fund Mendocino Organics operated by Adam and Paula.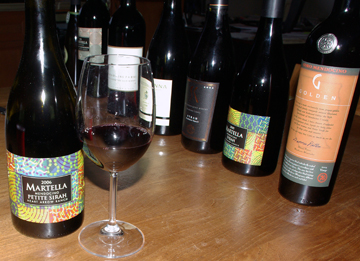 While visiting with Julie we tasted two wines produced with their grapes. Martella Wines are produced by Michael Martella, winemaker for Thomas Fogerty Winery. He has purchased, grapes from Golden Vineyards since 2003. The Martella Petite Sirah 2006 Heart Arrow Ranch was a dark purple to black color. The small lot production was aged in French and American oak for 16 months. The aroma and taste offered black fruit nuances especially blackberry notes. The finish was very fruity with soft tannins. Martella Cabernet Sauvignon 2005 Heart Arrow Ranch was also a dark purple to black color. The wine was aged for 17 months in French and American oak. The aroma offered nuances of blackberries and cedar. The taste had blackberry notes with a hint of licorice. The finish was fruity with tannins.
Golden Vineyards produces its own style of Coro Mendocino wine. This wine is a blend of 50 percent Zinfandel, 25 percent Syrah and 25 percent Petite Sirah. The result is a dark purple to black wine with a purple rim. The aroma and taste offered predominantly blackberry and black cherry notes with plum nuances. The wine finished with tannins and plenty of fruit.
In addition to producing wine for showcasing their vineyards, Golden Vineyards also harvests their ripe olives and sends them to the Mendocino Olive Oil Company for processing. Julie and Joe own the MooCo, Mendocino Olive Oil Company trademark.
When shopping for wines produced with grapes from Golden Vineyards, look at the label for the name, Heart Arrow Ranch and Fairbairn Ranch.
Golden Vineyards
14251 Old River Road
Hopland, California 95449
---
Visit these California organizations and wineries that partner with Wine Trail Traveler.