Fathers + Daughters Cellars
by
Terry Sullivan
Images provided by
Fathers + Daughters Cellars
unless otherwise noted
This article describing Fathers and Daughters Cellars is based on an online interview, online data and photos supplied by Fathers and Daughters Cellars. Fathers and Daughters also graciously sent us three samples of wine. The article was written during the time of the world-wide 2020-2021 pandemic. Guy Pacurar, one of the fathers, answered our questions along with winemaker Phillip Baxter. Sarah Pacurar, one of the daughters and Guy's wife, also answered a question.
Summary: Fathers and Daughters is a family run winery that coincided with the birth of a daughter and harvest. Marriage unites the two fathers and their daughters. Add to this mixture famed Ferrington Vineyard and one has a delightful story and well-crafted wines.
The Fathers and Daughters
Kurt Schoeneman along with his wife, Heather, own Ferrington Vineyards in California's Mendocino County. Their daughter, Sarah, plays an important part in the story of Fathers and Daughters Cellars. Ferrington Vineyards was first planted by Balvern Vineyards in 1969. In 1980, Dr. Richard Ferrington bought the property. In the mid-1990s, the vineyard was for sale. Sarah, a realtor, helped her father find this property, and Kurt purchased it in 1996. Kurt and his daughter Sarah are one of the fathers and daughters of Fathers and Daughters Cellars.
Sarah married Guy Pacurar, and they had a daughter, Ella. Guy and Ella along with his older daughter Taylor are the other father and daughters of Fathers and Daughters Cellars. Taylor helps Fathers and Daughters Cellars with marketing and social media.
Vineyards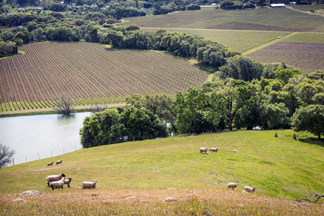 Over a half century ago Ferrington Vineyard was planted. Today the vineyard is mostly planted with Pinot Noir. There are also plantings of Chardonnay, Gerwurztraminer and Sauvignon Blanc. Of the 160-acre estate, 78 acres are under vine in soils mostly comprised with sandy loam on top of clay. These soils are covering Franciscan sandstone bedrock. Coastal fog influences the vineyards by cooling them in the late afternoon during the hot summers. Guy Pacurar commented about the terroir, "The diversity and selection of clones, meticulous farming and consistent vineyard management techniques are hallmarks of this vineyard and what makes Ferrington Pinot Noir among the most sought-after expressions of this varietal."
For years, grapes from Ferrington Vineyards were sold to other wineries. Then in 2012, with the founding of Fathers and Daughters Cellars, the family began to make wine with some of their own fruit. Fathers and Daughters Cellars also sources fruit from area growers including Roederer Estate, Roma's Vineyard, Nelson Family Vineyard and Weir Family Vineyards.
Winemaking
In 2012, the owners hired winemaker Phillip Baxter Jr. to craft their first Pinot Noir to commemorate the birth of Ella. We were interested in what Phillip liked best about winemaking. Phillip wrote, "I most enjoy the harvest season when the wines are being made. The culmination of the seasons growing ends at the winery and in the winemaker's hands."
Phillip crafts wines with care and integrity. He likes grapes to be picked early in the morning while the weather is cool. He also likes to use indigenous yeasts for small single lot fermentations, as well as using neutral oak for aging. When working with Pinot Noir, Phillip gently punches down the cap by hand during the fermentation.
Phillip is also the winemaker at Baxter Winery, a small quantity producer of mostly Pinot Noir in the Anderson Valley. Phillip's wine education began at UC Davis. He spent a semester in France and returned to France for several years where he learned traditional French winemaking skills that emphasized the terroir. Fathers and Daughters wines are crafted at Baxter Winery.
Wine Journeys
Kurt and his daughter Sarah's wine journey first started when Sarah helped her father find the vineyard to purchase. Both Guy and Sarah talked about their wine journeys.
Sarah wrote:

What I love about our brand is that it resonates with people for different reasons. A lot of imagery is based in the past when the daughter was younger and still learning her steps. For me, it represents when the daughter comes into her own and is recognized for her maturity and contributions.
One day, when I was staying with my parents in Berkeley and we were reading the SF Chronicle, I found a listing for the Ferrington Vineyard. Knowing my Dad's desire to own a vineyard, I encouraged him to take the drive up with me and look at the property. It took quite a bit of cajoling to get him there, but once we arrived, my dad knew he had found the next chapter in his life.
Fast forward almost 30 years and I now get to watch my father share with Ella his love of the vineyard. From her first steps walking the property, holding her Poppy's hand, through the seasons and years of the vineyard, the life of the vines has become a touchstone for Ella.
Guy also mentioned his wine journey:

When Sarah and I began dating, her dad began to expose me to wines, viticulture and the art of wine making. I remember the first Christmas we celebrated together, Kurt gifted me with a mixed case of A. Raffanelli Cab and Zin. What an amazing gift. Then I asked his daughter to marry me and I haven't gotten another case since.
While Ferrington fruit is known throughout the wine industry, the family had never made a wine for public sale in the past. Our education continued when we decided to make our first vintage and we connected with Phil Baxter. His knowledge, enthusiasm and general excitement about his craft was infectious. He has incorporated us into the process and patiently continued our education.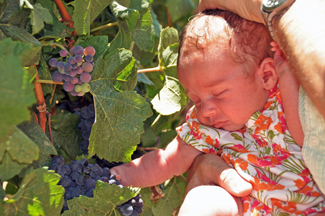 Starting a winery that happened to coincide with a daughter's birth is quite an endeavor. We asked Guy if he had a story about his newborn Ella and a wine journey. Guy answered:

Well, Ella was born in July of 2012. We harvested the fruit for Ella's Reserve just about a month later. In the Anderson Valley, harvest takes place during the night hours so that the fruit can be transported to the winery for processing before the heat of the day sets in. Well, the pick for our fruit began at 4:00 a.m. and since Ella was awake, we put her in a backpack and she participated in her first harvest! You know, they don't let us actually pick the fruit because we are not fast enough. Our assigned jobs are leaf pickers. As the fruit is dumped into the bins, we frantically try to pull the leaves out.
Wines
The wines feature a cork without a capsule. The visible surface of the cork has a silhouette of a father holding the hand of a daughter. The bottle label also shows a father and daughter perhaps walking through the vineyards.
The Sarah's Rustic Bubbles 2018, Anderson Valley (pictured left, photo by Wine Trail Traveler) was a sparkling wine made in the Pétillant-Naturel style. The wine was fermented in stainless steel tanks along with indigenous yeasts. Prior to finishing fermentation, the wine was bottled and capped with a beer bottle-like cap. As fermentation continued in the bottle, carbon dioxide had no way to escape and diffused into the wine. Since the wine was not disgorged, lees settled inside the bottle.
Sarah's Rustic Bubbles had a cloudy yellow color. The wine was made with Chardonnay grapes sourced from Roederer Estate. The sparkling wine had 13.9% alcohol. Multiple columns of tiny bubbles formed a central and partially circumferential mousse on the wine's surface. The aroma was apple and freshly baked bread. A lively mouthfeel on the taste had plenty of apple notes and yeast. The finish had fruit yielding to yeast. Guy mentioned to pair this wine with breakfast pastries, and "wait for it…with Krispy Kreme doughnuts!" We had frosted Christmas cookies with the sparkling wine. The wine retails for $21.00.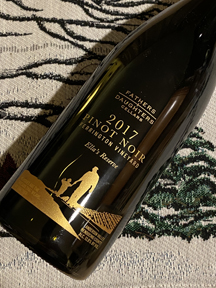 The 2019 Sauvignon Blanc Ferrington Vineyard, Anderson Valley was a bright yellow color with a light green hue. Everything about this wine is fresh and vibrant. Citrus was foremost on the aroma with hints of apple, pear and mineral. The taste included citrus, pear, melon and mineral. The finish was crisp and fruity. The 12.8% alcohol wine retails for $25.00. We paired this wine with a turkey casserole dinner with layers of stuffing, turkey and mushroom soup.
The 2017 Pinot Noir Ferrington Vineyard Ella's Reserve, Anderson Valley (pictured right, photo by Wine Trail Traveler) was a translucent ruby color with a pink hue. The wine was aged in neutral oak and once-used oak barrels for 20 months. The wine was very aromatic. The wine with 13.8% alcohol had floral and fruit notes on the aroma. Red raspberries, cranberries and a hint of violets and cloves were on the taste. This medium/full bodied wine had silky tannins. The fruity finish yielded to spices and there was a long aftertaste. The wine retails for $52.00.
The fathers and daughters of Fathers and Daughters Cellars are very involved in the process from walking throughout the vineyard, harvest, winemaking, aging and bottling. Each wine has been touched by them. Wines can be purchased from their website.

Fathers + Daughters Cellars
P.O. Box 29
Philo, California 95466
For more information and to order wine.
Article written December 2020.
---
Visit these California organizations and wineries that partner with Wine Trail Traveler.