McNab Ridge Winery
by
Kathy Sullivan
Summary: McNab Ridge Winery is much more than meets the eye. This is a winery that produces their own wine and custom produces wine for other wineries. The McNab Ridge tasting room is on Route 101 in Hopland, California.
McNab Ridge Winery is a family winery and wants to be known as a winery that makes great wines at affordable prices. They want to create artistic wine blends that people really like, that are complex and that people will find approachable. The winery has a large area for chemistry analysis. During the day of our visit, we met two people working on creating the "perfect" blend for a wine called Zincinnati to be distributed to restaurants in the Cincinnati area. Rather than the winemaker making the blend, these distributers were creating the blend. Zincinnati is a popular wine. It is a blend of Zinfandel from different vineyards.
History
The Parducci family has been making wine for several generations. As an immigrant, John Parducci's father came to the US in 1912 and by 1921 was able to purchase a vineyard. John helped the family during Prohibition by selling the grapes to home winemakers. He learned his winemaking skills from his father. In 1999, John purchased the McNab Ridge Winery to continue producing classic varietal wines. After the 1999 harvest Rich Parducci, John's grandson, joined John at the McNab Ridge Winery. Rich is now the winemaker at McNab Ridge Winery.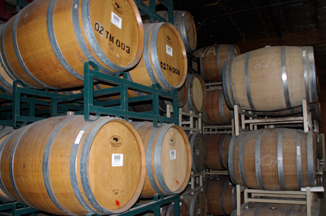 Winery
When McNab Ridge Winery was founded in 1999 they produced their own wines. Today 80 percent of the wines produced in the winery belong to other wineries. McNab is producing 12,000 cases of its own wines with a total of 70,000 cases including that for other wineries. Most of the grapes used for their own wine production is from Mendocino. Some Cabernets are also sourced from Sonoma and Napa Counties. This allows visitors the opportunity to compare wines from different areas.
We tasted several wines from tanks and barrels while touring the winery facility in the McNab Valley. Rousanne offered a floral aroma with a citrus and tropical taste. The finish was crisp and according to the winemaker this was ready to bottle. Pinotage was a barrel tasting. The aroma was floral and the taste offered nuances of dark fruit. There were tannins and fruit on the finish. Dry Creek Cabernet was oaky with dark fruit notes. The finish was very oaky. The Mendocino Cabernet was not as oaky and offered a dark fruit aroma and taste with tannins on the finish.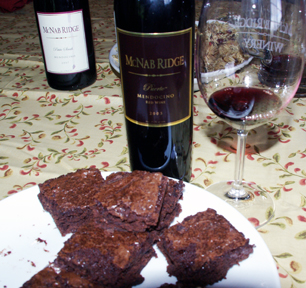 Wines
We also tasted bottled wines including a French Colombard 2009. The grandson of the original grower, Alvin Tollin, and the grandson of the original winemaker, Rich Parducci, produced this wine. It is a tribute to John Parducci who produced his first Colombard in 1945. The aroma was floral. The taste was of rose petal nuances and tropical fruit notes. The finish was crisp with tropical fruit nuances.
Petite Sirah 2007 had an aroma and taste of dark fruit with a hint of licorice. The finish offered tannins and fruit nuances. Zinister 2007 was produced from Mendocino Zinfandel. It was 16 percent alcohol. There were fruit and alcohol nuances on the aroma. The taste had fruity notes. The crisp, fruit finish had no heat. Puerto 2005 was produced with Zinfandel. It had a 19.2 percent alcohol. This port-style wine offered a red cherry aroma and taste. The finish was crisp and fruity.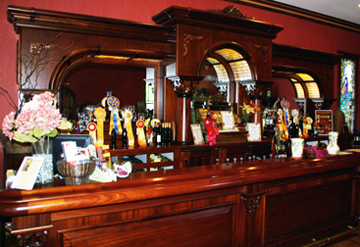 Tasting Room
The tasting room is located in the middle of Hopland along the main street of Route 101. Three wineries have tasting rooms within an easy walking distance. The McNab Ridge Winery has a sophisticated room with a beautiful tasting bar of polished wood. Behind the tasting bar is an elegant wood backdrop that highlights an old golden cash register. Wine and wine accessories are artistically displayed on wood tables throughout the room. As you taste wines, enjoy ambling throughout the room.
Enjoy visiting the McNab tasting room in Hopland. Consider joining the Wine Club at McNab. Members receive shipments three times a year. Each shipment contains two to four bottles of wine. Check with the winery for more details and benefits.

McNab Ridge Tasting Room
13441 South Highway 101
Hopland, California 95449
---
Visit these California organizations and wineries that partner with Wine Trail Traveler.