Trentadue Winery
by
K.L. Sullivan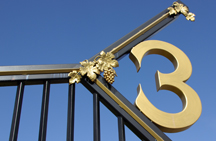 We were fortunate and had extra time to make an unscheduled stop at Trentadue. The wrought iron gate to the driveway is remarkable and atop tall stone posts lions protect the gate on each side. A partial fence with stone posts connected by decorative metal rods and grapes line the street.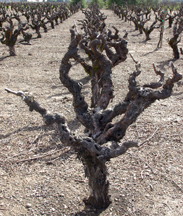 The approach to the Italian style winery is a long, flat driveway with grapevines on both sides. We noticed the difference in pruning styles amongst the old grapevines along the driveway. After we were welcomed and offered a wine tasting we inquired about the difference we saw in the pruning methods at Trentadue. We learned that some of the vines are head trained while others use a tee-top training system. Some of the vines along the driveway are 85 years old.
The Trentadues arrived in this area of California in the late 1950's. Trentadue continues to be family owned. Currently they own approximately 225 acres located in Alexander and Dry Creek Valleys.
At the same time we were visiting, a representative from the Fiscalini Cheese Company of Modesto, California was also offering cheese tastings. This emphasized a point that we have found practiced more and more. Wine should be tasted with food. The flavors of the wine, if paired correctly, are intensified by the flavors and the texture of the food.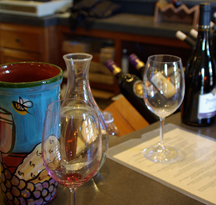 We enjoyed the friendliness and willingness of our wine server to answer all of our questions. She went out of her way to try to answer our questions. Trentadue offers various wines which include Sauvignon Blanc with a floral/fruit aroma and a fruit taste, Sangiovese with a nice aftertaste, Carignane Alexander Valley Estate which paired well with white cheddar cheese and Chocolate Amore – a fortified wine with a long chocolate aftertaste. Trentadue bottles 20,000 cases per year.
The tasting room is elongated with a variety of food and wine items for sale. One of the unique items from Napa Valley, is a bottle of pear vinegar, with circular pear slices. This would be a handsome décor item in any kitchen. Other items for sale include: placemats, wine glasses, ceramic plates, and jewelry.
Art is again "paired" with wine at Trentadue. The tasting room has several beautiful and detailed tapestries that can be purchased. An art event is available until April 1st; original oil paintings by artist, Timothy Dixon are displayed.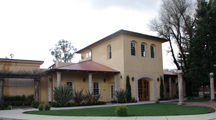 If you are looking for a place to host a large gathering, Trentadue may be just the place for you. We were happy we had the extra time to visit Trentadue. Take time to enjoy the friendly atmosphere and good wine available at Trentadue. Visitors are welcome; Trentadue is open daily from 9:00 - 5:00 and are closed on most major holidays.
Trentadue
19170 Geyserville Avenue
Geyserville, CA 95441
707-433-3104
---
Visit these California organizations and wineries that partner with Wine Trail Traveler.