Rodney Strong Vineyards
by
Kathy Sullivan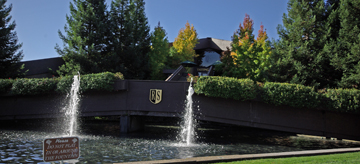 Summary: Wine enthusiasts and tourists will discover a self-quided tour at Rodney Strong Vineyards, a large winery in Sonoma County. The first view will be of large 30 year old oak casks where wine is stored. Rodney Strong is an environmentally friendly winery and vineyard.
Rodney Strong is a large facility located in Sonoma County producing 800,000 cases. According to our guide, the winery is the 7th largest winery in Sonoma County. When arriving at the winery tasting room, visitors will find themselves near a water display with fountains adding to the sight and sound. Follow a long set of steps to the tasting room doors.
Inside the tasting room, the curved tasting counter is made of a granite-style hard surface material. Besides the Rodney Strong wines, the tasting room has many items to browse including apparel items, food-related books, Riedel stemware and gourmet foods. Look for Tangerine Fig Balsamic, Spicy Apricot Ginger Barbecue Sauce and balsamic vinegars.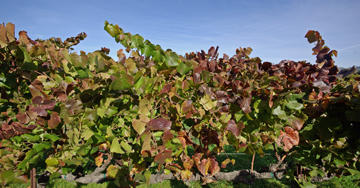 Vineyards
The winery owns 14 vineyards with a total of 965 acres. Grapes are also sourced from other winegrowers. The winery and vineyards focus on being environmentally friendly. The Rodney Strong vineyards and winery are certified by California Sustainable Winegrowing. They use fish friendly methods, solar power and take measures toward being carbon neutral.
History
Rodney Strong, from an agricultural background, was a professional dancer and choreographer. He wanted a career after dance and in 1959 began working in the wine industry. He purchased the current property in 1970. Rodney thought that the area resembled the chalky soils in France. In 1971 he built the current facility. In 1979, Rodney hired Rick Sayer who continues to be the winemaker. In 1989 Rodney Strong sold the winery to Tom Klein, a farmer who is the present owner.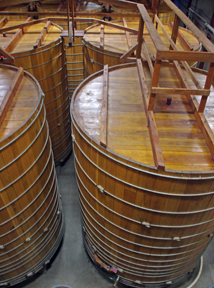 The Winery
The winery has 50,000 barrels. They also have 4,000 solar panels which provide 30 percent of their electrical needs. The winery wants to be known for its single vineyard designated wines. Their interest is in producing the best red wines in a single vineyard.
A self-guided tour provides an added benefit to Rodney Strong. Along the way visitors will see displays of photos and large wood casks. The wood casks are used for storage and blending. Wine enthusiasts can view soil samples of three AVAs Russian River, Chalk Hill, and Alexander Valley. The Russian River AVA soil is made up of clay and volcanic loams. Chalk Hill AVA has white volcanic ash loam and very gravelly loam. Alexander Valley AVA has silt loam over gravel and then red volcanic soil.
In the immense barrel room, oak barrels are stacked six high. The winery uses both French and American oak. Another winery facility is used to make the high end wines and affords the winemaker space to experiment. Stainless steel tanks and oak barrels are in this winery within a winery.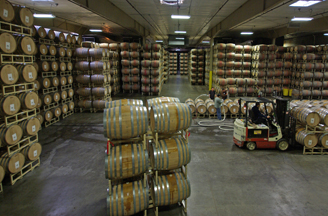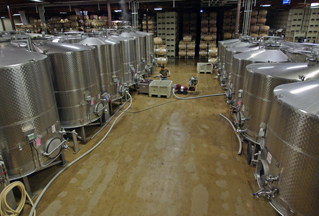 White Wines
Sauvignon Blanc 2010 was a very light straw color. The nose offered notes of lemon grass and the taste had nuances of citrus and minerality. The finish was crisp and fruity.
Chardonnay, Reserve, Russian River Valley 2009 was barrel fermented sur lie in French oak. This light yellow wine presented pear, apple and vanilla notes. The finish was crisp with pear and apple yielding to lemon.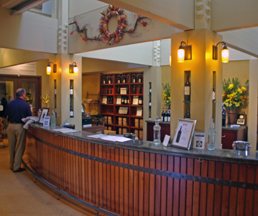 Red Wines
Zinfandel Estate Knotty Vines 2009 was ruby with dark pink hues. The wine offered a bouquet of cherries with just a hint of flowery notes. The taste had fruit that yielded to spice especially pepper. Reserve Cabernet Sauvignon 2007 was left in French and American oak for 18 1/2 months. The ruby wine had black fruit notes with a taste of black fruit and a hint of chocolate. The finish had bold tannins and was fruity. Cabernet Sauvignon, Rockaway Vineyards 2007, was a dark ruby color with an aroma and taste of dark ruby fruit. The finish had bold tannins and was chewy with fruit. Cabernet Sauvignon, Brothers Ridge 2007, had a dark ruby color. The aroma and taste had black berry notes. The wine finished with very bold tannins, was fruity and chewy. Syrah 2008 was dark purple with a red rim. The aroma offered hints of pepper. The finish had bold tannins with red fruit notes.
Enjoy a visit to Rodney Strong and while there experience the self-guided tour of the winery.
Rodney Strong Vineyards
11455 Old Redwood Highway 
Healdsburg, California 95448 
GPS: N38º 34.420' W122º 50.619'
---
Visit these California organizations and wineries that partner with Wine Trail Traveler.