Michel-Schlumberger Wine Estate
by
Kathy Sullivan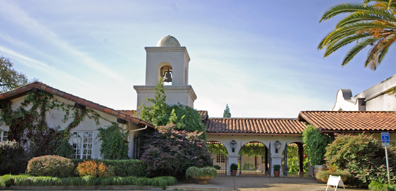 Summary: Michel-Schlumberger Wines offers delightful wine educational experiences in Sonoma Valley wine country. Visitors to the tasting room participate in seated wine tastings and special select walking tours of the vineyards are available. The winery owners are active in protecting the environment.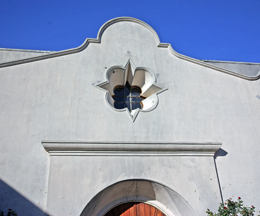 Arriving at Michel-Schlumberger in Dry Creek Valley, visitors will see a Spanish style building. The walls are of stucco and the roof is dark sienna tile. Continuing on from the parking area, visitors enter into an enclosed courtyard where one will discover a large raised pool with a small fountain. Nearby seating provides a delightful spot to enjoy a glass of wine while enjoying a warm sunny day. A Moorish-style window at the end of the courtyard is used as the basis of the Michel-Schlumberger logo.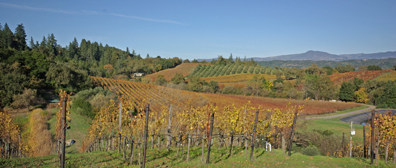 Vineyards
The tasting room and vineyards are located in Sonoma County's Dry Creek Valley only 17 miles from the Pacific Ocean. The 87 acres of vines include numerous varieties such as Semillon, Viognier, Pinot Blanc, Pinot Noir, Cabernet Sauvignon, Syrah, Merlot, Petit Verdot, Cabernet Franc and Malbec. Harvest is by vineyard block. For winemaking the grapes are separated for fermentation and aging in different tanks and then blended. The vineyards back up to trees and other natural areas which are home to owls, mountain lions, coyotes and bobcats. As our guide remarked, "Nature happens and it should happen."
The winery prefers keeping its production at 7,000 cases and supplies the bulk market with grapes.
History
The property was originally owned by Jean-Jacques Michel and Ridgley Bullock in 1979. In 1993 Jacques Schlumberger became the proprietor and the property was named Michel-Schlumberger. Cousins of the Schlumbergers have a winery, Domaine Schlumberger, in Alsace, France. The Schlumberger family has been in Alsace for 400 years.
The Schlumbergers have a small creek on their property that runs into the Russian River. At one time no fish were spawning in the creek. With work by the Schlumbergers on restoring the creek to health, Wine Creek now has salmon and trout spawning in it.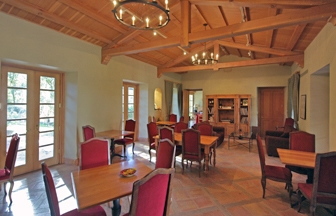 Events at Michel-Schlumbergers
The event room at Michel-Schlumberger has large red tile flooring. The room has double doors on two sides; one opens to a small patio and the other opens to the courtyard. A table easily seats 14 guests. During our introduction to Michel-Schlumberger it was noted that this is a "magical piece of property."
Friday Night Music Series extends from June to October. In addition to live music, gourmet food is provided by food vendors. Each week a food vendor will be available for people to enjoy dining while listening to the entertainment.
Unique experiences also take place at the winery. One event was Bat Day, not baseball related but animal related. An expert on bats was asked to come and prepare a presentation including catching bats. This hours long event included dining at the winery and eventually 25 different varieties of bats were captured and identified that evening. However if wine drinkers are not into bats, then be sure to find out about more exciting events at the winery.
Tours of the Vineyard
Michel-Schlumberger has established a tour of their vineyards with Zephyr Adventures. Zephyr Adventures tour guides provide a comprehensive, guided walk through acres of rolling vineyards. During late November, the vineyards put on a showcase of colors. In addition to the Zephyr Adventures tour, Michel-Schlumberger offers daily (11:00 am and 2:00 pm) guided vineyard and winery tours. There is also a self-guided vineyard walk around their lake.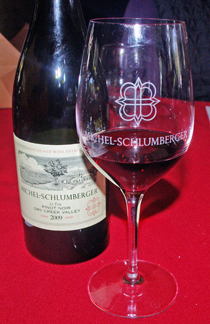 Wines
The winery offers seated tastings daily from 11:00 am until 5:00 pm.
Le Nue Chardonnay 2010 was unoaked and had a straw to light yellow color. Fruit notes on the nose included pear, apple and citrus. The taste had a velvety mouthfeel with pear notes. The finish had a perceived sweetness even though the finish was fruity and dry. The Sauvignon Blanc 2010 offered peach, pear and apple on the aroma and taste. The crisp fruity finish pairs well with light food or is enjoyable by itself.
The Merlot 2009 was an amber color with earthy notes on the nose and dark fruit nuances on the taste. The finish offered tannins and dark fruit notes. Faux Pas 2008 was a blend of Cabernet Sauvignon and Syrah. The wine was a dark amber color with a fruity aroma. The taste had notes of raspberry and blackberry. Tannins were noted on the finish. Cabernet Sauvignon 1991 was a dark ruby color. Dark fruit notes with a hint of licorice were on the nose and taste. Tannins were on the finish. Pinot Noir 2009 was a ruby color. Light red berry fruit was on the nose. Taste notes included raspberry with a hint of strawberry. The finish was crisp with mild tannins.
Enjoy a visit to Michel-Schlumberger Wine Estate and discover the Spanish-style facility, beautiful vineyards and wine.
Michel- Schlumberger
4155 Wine Creek Road
Healdsburg, California 95448
GPS: N38º 39.446' W122º 56.907'
---
Visit these California organizations and wineries that partner with Wine Trail Traveler.