Kendall-Jackson Wine Center
by
Kathy Sullivan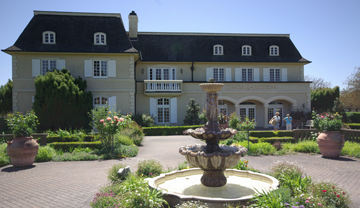 Summary: Kendall-Jackson is a large family owned and operated winery with thousands of acres of California grapevines. The Kendall-Jackson Wine Center, in Santa Rosa, is located in a French-style chateau with gardens and vineyards surrounding the facility.
A visit to Kendall-Jackson will take you to the large French-style Chateau Wine Center located in Santa Rosa, California. At the Wine Center, visitors will discover 110 acres with 90 acres planted with Pinot Noir and Chardonnay. Large gardens include vegetables, herbs and flowers.
Inside the Wine Center, visitors can choose between wine tastings and wine/food pairings. Kendall-Jackson tastings use Riedel stemware. Three different wine/food pairings selections are available. Choose between Wine and Artisan Cheese Pairings, Wine and Dessert Pairings and Wine and Food Pairings.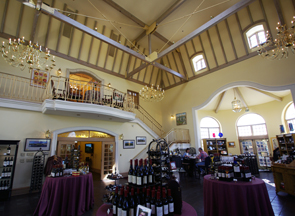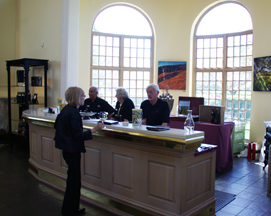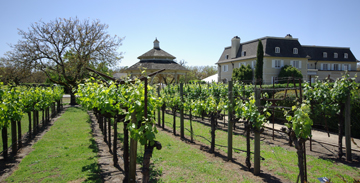 Kendall-Jackson has vineyards from Mendocino County to Santa Barbara County. A total of 14,000 acres are under vine. Total production is 3.5 million cases. While this is a large amount, the winery is able to keep a hands on approach by producing some wines as vineyard specific. Twenty-four winemakers with winemaster, Randy Ullom's supervision, produce wines. Grapes are vinified in different production facilities in different areas.
Kendall-Jackson produces five tiers of wines. Wines in the Vintner's Reserve line are sourced from cool coastal vineyards managed by Kendall-Jackson.  This gives the winemaker a range of aromas and flavors to create wines. The Grand Reserve line is produced with grapes from estate-grown vineyards along California's coastal grape growing region. There are a number of vineyard blocks that Kendall Jackson uses year after year to produce these wines. There are two wines in the Jackson Hills line. These wines are made from the coastal Santa Barbara region and the mountain vineyards in Knights Valley. Wines in the Highland Estates series are vineyard specific. Wine tasters can taste the differences the same varietal grape can make when made into wines from different vineyards. There is one wine in the Stature tier. This Bordeaux blend of Cabernet Sauvignon, Merlot, Cabernet Franc, Petite Verdot and Malbec is a limited production wine. Fruit is handpicked from the family estates.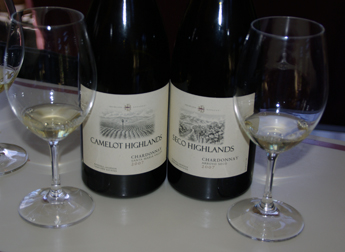 White Wines
With Dale Cullins' (wine educator) guidance we tasted several wines beginning with the whites. Summation 2009 was a blend of Sauvignon Blanc, Viognier, Chardonnay, Semillon, Roussanne, Pinot Blanc, White Riesling and Muscat Canelli. The aroma and taste offered tropical fruit and citrus. Camelot Highlands Chardonnay Santa Maria Valley 2007 had a pear and caramel aroma. The taste was of pear, apple and caramel. The fruity finish yielded to butter. Seco Highlands Chardonnay Arroyo Seco 2007 offered a tropical aroma and taste. The finish was fruity with a bit of mineral on the aftertaste. The Jackson Hill Chardonnay 2008 Santa Barbara County aroma had pear nuances with subtle oak hints. The velvety taste had hints of pear and apple. The finish was crisp and fruity. Late Harvest Chardonnay 2006 offered a very floral aroma especially honeysuckle notes. The taste was smooth with honey notes. The balanced finish had honey and apple nuances.
Red Wines
Highland Estate Seco Highlands Pinot Noir 2006 was a sienna color. This Pinot Noir offered an aroma and taste that were earthy with strawberry and floral notes. Highland Estate Taylor Peak Merlot 2006 was a dark ruby with cherry notes on the aroma. The taste had oak nuances with cherry notes. The fruity finish had mild tannins. Highland Estate Trace Ridge Knights Valley 2005 (Cabernet Sauvignon) offered an aroma and taste of blackberries and black fruit. There were bold tannins and fruit nuances on the finish. Jackson Hills Cabernet Sauvignon 2007 had blackberry notes on the aroma and taste. This Cabernet Sauvignon had bold tannins and fruit nuances on the finish.
Gardens
The gardens outside of the Visitor Center provide a delightful view of the French-style Wine Center. Enjoy the brick pathway lined with numerous tree roses of all colors. The rose blooms are a variety of colors and sizes. Beneath the tree roses other flowering plants add even more color to the area. The large gardens require the care of several gardeners. Visitors are welcome to wander through the gardens and observe the many different varieties growing.
The culinary gardens are available for the winery cook to garner numerous tidbits for the kitchen. Discover tomatoes, fava beans, asparagus and more. Everything is harvested and taken to restaurants or the local food bank. Another section of the garden is for herbs and edible flowers. Farther on visitors will discover an international garden. Visitors can discover a red wine sensory garden and a white wine sensory garden as they stroll through this beautiful setting.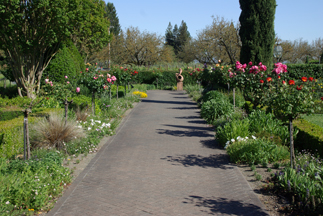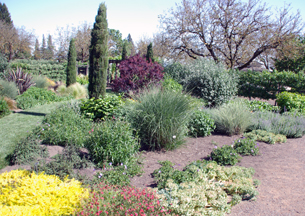 Enjoy a wine tasting at the Kendall-Jackson Visitor Center. Choose between wine tasting and wine tasting with a choice of food pairings. Take a camera and walk through the carefully maintained gardens.

Kendall Jackson Wine Center
5007 Fulton Road,
Santa Rosa, California 95439

GPS: N38º 30.416' W122º 46.317'
---
Visit these California organizations and wineries that partner with Wine Trail Traveler.