Wildside Winery
by
Kathy Sullivan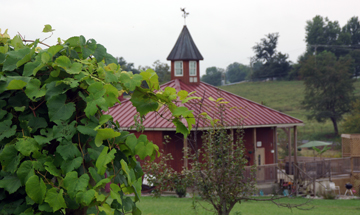 Summary: Wildside Winery is a charming winery to visit in Versailles, Kentucky. Visitors to the winery will discover traditional red and white wines as well as a number of fruit wines. For Neil, owner and winemaker, "winemaking is the best part." He enjoys the creative process involved.

Wildside Winery is the result of a dream of an engineer to return to the land. Neil and his wife, Rachel, lived in Minnesota. After dealing with nine months of uncomfortable weather and employed as an engineer at an office job, Neil and Rachel decided to move to Kentucky. Neil had grown up on a farm and after working as an engineer, he developed a desire to return to the land.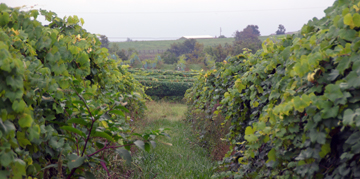 Neil's idea was to start a small fruit farm. The vineyards began in 1998 and Neil added an acre a year for several years. Today he has five acres of vineyards, along with blackberries, blueberries, peaches and apples. The vineyards consist of Cabernet Sauvignon, Norton, Cayuga, Seyval Blanc, Marechal Foch and De Chaunac.
During this time, Neil was making wine, mead and beer at home. Eventually he and friends worked together with his equipment to make wine and share the cost. This was an unofficial wine club and benefited everyone participating because they were creating quality wine for only a couple of dollars per bottle.
Neil commented that the winery was a "hobby gone wild." In 2004, he decided to develop a commercial winery. Due to a law, the wine club was disbanded because non-commercial wine cannot be made on a commercial wine property. By 2005, Neil was producing wine and selling it at festivals and fairs. In 2006, the winery tasting room opened.
The petite tasting room offers a small seating area for tasting wines. A display of eight oak wine barrels separates the tasting room from stainless steel tanks. The effect is a friendly ambiance. Outside a large deck with tables and chairs is available for those who would like to stay and enjoy a glass of wine. Neil and Rachel are in the process of enlarging the facility. New features will include a kitchen and an event room.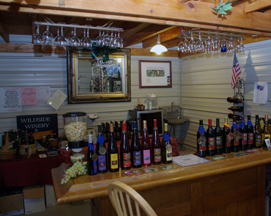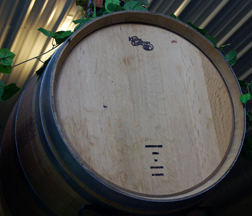 Currently the winery is producing 1,000 cases of wine and plans to increase production. Wines include still reds and whites, a sparkling wine and several fruit wines. The fruit wines are produced with 100 percent fruit.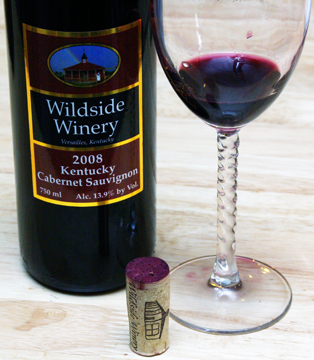 White Wines
Seyval Blanc 2006 was produced from grapes in the Wildside Vineyards. The aroma and taste were of tropical fruit while the finish was crisp and drying. Chardonnay 2007 was a light yellow. The aroma was of pear with apple nuances. The smooth taste offered apple notes and the wine finished with apple.
Red Wines
Duet 2007, a blend of Marechal Foch and De Chaunac, was a dark purple. The aroma was of black fruit with earthy nuances. There was black fruit on the taste. The finish was crisp with mild tannins. Norton 2008 was a dark purple. There was earthiness on the aroma and the taste had perfume nuances. There were notes of black fruit on the finish. Chambourcin was a dark purple, opaque color. The aroma offered black fruit nuances while the taste was crisp with mild tannins. There was a long fruity finish. Cabernet Sauvignon 2008 was a dark purple opaque color. The aroma and taste were of blackberries. There were also spice notes on the taste. The fruity finish had tannins.
Enjoy a visit to Wildside Winery. Stroll through the vineyards and enjoy the wine.
Wildside Winery
5500 Troy Pike
Versailles, Kentucky 40383
GPS: N37º 58.710' W84º 43.146'