Equus Run Vineyards
by
Kathy Sullivan
Summary: Located in the horse country region of Kentucky, Equus Run Vineyards has many opportunities to offer visitors. A visit to the winery provides guests with the opportunity to taste wines, attend concerts at the lovely amphitheater and walk through gardens. Be sure to take your time and enjoy all that the winery has to offer.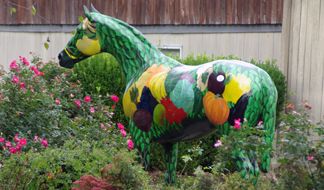 On arriving at Equus Run Vineyards, visitors will discover a tasting room where the focus is on tasting wines and the opportunity to enjoy the surrounding vineyards on a deck equipped with picnic tables and umbrellas. Be sure to enjoy the horse sculpture, Vegetariat. This is a unique life size fiberglass horse created by a Lexington artist and obtained through a charity auction. Vegetariat is painted with vibrant colors of garden vegetables. Gardens to stroll through are adjacent to the tasting room. All of this is located on property that was once a tobacco farm.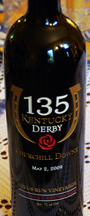 Equus Run Vineyards produces a Cabernet Sauvignon specifically for the Kentucky Derby at Churchill Downs. This is a limited edition and only 135 bottles are produced. The unusual label is etched into the glass and painted with gold. Each bottle has its own individual number.
Cynthia Bohn, owner and winemaker, first became attracted to the idea of owning a winery and vineyard when she was collecting wines. Combining collecting wines with the joy of cooking naturally led to the idea of starting a winery. Cynthia is delighted to be in an industry where, "Customers come to a winery because they want to not because they have to."
Equus Run Vineyards is the result of years of planning by Cynthia. She commented that she "planted my retirement." While maintaining employment with a major company, on weekends she flew to UC Davis to learn all she could about viticulture and oenology.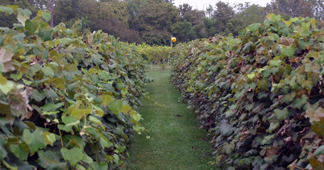 Cynthia began planting vineyards 17 years ago. The seven acres of grapevines include Riesling, Vidal, Norton, Chardonel, Merlot, Cabernet Franc and Chardonnay. In addition to the seven acres of grapes onsite, Equus Run sources grapes from contract growers in Ohio and Indiana as well as two acres in California.
Many improvements have been made to the property since Cynthia purchased it. Now visitors will discover a tasting room with an adjacent deck. Tables and chairs are available. A garden adds another dimension to the visit. Visitors may want to purchase a glass of wine and stroll through the garden. After walking along a pathway between vineyards, one will reach a newly renovated tobacco barn where indoor events take place. At the end of the property a large amphitheatre has been added. Terraced seats of grass and stone surround the platform. Cynthia has created an agricultural destination site where there is something for everyone.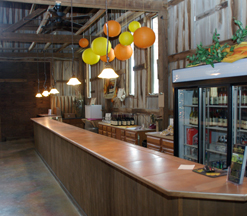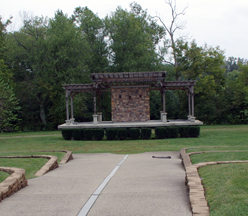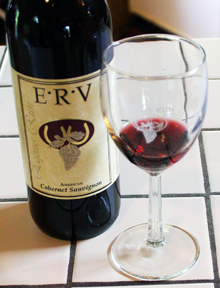 White Wines
The signature wine for the winery is Riesling. This is the best selling wine for Equus Run. The wine is very fruity with notes of pear and tropical fruit. Vidal Blanc offered an aroma and taste of citrus and apple notes. The finish was crisp with a long fruit aftertaste.
Red Wines
Cabernet Franc 2008 was a ruby translucent color with a spicy and smoky aroma. There were notes of cocoa on the taste while the finish offered spice and cocoa nuances and mild tannins. Cabernet Sauvignon Blanc de Noir 2008 offered a red fruit with cherry and cranberry notes on the aroma and taste. The finish was crisp and refreshing. Cabernet Sauvignon 2007 was a translucent purple. The aroma and taste were of blackberries. The finish was crisp with mild tannins.
Cynthia would like people to "visit the vineyard and taste the experience." This is an opportunity for people to get away from the city and experience the country. Visitors can spend several hours at this winery. Consider taking a picnic lunch and enjoy a day in the country.
Equus Run Vineyards
1280 Moores Mill Road
Midway, Kentucky 40347
GPS: N38º 09.510' W84º 38.714'