Rolling Hills Vineyard and Winery
by
Kathy Sullivan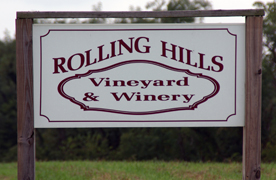 Summary: Rolling Hills Vineyard & Winery is an unusual winery with a unique story. The wine recipes are unusual as they have been passed from generation to generation. This family-owned boutique winery focuses on fruit wines that are sweet.
After traveling a narrow, paved road for about three miles, a sign indicated we had reached Rolling Hills Vineyard & Winery. The road weaved its way around and through rolling hills and thus the winery is aptly named Rolling Hills. The winery is located on a 21-acre farm that was once a tobacco farm.
The one-level building is constructed of yellow poplar harvested from the farm property. Two white-framed windows with café curtains add ambiance to the rustic style of the tasting room. Long tables with colorful tablecloths add a friendly spirit to the room. On a nearby shelf, I spied homemade strawberry and peach jams for sale.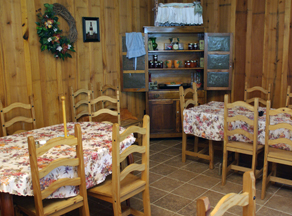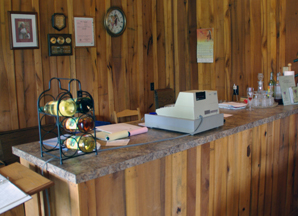 Ronnie and Donnie Coulter decided to make wine by starting in the basement using a recipe that had been handed down from their grandparents. Friends liked the wines they were making and urged the brothers to open a commercial winery. The label for the wines features the Coulters' grandparent's home.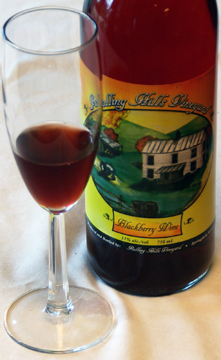 Wines
We tasted several of these wines most of which are fruit wines. The Blackberry Wine was a dark orange-red color. The aroma was of blackberry and the taste was smooth. The wine finished crisp with a sweet blackberry taste. Elderberry Wine was delightful with a dark Sienna color. The aroma was of elderberry and earthiness. The taste was sweet and smooth with elderberry. The finish was sweet and fruity. Pear Wine was yellow and the wine had a slight pear aroma. The taste was smooth and had sweet, light pear nuances. The finish was sweet with a light fruit finish. Zinfandel was a dark translucent purple color with a light fruit aroma. The taste was sweet with fresh fruit flavor. The finish was smooth. Concord was a pink color with a light aroma. The taste was pleasant and smooth.
Events
The winery's tasting room can accommodate up to 70 people. Private events can be held here. Wine tasting dinners are held once a month. Fried chicken, BBQ ribs and fish are the main entrees.
Note: Ronnie Coulter has recently written a book A Quest for Love. This is Ronnie's first book and was released in July 2009.
Enjoy a chance to travel through the countryside to discover Rolling Hills Vineyard & Winery amid the rolling hills of Kentucky.
Rolling Hills Vineyard
2385 Kelly Shop Road
Springfield, Kentucky 40069
GPS: N37º 43.993' W85º 08.634'