Jean Farris Winery & Bistro Restaurant
by
Kathy Sullivan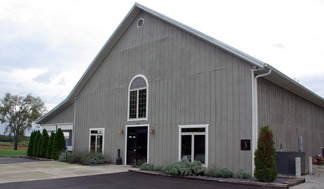 Summary: Jean Farris Winery & Bistro, located in the outskirts of Lexington, Kentucky is in an ideal location. Visitors can easily reach the winery from Lexington and Cincinnati. The O'Daniels believe that the wine and food in the restaurant complement each other.
Jean Farris Winery & Bistro is located not far from Interstate 75 and is easy to discover with two vineyards in front of the tasting room and bistro. The facility is located in a barn-style building that was newly built. Behind the bistro is the winery, a renovated tobacco barn that is estimated to be about 80 years old.
Jeanie and Ben O'Daniel, both from winemaking families, met during a tour of Missouri wineries. Ben has been making wine since he was 14, working at his father's winery. Jeanie and Ben spent 15 years consulting in the wine industry before opening their own winery, Jean Farris Winery. The O'Daniels purchased the property in 2003 and planted ten acres of vineyards. These vineyards include Chardonnay, Viognier, Tempranillo, Cabernet Sauvignon, Cabernet Franc, Merlot and Petite Syrah.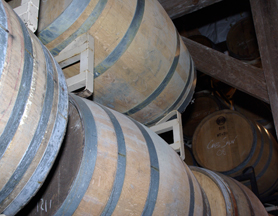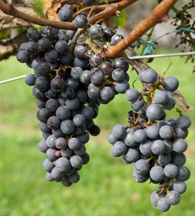 The Bistro
Upon entering the winery and bistro, visitors will see a copper u-shaped counter top with comfortable leather bar stools. Overhead small lights emphasize the copper wine counter. Small tables for the bistro surround the wine tasting counter. Tables are set with white tablecloths. A patio is also available. A single flower in a white vase provides a simple but elegant touch. The flowers are from a local florist.
The chef for the Bistro is Executive Chef Javier Lanza. The menu he has created is delightful. There is something for everyone. Most of the selections are sourced from local farms and businesses. Several options include soups, salads, seafood, poultry, lamb and filet mignon.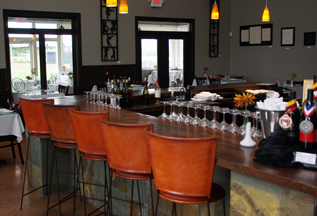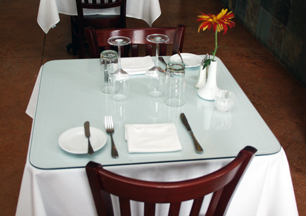 Wines are served in Stölzle stemware, as Ben believes that quality wines should be served in quality stemware. Currently the winery is producing over 4,000 cases of wine. The winery has two Wine Clubs to choose between. With the Connoisseur Wine Club, members will receive wine shipments monthly. The Wine Enthusiast Club members receive wine shipments quarterly. Both Wine Clubs are free to join. More information is available on their website.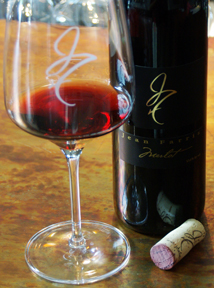 White Wine
Viognier 2007 offered a peach and floral aroma with a taste of peach notes. The finish was crisp and fruity. The aroma of the Chardonnay 2007 had pear notes while the taste offered pear and citrus nuances. There was citrus on the finish. Riesling, with a very light straw color, was delightful with fruity and mineral notes.
Rosé
Rosé was a Cabernet Franc based wine. This wine had a light reddish color. The wine was medium bodied with cherry notes. The finish was dry with hints of pepper.
Red Wine
Merlot 2006 was a ruby color with black cherry notes on the aroma. The taste had notes of plum and black cherry. The finish was fruity with tannins. Cabernet Sauvignon 2006 was a ruby color. The aroma offered blackberry and pepper notes. The taste had notes of blackberries while the crisp finish had bold tannins and was fruity. Petite Syrah 2007 was a ruby opaque color. The aroma had layers of fruit including plums and blueberries. The smooth taste had plum nuances. The finish was fruity with bold tannins. Tempest was a blend of Tempranillo, Cabernet Sauvignon and Cabernet Franc. This wine offered an aroma of woody notes and a smooth fruity taste.
Enjoy a visit to Jean Farris Winery & Bistro. Visitors are welcome to come and stay for a while enjoying good wine with good food.
Jean Farris Winery
6825 Old Richmond Road
Lexington, KY 40515
GPS: N37º 55.725' W84º 22.615'