Castle Hill Winery
by
Meghan Anne Neumeier
Photos by Andy Neumeier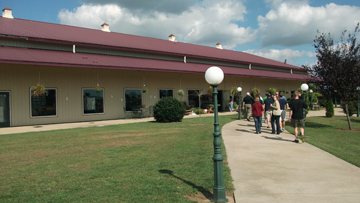 Summary: Castle Hill Winery is a rural oasis nestled in green rolling hills in Versailles, Kentucky. What began as a family farm and pumpkin patch soon became a winery as owners Abe and Kim taught themselves to make wine. Castle Hill, which boasts views of Versailles' Castle Post bed and breakfast, specializes in wedding festivities. Guests can also relax on the patio with a glass of wine and take in the gorgeous surroundings.
Abe and Kim originally bought the 90 acres that Castle Hill Winery sits on to use as a family farm and home. They soon found themselves opening up a pumpkin patch to the public, followed by a winery in 2001 which, as Kim describes, was "purely accident." Abe and Kim have eight children, and together the family put in long hours to build the tasting room, gift shop, and banquet hall. They used recycled materials in the construction; for example: the bricks in the walls came from a nearby bourbon distillery, and a large tapestry behind the tasting bar was used in a play on Broadway.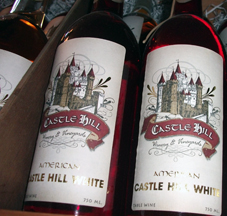 Abe and Kim taught themselves to make wine "from scratch" from the many grapes they grow on their property. Of the 90 acres of land that comprise Castle Hill, nine are vineyards. There are 11 different grape varieties in the vineyards, including Vidal Blanc and Chambourcin. The vineyards greet visitors as they follow the long, winding road to the tasting room.
Castle Hill's most popular wines are the Castle Hill Red, the Camelot, the Apple, and the Castle Hill White. The Castle Hill Red is ruby red in color. It has an earthy nose and a flavor of berries. Like many of Castle Hill's wines, it is smooth and light. The Camelot is a peach wine that is pale yellow in color. Its scent and flavor are like a sweet, fresh peach. The Apple is also pale yellow; its scent is reminiscent of a stroll through an apple orchard, and it has a light, earthy taste with apple notes. The Castle Hill White is pale gold in color. It has a sweet nose and a dry, yet fruity, taste. Castle Hill also offers Cabernet Sauvignon, Shiraz, Riesling, White Zinfandel, Blackberry, and Strawberry wines. All wines are aged in steel tanks.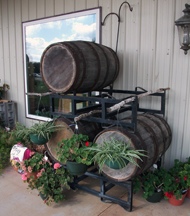 The tasting room, called "The Camelot Room," contains brick and wood walls, dark flooring, and large French doors that bring in ample sunlight. A long, 28-foot ornate tasting bar runs the length of the side wall. Large mirrors decorate the wall behind the tasting bar. The Camelot Room is surrounded by outdoor patios that offer a view of Castle Post, a bed and breakfast castle owned by the Thomas R. Post family. Adjacent to The Camelot Room is a gift shop and a banquet hall. The gift shop specializes in antique gifts, including dishes, furniture, and decorations.The banquet room is used for a variety of events, especially weddings, rehearsal dinners, bridal and baby showers, and corporate parties.
Plans for a restaurant at Castle Hill are underway; greenhouses are also being constructed. The future has much in store for Castle Hill Winery!
Castle Hill Winery
3650 Lexington Road
Versailles, Kentucky 40383