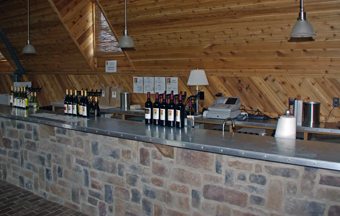 Tasting Room
Friday, Saturday & Sunday: 11:00 am - 6:00 pm
(also Holiday Mondays)
Educational Tasting Fee: $10 per person.
Groups of 8 or more: $15 per person includes glass.
Please enjoy 10% off the purchase of 6-11 bottles or 20% off 12 or more bottles.

The tasting room has an observation deck to the production area below. Frequently, throughout the year, visitors can observe the winemaking process below.
Clandestine Wine Club information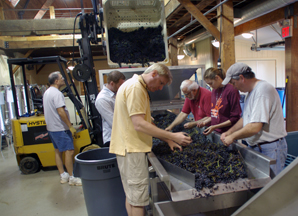 Make Your Own Wine
"Many custom crush wineries focus on vineyards. At Vint Hill Craft Winery, we take a different, and we think better, approach. Our process starts with and is dedicated to winemaking and our commitment is to deliver to you the highest quality fruit from the region of the country you choose."
In the autumn of 2009, Wine Trail Traveler's Kathy and Terry crafted a barrel of Cabernet Sauvignon at Vint Hill Craft Winery with grapes sourced from Paso Robles in California.
White Wines
Covert Winework's Pinot Gris "Gigi"
Monitoring Station #1
Rosé
Rose of Grenache
Red Wines
Vint Hill Merlot
Covert Winework's Sangiovese "Sophia"
Vint Hill Syrah
Covert Wineworks Cabernet Franc "Bebe"
Covert Winework's Zinfandel