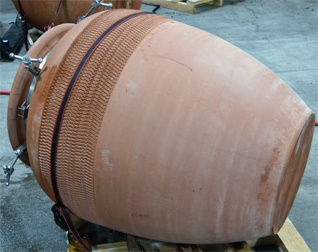 Located in the heart of Downtown Eugene, Oregon, Civic Winery & Wines is a multi-faceted project housed in a newly-renovated historic building. Originally constructed in 1937 with some connection to Eugene Civic Stadium, the renovations exposed the high ceilings, beams and trusses that previous tenants had allowed to remain covered.  
This urban winery project is composed of several interrelated elements: a fully-functioning winery specializing in amphora wine fermentation and aging and Custom Crush; Private Events space for up to 250 guests; a wine bar and bottle shop focused on natural wines from around the world and Civic Winery label wines; and a restaurant, Lion & Owl, that celebrates the flora and fauna of the Pacific Northwest, see www.lionandowl.com 
Civic evokes the Latin civis, citizen, and civitas—the social body with the rights and responsibilities that connect members of a community. We want to celebrate Oregon and the Willamette Valley, its rich agricultural history, and Eugene's place within this ecosystem.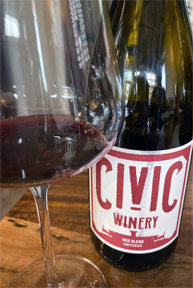 The winery focus is on organic and biodynamic grape growing and processing. We use Oregon-crafted terracotta amphora for wine production, vessels which harken back thousands of years. 
The bar and bottle shop celebrates natural wines made by small growers and producers who focus on organic and biodynamic farming, gentle extractions with indigenous yeasts, minimal intervention and low sulphur. We have a selection of wines geared toward the curious and conscious consumer, for pleasure, for the table, and for the cellar. 
The Civic Winery Cellar and Barrel room are among Eugene's most unique settings for private parties, weddings, social, or networking events. Your group can relax in the atmosphere of our beautifully renovated 1930s space with natural light and décor, wine cellar ambiance, and our rustic amphora (terracotta) winemaking vessels. We can accommodate any group, from a small and intimate gathering to a large affair with seating for up to 250. There's plenty of parking, free high speed fiber internet/wi-fi (Downtown Eugnet) and a quality sound system for live music, dancing or presentations. Guests will enjoy a carefully chosen menu of natural wines, plus coffee, mimosas, and other beverages. We also offer assorted meat, cheese, and vegetable platter options and work with several local caterers to meet your tastes and dietary needs.