Sans Soucy Vineyards
by
Kathy Sullivan
March 2011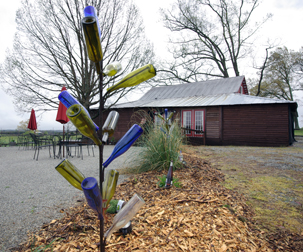 Summary: Sans Soucy Vineyards is a family owned winery and vineyard located in the delightful southern Virginia countryside. Enjoy a drive into the country to Sans Soucy where you will discover the tasting room in a restored farm building amid other red-sided farm buildings. Visitors are welcome to bring a picnic lunch and enjoy it on the patio with a Sans Soucy wine.
Sans Soucy Vineyards is located in the quiet southern Virginia countryside. A wine bottle tree is at the entrance of the driveway. Vineyards are nearby. Adjacent to the tasting room a patio area has wrought iron tables and chairs with a small stage area under an immense oak tree. Several tables have large red umbrellas. The edge of the patio is decorated with colorful wine bottle trees. Visitors are encouraged to bring a picnic lunch and enjoy it with a glass or bottle of Sans Soucy wine.
We met Paul and Jackie Anctil, owners of Sans Soucy Vineyards. We also met their son Paul who works alongside his father in the winery and vineyard. Jackie is the tasting room manager. Paul has been around home winemaking all of his life. He became involved in winemaking because it was a passion for him.
Paul's mother was French Canadian whose maiden name was Soucy. Paul commented that occasionally someone from France stops at the winery and tells him the soucy is spelled incorrectly; Paul laughs and explains that it was his mother's maiden name.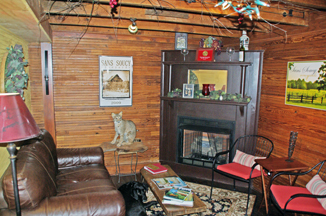 Sans Soucy, "without worries," is an unusual name for a winery. Most winemakers and vineyard managers do a fair amount of worry and have concerns such as Mother Nature's propensity to change the weather at a moment's notice. In late March 2012, while visiting Southern Virginia wineries, many grapevines were coming forth with buds much earlier than usual. We heard concern from owners and winemakers about the devastation a frost could do to the 2012 vintage. As I write this morning we have heard of the potential for frost this evening. So a winery named for "without worries" is unique considering the actual worries and concerns wineries and vineyards face.
The without worries theme is apparent in the tasting room. A comfortable seating area, with a fireplace, offers a worry free zone for enjoying Sans Soucy wines.

Vineyards
The Anctil family established the vineyard in 2001. As the grapevines matured the Anctils began selling grapes and slowly became involved in winemaking. Currently Sans Soucy has six acres of grapevines that include Traminette, Viognier, Cabernet Franc, Petit Verdot and Tempranillo. Sans Soucy was licensed in 2006 and began selling wine in 2008. In the past the winery produced almost 1,200 cases a year. In 2012 production may reach 1,500 cases.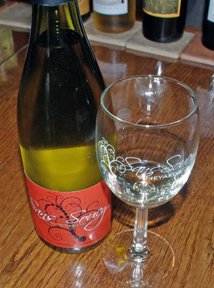 Sans Soucy Wines
Le Grand Nez 2008 was aged in French and American oak for two years. The ruby wine had a nose of black fruit. The taste was of black fruit especially black cherry. The finish had mild tannins with fruit and black pepper on the aftertaste. Petit Verdot 2008 was a dark ruby. The notes of dark berries were emphasized. It was suggested that this wine would pair with cigars. Cigars are available in the tasting room; however enjoying a good cigar takes place outside of the tasting room. Legacy was a blend of Chambourcin, Cabernet Franc, and Tempranillo. The wine was a dark ruby with an aroma and taste of dark fruits. The finish, with very mild tannins, was very fruit forward.
Barrel Tasting

We had the opportunity to taste two wines aging in oak barrels. Tempranillo 2010 was ruby with a fruity aroma. Blackberry notes were on the taste. The finish offered tannins and was fruity with spices on the finish. Petit Verdot 2009 was dark ruby. The aroma and taste were of dark berry fruit and the wine had bold tannins.
Ginger Wine

Paul produces a Ginger wine made with Traminette, ginger, orange, golden raisin and lemon. The aroma was very gingery. The taste was smooth with ginger, then orange and followed by spice.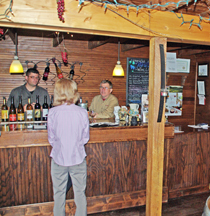 Events at Sans Soucy Vineyards
Visit the Sans Soucy Vineyard's website to discover the public events at the vineyards. Look for cigar or chocolate and wine pairing events and the Annual Bark & Wine Festival. Sans Soucy Vineyards participates in many festivals throughout the year.
Private events can take place at the winery. Wedding ceremonies in the vineyard and receptions at Sans Soucy can be scheduled.
Discover Sans Soucy Vineyards in Brookneal, Virginia on the SoVA Wine Trail.
Be sure to stop at Sans Soucy and discover an enthusiasm for creating wine. Bring a lunch and enjoy it on the patio within view of the vineyards. Don't miss the Annual Bark & Wine Festival.
Sans Soucy
1571 Mount Calvary Road
Brookneal, Virginia 24528
GPS: N37º 03.678' W78º 53.790'
---
Visit these Virginia wineries and wine tour groups that partner with Wine Trail Traveler.