Hunting Creek Vineyards
by
Kathy Sullivan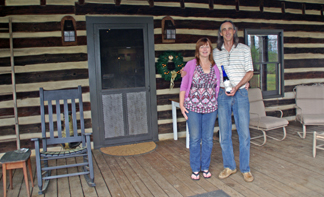 Summary: A visit to Hunting Creek Vineyards during March 2012 provided views of grapevines shooting forth green leaves with winery and vineyard owners concerned about the possibility of an early frost. The winery is on the newly created SoVa Wine Trail.
We visited Hunting Creek Vineyards in March 2012, buds on grapevines were bursting forth with small green leaves. In this area of Southern Virginia, the grapevines are ahead of schedule and winery owners are concerned that a hard frost could destroy the 2012 harvest.
Milt and Sandy McPherson, owners of Hunting Creek Vineyards met us with friendly smiles and wonderful hospitality. The tasting room is located in their log cabin home, which adds to the ambience of a wine tasting. Just inside the door a large granite curved counter can accommodate six wine tasters. Several wood stools provide space for a leisurely wine tasting. The tasting counter fits in easily with the rest of the room as family living space. Tables, chairs and a seating area near a fireplace add to the charm of the tasting room.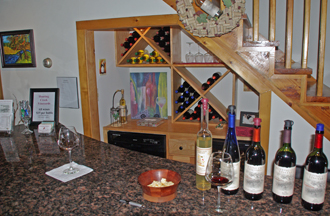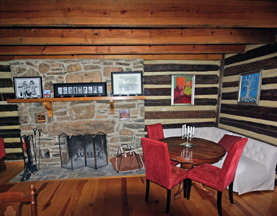 The log cabin home was created with the combination of two tobacco barns. The result is a warm and friendly home for the McPhersons. The McPhersons four adult children are involved in different aspects of the winery. One son has studied to be a winemaker in California and is now working at a Northern Virginia winery.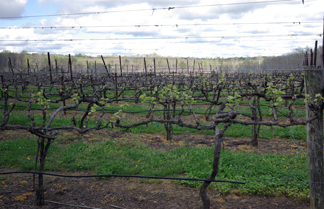 Hunting Creek Vineyards
The current 3.5 acres of vineyards including Merlot, Petite Verdot and Viognier, were first planted in 2002 and an additional half-acre of Malbec is planned for 2012. The McPhersons began making wine in 2005 and bottled in splints. The following two years, 2006 and 2007, they sold their grapes to other wineries. Eventually they returned to producing their own wines. Milt and Sandy strive for quality in the vineyards in order to produce quality wines.
Wines of Hunting Creek Vineyards
The McPhersons produce 400 cases of wine. Wines are labeled with unusual names. Originally the wines were labeled Pure Luck; today Pure Luck 2010 is produced with all Hunting Creek Viognier grapes. The wine was aged in neutral oak. The name, Pure Luck, was from a comment, "If you don't have a way to do sensory analysis then whether your grapes are ripe are "pure luck." The Pure Luck wine had tropical notes on the nose and taste. The finish was smooth with tropical fruit nuances.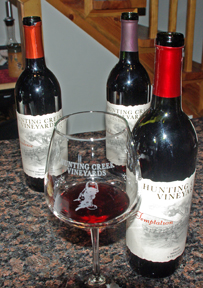 Temptation 2009 was produced with 100 percent Hunting Creek Merlot grapes. The ruby color wine was earthy, spicy and had dark fruit notes. The taste was earthy and the finish offered tannins and dark fruit notes. Suggested pairings included chicken and green salads contained mushrooms but not citrus. Indulgence 2009, a Bordeaux blend was produced with Cabernet Sauvignon, Cabernet Franc, Merlot and Petite Verdot. The ruby wine offered an aroma and taste of dark fruit. The finish with mild tannins had dark fruit nuances. Petite Verdot was fermented with Viognier skins. Some Viognier was blended with Petite Verdot prior to bottling. The dark ruby wine had chocolate on the nose. The taste was of dark fruit. Bold tannins and dark fruits were on the finish. The tasting included dark chocolate chips. This wine paired nicely with the chocolate. Repentance was a blend of Cabernet Franc and cranberry. The bright, ruby wine offered a nose and taste of cranberry and cherry. The finish was sweet and fruity.
Dare was an unusual wine that is good for sipping and cooking. The wine is produced with white Concord grapes and jalapeno pepper. The aroma was of hot peppers then white Concord jumps out. The taste had a White Concord taste around the mouth with hot peppers in the center. The aftertaste kept alternating between white Concord grape and pepper notes.
Take time to explore the wineries on the SoVa Wine Trail and stop at Hunting Creek Vineyards. The winery is open Friday thru Sunday and on other days by appointment.
Hunting Creek Vineyards
2000 Addie Williams Trail
Clover, Virginia 24534
GPS: 36º 55.971' W78º 47.013'
---
Visit these Virginia wineries and wine tour groups that partner with Wine Trail Traveler.