American Way Country Winery
by
Kathy Sullivan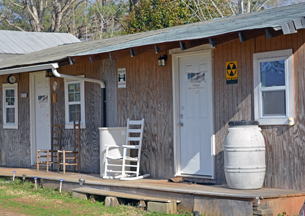 Summary: The American Way Country Winery is located on a farm in Southern Virginia. Bill, a winemaker and farmer, is enthusiastic about producing sweet and fruit-based wines. All wines are produced in small batches. The winery is located in the rural countryside of Chase City, Virginia.
Does the name American Way Country remind you of a time in the past? Think back to the old Superman series where Superman's motto was, "Truth, Justice and the American Way." Bill Hill liked the American Way symbolism and decided to use it for the farm and winery name.
We met Bill, a winemaker and farmer, at the winery building he built to produce the type of wines he enjoys. Bill and his wife Donna are the owners. Their grandson William also helps at the winery. The tasting room and winemaking room are adjacent. While talking with Bill, we quickly learned why he makes mostly fruit wines.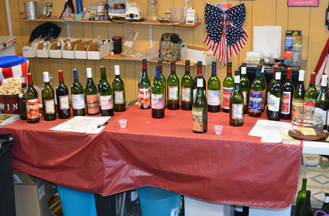 He recalled being in his twenties and talking with a neighbor about different types of alcohol. Neither one of them enjoyed beer and could not afford quality traditional dry wines. Together they decided to try making a sweet wine. Now many years later Bill and Donna own a small farm with many types of fruits and vegetables. All the fruit for the wines is grown on the property. Bill and Donna have15 acres of fruit. At one time Bill planted grapevines; however, he said that the deer were too problematic to continue the vineyard.
When it comes to winemaking, Bill enjoys experimenting with different types of fruits. He also tries different vegetables. Fruit on the property includes: elderberry, blackberry, peach, plum, apple, strawberry, persimmon, watermelon, blueberry, raspberry, elderberry, cantaloup, cherry, and pear. Apple varieties are Granny Smith and Red Delicious. Other unusual types of wines are made with tomatoes and pumpkins. Since much of the fruit matures at approximately the same time, Bill freezes most of the fruit and makes wine as needed. The freezing of the fruit allows Bill to make wine any time of the year. In addition, when the fruit thaws more juice is extracted.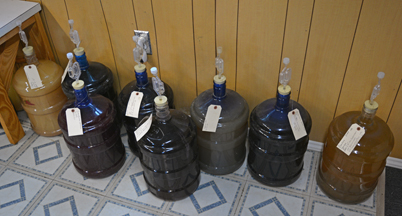 Bill was happy to discuss the current batch of cantaloup wine he is making in a five-gallon carboy. He said that when making cantaloup wine it can be tricky to ferment. Bill noted that this particular batch is taking a long time to clear and that it takes patience. He also mentioned that the tomato wine is a big hit at wine festivals. Bill makes his tomato wine with red tomatoes and raisins. Unfortunately, there was a misunderstanding and the government required that the tomato raisin label include spices, even though Bill assured us that there were no spices in this particular batch. He noted that the confusion came from a recipe that uses green tomatoes that required spices. Another unusual wine that Bill makes is persimmon, and he went into detail on the difficulty of picking persimmons.
Bill wants visitors to know that this is a craft winery where wine is made in small batches. He controls all aspects of the wine and normally makes wine in five-gallon carboys.
Adjacent to the tasting room/winemaking room is another room of the same size. Visitors are encouraged to bring a bite to eat and enjoy tasting the unique wines that Bill crafts.
Wines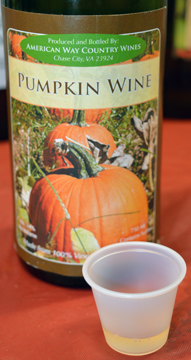 Pumpkin Wine was 14% alcohol. This was a light yellow color. The wine had a definite taste and aroma of pumpkin. There was a long pumpkin aftertaste. The Tomato Raisin wine was a yellow color. There was a light aroma. The full-bodied wine had notes of raisins with a sweetness from the raisins. The taste lingered on the finish.
The Dry Blackberry wine was a burnt red color. The wine offered earthy and blackberry notes. The finish began with a very earthy taste and then yielded to blackberry notes. Raspberry wine was a pink color. The wine offered notes of raspberries with a long raspberry aftertaste.
Peach Fuzz Surprise was a yellow color. The taste was very peachy with an earthy hint. The wine had a long aftertaste. The Cherry wine was produced with Queen Ann cherries. This wine was a light red color and offered a light cherry aroma. The taste was of cherries. It lingered on the finish. Perky Persimmon Wine was a light yellow color This wine was sweet with persimmon notes.
In addition to producing the American Way Country wines, Bill will also make a carboy of wine as suggested by consumers. He can produce a wine that will specifically meet the tastes of the individual. Bill supplies all of the materials needed. The consumer can taste and approve the wine and help to bottle it. This is a nice opportunity for anyone who wants a fruit wine created to their individual taste buds.
If you have never tasted a tomato wine or a persimmon wine, this is the winery to visit. Wine lovers who enjoy tasting a variety of different wines will want to explore these unique, sweet wines Bill is producing.
American Way Country Winery
13750 Highway 47
Chase City, Virginia 23924
GPS: N36º 47.589' W78º 21.052'
Article writen February 2017.
---
Visit these Virginia wineries and wine tour groups that partner with Wine Trail Traveler.