Bright Meadows Farm Vineyard and Winery
by
Kathy Sullivan
March 2011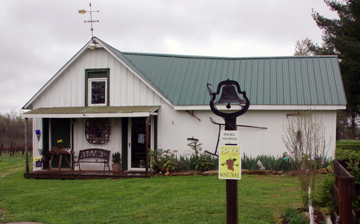 Summary: Bright Meadows Farm Vineyard & Winery is located on the SoVA Wine Trail in Nathalie, Virginia. Enjoy a visit to a boutique winery in southern Virginia where you will be welcomed with southern hospitality.
Shirley and Boyd Archer, owners of the vineyard and winery, noted that Bright Meadows was the "first winery in the county." Today they are on the newly created SoVA Wine Trail. Arriving at Bright Meadows Farm, visitors will see a large iron bell, with a rope attached. The purpose is for visitors to ring it if no one is at the tasting room. Shirley Acommented that everyone loves to ring the bell. Even if she is standing at the door waving, visitors will stop to ring the bell.
Bright Meadows Farm Vineyard & Winery, a family owned winery and vineyards, has a rustic and relaxing ambiance to it almost reminding one of a cottage. The outside has white siding emphasized by a green roof and details. A small porch adds to the ambience. The winery and tasting room is located in a 117-year-old farm building with 1880's barn wood flooring. Originally these were boards from a hayloft. A window in the gift shop allows visitors to view the tank room. If arriving at the right moment, wine enthusiasts may catch a glimpse of the winemaking process. The tasting room has a variety of gifts to peruse while tasting wines.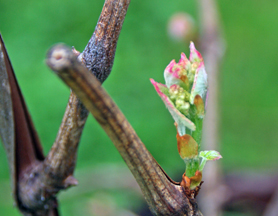 Bright Meadows Vineyards
Nearby the tasting room, the Bright Meadows Farm vineyards consist of 10 acres with sandy loam soil. Vines were planted in 2001. Varieties planted include: Concord, Vidal Blanc, Chambourcin, Norton, Steuben, Cayuga, Catawba and Niagara. Bright Meadows vineyards are protected from deer by four lively dogs. during our late March visit, the Concord vines were beginning to leaf out.
The Archers have made wine for years. Retired now they love having the time to produce wine. In addition to producing wine, they also make jelly, jam, applesauce and juice.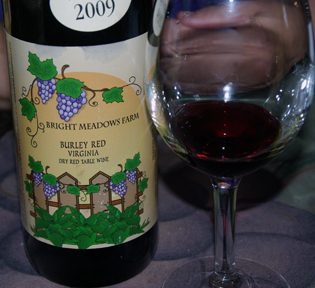 Fruit Wines
Apple wine is produced with McIntosh and Granny Smith apple varieties. As one would expect the straw color wine tasted like apples. BAG Wine 2010 was named for the fruits in it: blackberries, apples and grapes. The color was a red-orange. The aroma minds one of Native American grapes. The taste was fruity and sweet while it dried on the finish. Blackberry wine was produced with 100 percent blackberries. The aroma and taste had blackberry notes. The finish was crisp with blackberry nuances.
White Wines
Bright Meadows White was a Niagara wine with a straw color. The taste offered notes of Niagara grapes with a touch of minerality. The finish was smooth and drying. Bright Leaf White 2009 was produced with Vidal Blanc. The light yellow wine offered earthy nuances and perfume on the drying finish.
Red Wines
Burley Red 2009 was a Chambourcin wine. The dark red wine had an aroma of red berry fruit. The taste with minerality had raspberry notes. The crisp finish with mild tannins was fruity. Halifax Red 2009 was a Concord wine with a Concord aroma. The taste was a light Concord taste. The taste was very crisp with a slight Concord taste. Rebellion Red 2009 was produced with Norton. The wine had red berry notes. The finish was crisp with mild tannins and berry fruit.
When visiting Bright Meadows Farm Vineyard & Winery, plan to take a picnic basket to enjoy on the property with a bottle of Bright Meadows wine.
Bright Meadows
1181 Nathalie Road
Nathalie, Virginia 24577
GPS: N36º 55.953' W78º 56.906'
---
Visit these Virginia wineries and wine tour groups that partner with Wine Trail Traveler.