Molliver Vineyards and Winery
by
Kathy Sullivan
March 2012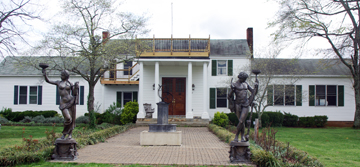 Summary: Wine enthusiasts will discover Molliver Vineyards & Winery in Virginia's beautiful countryside. The owner, Marshall Molliver, is friendly and enthusiastic about the winery and its uniqueness.
Molliver Vineyards & Winery in Nathalie, Virginia is owned by Marshall Molliver. Marshall has spent a great deal of time renovating the property and creating a unique feel for visitors.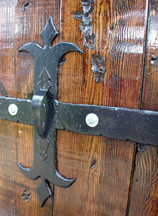 Visitors can see the creativeness and enthusiasm Marshall has for the property. The large wood doors were obtained from Lancaster, Pennsylvania and made to fit. Construction on the winery continues to take place during late March of 2012. When Marshall could not find the style and size of doors for the winery building, he created his own doors. When the doors proved to be too heavy for any hinges on the market, he fabricated his own hinges.
Marshall Molliver grew up in Boston, worked for many years with a chemical industrial company and then owned his own employment agency specifically for the chemical industry. Eventually Marshall decided to leave that behind and relocate to southern Virginia in 2000 after purchasing the 134- acre property. He bought the property because he was searching for a tranquil location. The property backs up to the Banister River.
As Marshall shows the property he mentions that it was neglected and purchased by a timber company during 1995. In 2005 he approached the State agricultural extension agency for suggestions of what he could do with the property. One of the options suggested was a vineyard. According to Marshall, the original house built in 1800 was very neglected and he needed to renovate it. While renovating the entire house, he added two large wings. These are where wine events and weddings take place. The tasting room is located in a renovated barn and a large porch has been added.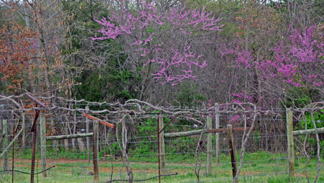 Vineyard
Vineyards were planted in 2005 with ten acres of grapevines including Norton, Vidal Blanc, Viognier and Cabernet Franc. Marshall included Norton because of its connection to the area. Grapes are also sourced from local vineyards. During a late March visit, the buds have not pushed out in the vineyard. However beyond the vines, rebuds were in blossom providing a colorful contrast to the dormant vineyard beginning to awaken.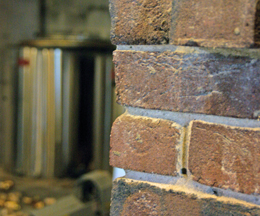 Winery
The winery has some finishing touches that need to be made. However a quick preview showed large brick arches that add much to the ambiance of the building. In the future, this building will be the location for events.
Marshall enjoys dry wines but realizes that many people also like sweet wines and he accommodates them by including sweet wines in his portfolio. Be sure to check out Vin Chocolate and Blackberry wines as well as the traditional wines.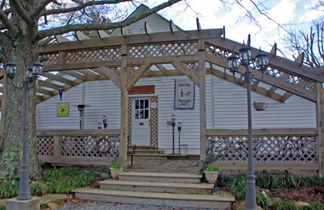 Wines
Wines are tasted in an old barn converted into a tasting room. Vidal 2011 offered floral and fruit notes with a perceived sweetness as the residual sugar was zero percent. This very pleasant wine was triple filtered. Sweet Pinot Grigio 2011 was sweet and smooth. This is a wine for sweet wine drinkers.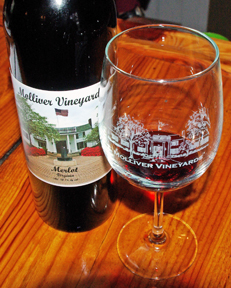 Merlot 2011 was a ruby color with an aroma of dark fruit and the taste was very fruity. The finish had very mild tannins and was very fruity. The residual sugar was zero but the wine had a perceived sweetness. Norton 2007 was a red/ruby color with red fruit notes. The finish offered tannins and was fruity. Norton 2008 was red with red fruit nuances and mild tannins. Vin Chocolate was a dark ruby color. The aroma had chocolate notes, while the taste offered cherry nuances. The wine finished with chocolate notes. Anyone who enjoys chocolate covered cherries should try Vin Chocolate.
Marshall has an enthusiasm to look into the future. As success takes hold, he will build another winery building on the property. This winery will be partially underground. The current winery facility, which is almost finished, will be the event room. With the Banister River almost in his backyard, Marshall hopes it will entice water sports enthusiasts to come to the winery.
Enjoy a visit to Molliver Vineyards & Winery.
Molliver Vineyards

2046 Waller Road
Nathalie, Virginia 24577
GPS: N36º 54.576' W79º 06.471'
---
Visit these Virginia wineries and wine tour groups that partner with Wine Trail Traveler.