Colorado Cellars Winery
by
Kathy Sullivan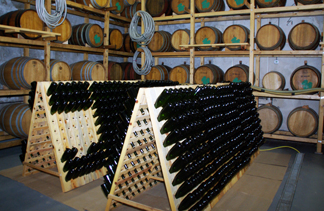 Summary: Colorado Cellars, the largest and oldest family winery in the Grand Valley AVA, is located slightly off the direct route through Palisade. Be sure to take time to visit the tasting room, where 25 different wines are available. Colorado Cellars is a unique winery because this is a family owned winery that is dependent upon the winery and vineyards for their livelihood.
Colorado Cellars started in 1978 in Golden, Colorado and moved to this location in 1980. Today Richard and Padte Turley produce 10,000 cases in the winery that is located underground built in 1980. They make a limited production of sparkling wine which sells quickly. The sparkling wine is made in a traditional method and the bottles are riddled by hand.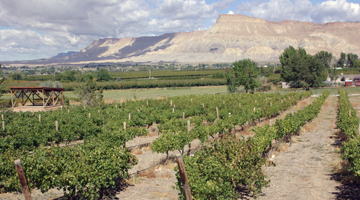 Colorado Cellars was the first Colorado winery to produce wine with Colorado grapes. The vineyards consist of 20 acres at this location located at an elevation of 4800 feet. Most of the grapes used are from their own vineyards.
They produce fruit wines using "real" fruit, not fruit flavoring. A white wine is added to fruit juice as otherwise the fruit juice is too thick to drink. They believe wine does not dilute the flavor of the fruit wine, as water would do.
All grape wines are produced from Colorado grapes. Fruit wines are produced from Colorado fruits with the exception of Blueberry and Pomegranate.
After a 1990's 60 Minute television program that focused on the health benefits of drinking red wine, Colorado Cellars focused on producing a red wine that first time red wine drinkers would like to drink. The result was Roadkill Red, a semi-sweet wine that is now a best seller.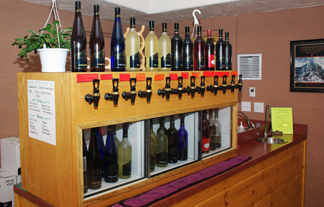 This tasting room has a unique concept of serving wines to visitors. A special counter allows visitors to pour their own tastings of 12 different wines. Most of the sweet wines are poured at the counter. They sell 15% of their wines from the tasting room. All other wines are self-distributed to liquor stores. Colorado Cellars also offers a wide arrange of food products such as Chardonnay Garlic and Chili Pepper, Roasted Garlic Grapeseed Oil, Chardonnay Raspberry Fudge Topping, Pinot Noir Chocolate Cherries, Artichoke Medium Salsa and Jalapeno Riesling Mustard.
White Wines
Gewürztraminer offered a very aromatic and floral nose. The taste was a fruit salad and the finish had a long fruity aftertaste.
White Riesling had a floral aroma with a very fruity taste of apples, pears and peaches. There was a long fruity aftertaste. Consider pairing it with turkey, ham or salad.
Red Wines
Merlot had a nose and taste of cherries and oak. There were mild tannins on the finish.
Roadkill Red was semi-sweet with a red fruit aroma and taste and a lingering finish.
Eclipse was a light red wine with a sweet fruity aroma and taste. Eclipse is a good wine to drink by itself.
Fruit Wines
Plum wine had a slight plum aroma with a plum taste. The finish was crisp, cleansing and tart.
Peach wine offered a peach aroma and taste. The peach wine is balanced. It was semi-sweet.
Mead Wine
Spiced Nektar Mead will remind one of apple pie. The aroma had a heavenly scent with spice and honey. It offered a medium body with a taste of cinnamon and sugar and apple. The finish was long.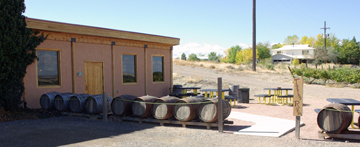 Enjoy a visit to a wine tasting room where you have a wide selection of wines to taste.
Colorado Cellars Winery
3553 E Road
Palisade, Colorado 81526
GPS N 39° 04.479' W 108° 23.698'
---
Visit this Colorado lodging facility that partners with Wine Trail Traveler.
| | | | |
| --- | --- | --- | --- |
| | | | |
| | Spero Winery | Wine Country Inn | |
| | | | |