Redstone Meadery
by
Kathy Sullivan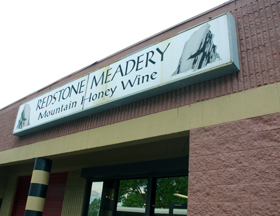 Summary: Redstone Meadery in Boulder, Colorado is one of the largest meaderies in the United States and in 2012 ships products to more than 30 states. David Myers is the enthusiastic owner and meadmaker.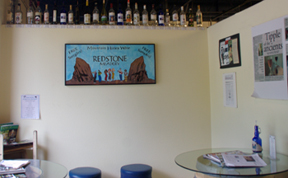 Stepping inside the Redstone Meadery, we discovered that David Myers, owner and meadmaker, is as vibrant as the interior décor of the building. David divided the building into three areas with a tasting counter, production room and "Mead Hall." A small sign on a table welcomes visitors with "Make yourself at home in our Mead Hall!" Mead Hall is a small area to the side with four glass topped tables and chairs where visitors can relax. Take time to read or play a board game while enjoying mead.
Redstone Meadery emphasizes two quotes throughout the tasting room. "Good enough for Zeus, Good enough for you!" The second quote is "honey wine…feel the love, catch the buzz…" Look in the shop for shirts and other items with these quotes that support mead.
Redstone Meadery in Boulder, Colorado offers visitors the opportunity to taste a variety of mead styles and to see the stainless steel tanks. David is passionate about his work with mead. He noted that historically mead is much older than either wine or beer.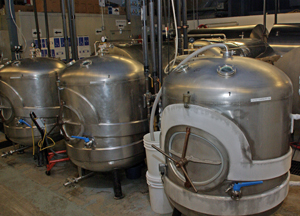 Mead Production
In the mead production area, several stainless steel tanks of various shapes are seen. Most of the equipment is from breweries; even the three milk tanks were obtained from breweries. Most of the Redstone meads are bottled in swing top bottles. Nectars are available in swing top bottles and kegs. The special reserves are in unusual swing top bottles with handles. About 75 percent of the honey used by Redstone Meadery is from Colorado. Types of honey used include clover, alfalfa, Arizona orange blossom and desert wild flower. Traditional mead is made with mostly orange blossom honey.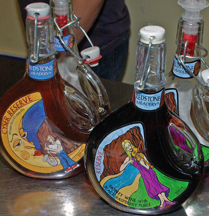 Redstone Meads
Mead can be mixed with a variety of juices. Our tasting began with a Meadmosa that was a combination of orange juice and Sunshine Nectar Mead. This Meadmosa was bright and refreshing. Sunshine Nectar is carbonated. This nectar offers aromas of honey with a hint of yellow stone fruit. Honey notes are on the finish. Raspberry Nectar was a reddish pink. The palate cleansing nectar has blackberry and honey notes. David produced Nectar of the Hops by adding hops after fermenting. The nose had floral and citrus notes. The taste had citrus notes and the finish was crisp with citrus. After a couple of minutes honeycomb notes were noticed.
Juniper Berry Mead aged in oak has floral and a touch of oak nuances. Cyser Reserve 2004 is produced with apple and honey. This Cyser offers a strong apple aroma and a smooth apple taste. Black Raspberry Reserve 2005 was delicious with black raspberry notes throughout.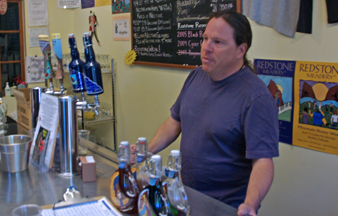 Before making mead, David had made beer at home. Once he started making mead, he developed a passion for mead. Redstone Meadery opened in September of 2000. Today David is producing numerous types of meads. He noted that nectar is the gift of the Gods.

Enjoy a visit to Redstone Meadery where you can taste different styles of mead. For those that think mead is sweet and syrupy, you'll be pleasantly surprised to discover styles that are very different.
Redstone Meadery
4700 Pearl St.
Boulder, Colorado 80301
---
Visit this Colorado lodging facility that partners with Wine Trail Traveler.
| | | | |
| --- | --- | --- | --- |
| | | | |
| | Spero Winery | Wine Country Inn | |
| | | | |