Stoney Mesa Winery Cedaredge Vineyards
by
Kathy Sullivan
Summary: Enjoy tasting Stoney Mesa wines at Cedaredge or Ptarmigan wines at their tasting room in Grand Junction. The Neal family has a long history in Colorado.They homesteaded in Colorado in the 1800's. The current family is the 4th and 5th generation in Western Colorado.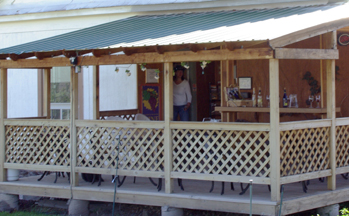 On the day of our visit to Stoney Mesa Winery there was a wind blowing across the area. We enjoyed the experience of sitting on the covered deck tasting wine and asking questions of Bret Neal, winemaker. Today the winery produces 3400 cases and hopes to reach 5000. Ten acres are planted here at an elevation of 5900 feet. They own sixteen acres in Grand Junction of which six and a half are planted in grapes and two and a half are planted in peaches. In addition, they source grapes from other growers.
Stoney Mesa produces two lines of wine. Stoney Mesa wine is produced in the onsite winery and sold in the tasting room. The Ptarmigan line is produced here and sold at the tasting room in Grand Junction. Stoney Mesa will be ripping out their Pinot Noir vines that they planted in 1998. It has incurred winter damage and the vineyard has had only two reasonable crops.
The Cedaredge vineyards started in 1990. Today five varieties are planted here at Cedaredge vineyards including Gewürztraminer, Pinot Noir, Pinot Gris, Merlot and Chardonnay.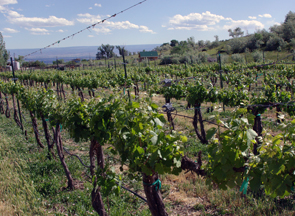 The Neals purchased the Grand Junction vineyards in 2004. Grape varieties included Riesling, Gewürztraminer, Merlot, Muscat, Chenin Blanc, Seyval Blanc, Cabernet Sauvignon, Merlot and Rougeon. The original owners planted some of these grapevines in 1982. The vineyards are located close to a desert and on an ancient ocean/riverbed. The soil has good drainage and the soil goes 12 to 15 feet deep. Unlike many vineyards throughout the world, insects and disease are not a large problem for Cedaredge or Grand Junction vineyards. Grapes are cultivated and harvested by hand. They believe that this limits damage to the vines and grapes. They designed the vineyards to use drip irrigation to provide water directly to the vines.
One of the challenges Stoney Mesa Winery has been labor. Located about an hour from Grand Junction, people are hesitant to travel that far from home. Currently it is difficult to find people to work in the vineyards here, while at the vineyards in Grand Junction acquiring labor is somewhat easier.
While we talked, we tasted several wines from both lines of wine. The Stoney Mesa Pinot Gris 2006 had a citrus nose and grapefruit taste with a crisp finish. Stoney Mesa Riesling 2006 had a floral nose and fruit taste with a crisp finish. The Riesling grapes were grown in the Grand Junction vineyard. Ptarmigan Cabernet Sauvignon 2004 offered an almond and blackberry nose with berry taste. This wine had a crisp finish with big tannins. Late Harvest Muscat 2006 Ptarmigan had an eight percent alcohol with 15 percent residual sugar. It offered orange on the nose with orange and honey on the taste. It had a smooth finish and there was some crispness on the finish.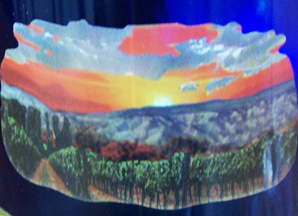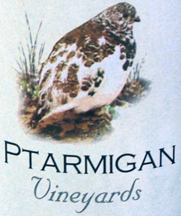 The label on the wine bottles of Stoney Mesa is colorful and unusual. The image is a morph of clouds, sun, cliffs and vineyards. The Ptarmigan wines have a picture of the Ptarmigan, a small bird.
Step inside the tasting room and you will discover a sampling of gift items or gourmet foods to purchase. Further back in the rectangular shaped tasting room you will find the tasting counter. The polished wood counter adds a glow to the room. Opposite the counter is a long wine rack displaying numerous bottles of Stoney Mesa wine.
Enjoy your visit to Stoney Mesa Winery and if you have time visit the tasting room in Grand Junction.
Stoney Mesa Winery
16199 Happy Hollow Road
Cedaredge, Colorado 81413
---
Visit this Colorado lodging facility that partners with Wine Trail Traveler.
| | | | |
| --- | --- | --- | --- |
| | | | |
| | Spero Winery | Wine Country Inn | |
| | | | |