Turquoise Mesa Winery
by K. L. Sullivan
Note: This article about Turquoise Mesa Winery is based on a response to questions that Tom and Mary Joan Bueb answered as well as the opportunity to taste two of their wines before we left Colorado.
Summary: Turquoise Mesa Winery is located in a small business park in Broomfield, Colorado. This is a small boutique winery that chooses to focus on handcrafted wines.
Prior to opening, Tom and Mary Joan, owners of Turquoise Mesa Winery enjoyed making wine with friends as amateurs. After winning awards for his wines, people suggested that they become a bonded winery. The winery officially opened in 2003 and they sold their 2004 release. Production for Turquoise Mesa Winery is 700 cases, as they prefer to focus on a "handcrafted, boutique style." "We are unique because we truly want people to enjoy the experience of tasting wine, finding something that each person enjoys and learning about wine in the process."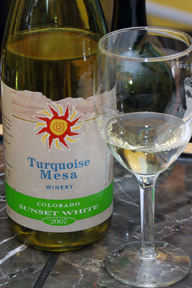 As an urban winery, the community expresses surprise that a winery is located in the city of Broomfield. However, numerous visitors regularly return and bring new visitors with them. "Benefits of owning an urban winery allow locals to stop in and support 'the little guy.'  We enjoy getting to know our customers.  They are supportive and enjoy stopping by our quiet, out of the way tasting room for some wine and conversation."
The wines produced at Turquoise Mesa are from Colorado grapes. They source most of the grapes from Palisade, Colorado. Wines produced include Chardonnay, Viognier, Merlot, White Merlot, Cabernet Sauvignon, and Sauvignon Blanc.
We had the opportunity to taste the Sunset White while at Snowy Peaks Winery in Estes Park, Colorado. Several Colorado winery tasting rooms have wine from some of the other Colorado wineries. The Sunset White was a blend of Semillion and Sauvignon Blanc. It had a fruity nose and taste. It had a crisp finish with peach aftertaste.
Hours for the winery are limited. Open on Saturdays from 1 to 5pm, appointments may be scheduled Sunday through Friday. Be sure to call before visiting.
Turquoise Mesa Winery
555 Burbank St. #Q
Broomfield, Colorado 80020
---
Visit this Colorado lodging facility that partners with Wine Trail Traveler.
| | | | |
| --- | --- | --- | --- |
| | | | |
| | Spero Winery | Wine Country Inn | |
| | | | |