Creekside Cellars Winery & Italian Café
by
Kathy Sullivan
Summary: At Creekside Cellars, visitors will discover classic wines and an ambience that creates the perfect setting for great food, wine and friends. A wonderful Italian meal awaits you at Creekside Cellars.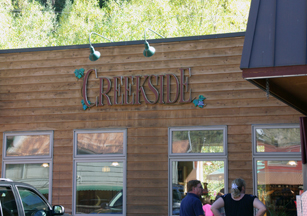 Creekside Cellars located in the small, friendly town of Evergreen, Colorado is a combination of a wine tasting and Italian food. At an elevation of 7200 feet, you'll find the town a world apart from city life with small shops and the beautiful Evergreen Lake. Downtown Denver is just thirty minutes away and the airport is about an hour drive. We met with Bill Donahue, owner and first winemaker at Creekside Cellars. This warm friendly site is the result of a hobby that went wild. Bill is also the President of the Front Range Association.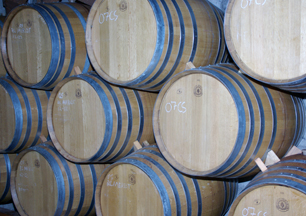 Creekside Cellars opened in 2001 and today produces 3500 to 4000 cases. Bill believes that the current size is good and allows the winery to focus on quality wines. The winery is adjacent to the tasting room/restaurant. Tanks ferment juice and the room is filled with French oak barrels, on two levels aging wines. There is no rush to release red wines. They are given the time they need to age in barrels and bottles.
The tasting room/restaurant is located in the center of Evergreen and public parking is available close by. Be sure to try the foods and the wonderful wines. We had the Italian Antipasto Platter. An array of colors and flavors was eye catching and flavorful especially with a glass of Creekside wine. The imported cheeses, olives, meats and vegetables were served with fresh focaccia and dipping oil. Perfect for an everyday meal or a celebration. Be sure not to miss the wonderful desserts. Two of our favorites were the cinnamon brownie and Tiramisu.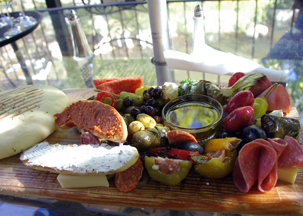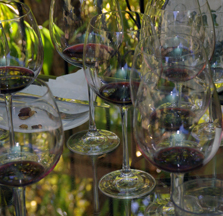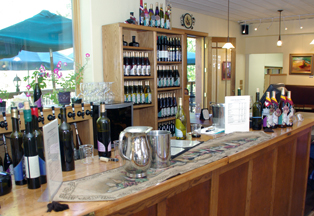 Creekside offers visitors a friendly atmosphere. Inside Creekside a tasting counter is available for those stopping to taste wines. Tables are located throughout the room and large windows overlook Bear Creek. Paintings, for sale, decorate the walls. Tables are also available on a long deck wrapping along the back wall overlooking Bear Creek. Each year Bear Creek is host to several baby ducks.
The grapes for production at Creekside Cellars are from their vineyard in Palisade, Colorado. The grapes growing on the 10 acres at The Vinelands vineyard include Syrah, Merlot, Cabernet Sauvignon, Cabernet Franc, Viognier and Muscat.
Today Michelle Cleveland is the winemaker and is passionate about the wines she produces at Creekside. Michelle has been a winemaker for five years. She has always had a passion for wine. She loves the vineyards and making wine. For Michelle, it is all about "hands on." French Bordeaux wines are her favorite. Michelle believes that Bill Donohue has an exceptional palate.
Tasting wines with friends and food can last three to four hours. Take your time and enjoy the rippling river flowing past willow trees, close to the balcony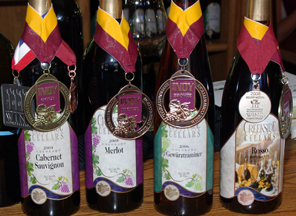 White Wines
Gewürztraminer 2006 offered a floral and apple aroma. The taste was fruity including apple and pear nuances. The finish was crisp and light.
Chardonnay 2007 had an oak aroma with tropical fruit and pear nuances. The finish was crisp.
Viognier 2007 presented a floral aroma with a tropical fruit taste and finished crisp and fruity.
Riesling 2007 was very fruity with a light, crisp finish.
Red Wines
Syrah 2007 offered a blackberry fruity aroma with big fruit taste and a crisp finish.
Merlot 2005 had a raspberry aroma and taste with tannins on the finish.
Robusto 2003 a Merlot blend had a raspberry aroma with a smooth raspberry taste. There were big tannins noticeable.
Cabernet Sauvignon 2004 offered a blackberry aroma and taste with tannins.
Cabernet Franc 2005 presented a black fruit aroma and taste with tannins. This wine was a gold medal winner.
Robusto 2005, a blend of Cabernet Sauvignon and Cabernet Franc, had black fruit nuances and tannins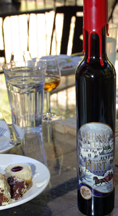 Port
Lakehaus 10 year Tawny Port aged for four years in neutral French oak barrels. The aroma was of figs and plums with medium body.
Creekside is a delightful winery and restaurant to visit. Consider having lunch and discovering some wonderful wines.
Creekside Cellars
28036 Hwy 74
Evergreen, Colorado 80439
GPS: 39° 37.975' W 105° 19.142'
---
Visit this Colorado lodging facility that partners with Wine Trail Traveler.
| | | | |
| --- | --- | --- | --- |
| | | | |
| | Spero Winery | Wine Country Inn | |
| | | | |