Bonacquisti Wine Company
by
Kathy Sullivan
Summary: Bonacquisti Wine Company founded by Paul Bonacquisti is an urban winery that we enjoyed visiting and learning about its community connection. Paul would like it to be known that this is an urban winery, primarily using Colorado grapes. The winery supports local artists, wines and education. According to Paul, a Executive Sommelier, "We're not wine snobs."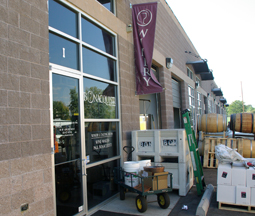 Bonacquisti Wine Company is an urban winery located just off I-70 in Denver. The winery is located in the Sunnyside neighborhood only two miles from Denver's downtown area. The winery is in a complex of other small businesses including a Quiznos. Frequently customers at Quiznos discover and visit the winery.
Paul Bonacquisti has the passion for creating wine in his blood. His Italian grandfather came to the United States in 1900 and worked in Colorado's coal mines. Paul's father was a jeweler. Paul's grandfather and father made wine as a hobby and Paul learned the process while growing up. Until five years ago, Paul created wine as a hobby. In 2005, Paul wrote a plan and began creating an urban winery. The winery opened in October 2006 and currently produces 1600 cases. He plans to increase the wineries size and volume.
The front of the building is primarily glass and allows in a tremendous amount of light. Upon entering the front door, visitors will see oak barrels stacked on one side of a wrought iron fence with a granite top. It looks as if it would be a perfect tasting counter, but today it serves to separate the barrel area from the public area. Today the small L-shaped tasting counter is just a few steps away. Paul obtained the dark carved wood base at an auction. The top of the tasting counter is granite. The walls around the tasting counter are painted with Tuscan yellow. Paintings on the walls, are the images used on the wine bottles. The artist, Daniel Luna, listened to Paul's background story and painted pictures using images from his life. One image shows the coal cars for transporting coal and jewelry laying on a track with grapes and wine. Thus the paintings tell the story of the family.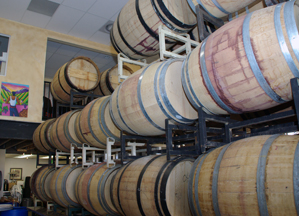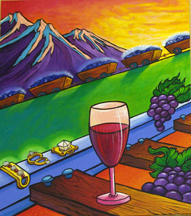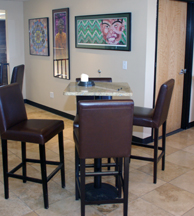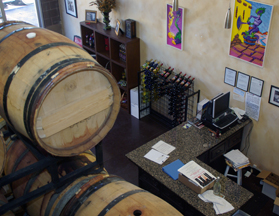 Towards the back of the room a staircase leads up to a small events room that overlooks the barrels and tasting counter. This bright and cheerful room is perfect for small private events. Catering is available upon request or you can use your own catering service. Winery events are also held here and include an event for the artist of the month. Art works are displayed on the walls and add a delightful atmosphere to the room.
White Wines
The first wine we tasted was Sunnyside 2007. Named after the neighborhood community, Sunnyside 2007 was a blend of Sauvignon Blanc, Chardonnay and Muscat Cannelli. The citrus nose had grapefruit nuances. The taste was crisp and it offered a long grapefruit aftertaste. The Sunnyside label, created by Molly DeCoursey, depicts a summertime scene.
Bella Risa, 2007 was named after Paul's daughter Marisa. The wine was fermented in Hungarian oak and stainless steel. The wine had an oak nose with a taste of melon and green apples. The finish was smooth and fruity moving to vanilla and butter.
Moscato Riserva 2007 was produced from 100 percent Muscat Canelli. The result was a floral and citrus nose. The taste offered honeysuckle, citrus, melon and apple nuances. It finished with a lingering fruit salad taste.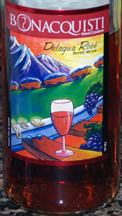 Red Wines
Delagua Red was named after Delagua, where Paul's grandfather worked in the coal mines and where Paul's father was born. The red wine was a blend of Merlot, Syrah and Zinfandel. The nose had nuances of red fruit and pepper. The taste was of fruit and the finish was crisp with mild tannins. This is an easy to drink red wine.
Vinny No Neck was named after Paul's son Vincent. This was a blend of Sangiovese, Merlot and Cabernet Franc. This Italian-styled wine had red cherries and spice on the nose with a fruit taste. The finish was light and crisp.
Colorado Cabernet Sauvignon 2006 had a blackberry, raspberry and a slight cedar aroma and taste. The finish offered tannins and fruit.
Dessert Wines
Colorado Semillon 2006 produced from late harvest grapes was a dark yellow. The nose was of figs, and the taste was very smooth and sweet with a crisp finish.
Across the United States there are less than 500 urban wineries. Urban wineries are unique as they don't have their own vineyards in their backyards and must source their grapes. However, urban wineries offer city dwellers a place to purchase wine directly from the producer, many times offering wines that are not available at your local wine store. Take advantage of visiting urban wineries and discover what they can offer you.
Visit Bonacquisti Wine Company and discover Italian-styled wines and Paul's passion for producing wine.
Bonacquisti Wine Company
4640 Pecos St. Unit I
Denver, Colorado 80211
GPS N 39° 78.089' W105° 00.562'
---
Visit this Colorado lodging facility that partners with Wine Trail Traveler.
| | | | |
| --- | --- | --- | --- |
| | | | |
| | Spero Winery | Wine Country Inn | |
| | | | |