Verso Cellars
by
Terry Sullivan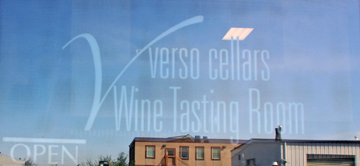 Summary: One of the wineries in Denver's Winery Row, Vesro Cellars emphasizes Cabernet Sauvignon. The winery is on the first floor while the tasting room is on a second floor loft. Visitors will have a chance to have a vertical tasting of Cabs. Cheese making classes take place in the tasting room.
In the early 2000's, Paul Phillips planted grapevines in East Orchard Mesa. When asked what varieties he planted he responded, "Cabernet Sauvignon, Cabernet Sauvignon and Cabernet Sauvignon." Verso Cellars specializes in Cab. Paul planted six different clones of Cab. He makes a wine out of each Cabernet Sauvignon then blends them to craft a distinctive wine. The motto for Verso Cellars is, "Trying to make the best damn Colorado Cabernet Sauvignon we can." When asked what made Paul interested in wine, he responded, "software." He then added that he always liked wine.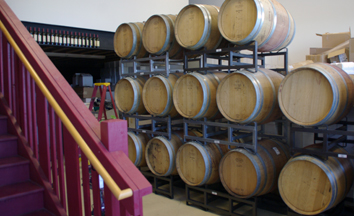 The first floor houses the winery and wine equipment. Visitors will observe oak barrels as they walk up a stairway to the tasting room. Vineyard scenes artwork hangs on the wall along the stairway. The loft is the tasting room area. In a corner, a comfortable seating area is a great place to enjoy a Cabernet. The small intimate tasting bar overlooks the first floor winery. We used Riedel stemless glassware for our tasting. The loft area is large enough to host special events.
On the day of our visit, there was a cheese making event taking place in the loft. About a dozen people learned to make Ricotta and Mozzarella cheeses. We tasted a bit of the cheese and enjoyed it. Salt had not been added so it was suggested to dip the cheese into salt that was on a plate.
Wine and cheese have similarities beyond the wine and cheese pairings. Fermentation is also involved in cheesemaking. Just as wine is dependent upon the grapes for many of it nuances, so cheese flavors will come from the type of milk used - cow's milk, goat milk and also based on what the animals have been eating prior to milking.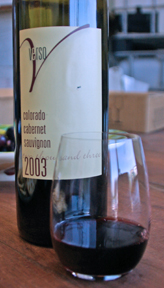 Cabernet Sauvignon Wines
We tasted a couple of the Cabernet Sauvignons. The 2003 Cabernet was the first vintage from the vineyard. The aroma and taste had dark fruit and there were very bold tannins on the finish. The 2006 Cabernet Sauvignon was in French oak for twenty months. It had developed layers of different dark fruits. The tannins were bold but milder than the 2003.
When visiting Verso Cellars to taste their Cabernet Sauvignon wines, be sure to ask about taking a cheesemaking class.
Verso Cellars
4640 Pecos Street
Denver, Colorado 80202
---
Visit this Colorado lodging facility that partners with Wine Trail Traveler.
| | | | |
| --- | --- | --- | --- |
| | | | |
| | Spero Winery | Wine Country Inn | |
| | | | |