Jack Rabbit Hill and Peak Spirits
by
Kathy Sullivan

Summary: Located in Hotchkiss Colorado, Jack Rabbit Hill is definitely worth the experience. Jack Rabbit Hill was certified in 2000 as organic. In addition, in 2008 the winery will receive biodynamic certification by Demeter USA. The winery is a combination home and winery. Tastings take place on the porch in good weather or in the dining room. Note that Jack Rabbit Hill has two licenses. One is for the winery and another is for Peak Spirits. When planning your visit, call ahead to see if they are open.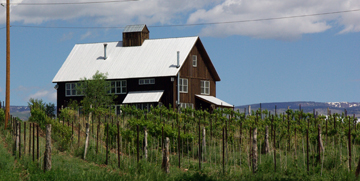 Lance and Anna Hanson are the owners and winemakers at Jack Rabbit Hill. Seventy acres of land make up the total property. The vineyards consist of 22 acres surrounded by cattle and other farming activities. They grow Pinot Noir, Pinot Meunier, Chardonnay, Riesling, Foch and Cabernet Franc at a 6,200 feet elevation. The vineyards receive some frost protection because they are located on a slope.
The Hansons built the winery in 2001 and later in order to diversify they added a distillery – Peak Spirits. The distillery is also organic. Future plans include adding a restaurant and a bed and breakfast. Visitors are encouraged to taste the wines and spirits. Just call ahead for an appointment.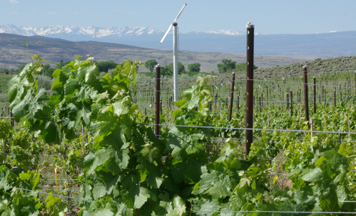 Jack Rabbit Hill was the first winery we visited in Colorado to feature organic and biodynamic techniques. Lance and his wife are determined that biodynamic and organic farming can work where they are located. In addition to their own grapes, the winery sources fruit from four other organic farmers. Their vineyard was certified organic in 2000. In 2008, they are expecting biodynamic certification from Demeter USA.
Jack Rabbit Hill has several unusual aspects to it that will interest visitors. Lance prepared the property for planting vineyards by removing several tons of stone. Many of these stones are now the foundation of the house/winery. Even with 22 acres of grapes, the vineyards are hand weeded. Lance has what he calls a "primitive" watering system, using a small amount of water running at the top of each row.
They are trying to build up the organic matter in the soil as that will help to add moisture to the vineyards. Another section of the property is home to chickens, sheep and cattle. The Hansons will use the resulting manure in the vineyards. They have dedicated another 12 acres of land to wildlife. Lance is researching the use of sheep in the vineyards to keep the weeds controlled. Small Black Welsh Mountain sheep, that are not aggressive, are being considered for controlling weeds between the rows of vines. Another idea under consideration is planting canola between the rows of vines. The prediction is that one can obtain 120 gallons of oil from one acre of canola.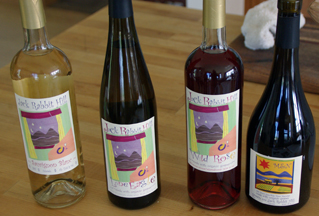 We tasted Sauvignon Blanc 2007 that offered a grapefruit nose and taste with a crisp finish. Lone Eagle was a Riesling Traminette blend that had a floral and fruit nose with a citrus taste. The finish was crisp and refreshing. Wild Rose 2007 was Foch with a strawberry nose and taste. The finish was crisp. M & N 2006 was a blend of Pinot Noir and Pinot Meunier. Usually in a blend you write the predominant grape in first. The Pinot Noir is predominant in this blend but the name N & M is too difficult to say so they named the wine M & N. The wine offered a cherry nose and taste with a crisp finish.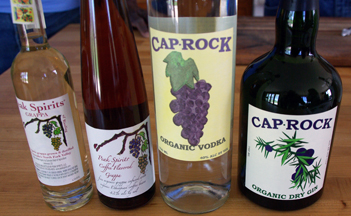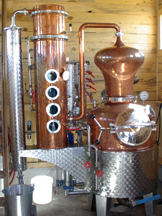 Peak Spirits was added to the property as a way to diversify Jack Rabbit Hill. A small building set apart from the winery uses a copper still to distill spirits. The only fruit used here is fresh. Lance tried frozen fruit and the result was not as good. The non-vintage Pear Aperitifs had a pear nose and taste with an alcohol level of 18 percent. It did not have a hot finish. Non-vintage Riesling Grappa at 40 percent alcohol offered an alcohol nose with a smooth taste. It had a long, hot and fruity aftertaste. Non-vintage Organic Vodka also at 40 percent alcohol, was very smooth with a hot finish. Coffee Flavored Grappa, 42 percent alcohol, had a coffee nose and taste. It had a hot finish with a coffee aftertaste.
If you are interested in wines produced from organic grapes and vineyards using biodynamic techniques, Jack Rabbit Hill is definitely the winery to visit. Lance and Anna are friendly and pleased to share their way of producing wine with you.
Jack Rabbit Hill and Peak Spirits
26567 North Rd.
Hotchkiss, Colorado 81419
Call before visiting: 970-835-3677
GPS N 38° 84.628' W 107° 87.150'
---
Visit this Colorado lodging facility that partners with Wine Trail Traveler.
| | | | |
| --- | --- | --- | --- |
| | | | |
| | Spero Winery | Wine Country Inn | |
| | | | |