Carlson Vineyards
by
Kathy Sullivan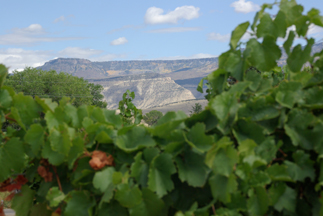 Summary: Carlson Winery is about delicious and fun wines as well as good times. Just from viewing some of the labels and names of the wines gives one the impression of fun. This winery began as a hobby that went out of control. Everything produced here is 100 percent Colorado.
Parker Carlson, winemaker and owner of Carlson Vineyards has four acres of grapevines. He sources grapes from Colorado growers in this area. The first crush was in 1988 and this year he will produce 9000 cases of wine. Currently Parker has four acres of Riesling, Lemberger and Chardonel. He also purchases grapes from Colorado vineyards in the area. The winery began as a hobby that went out of control. According to Parker it's fun to make wine and make a living off the wine. To diversify, he includes fruit wines in his portfolio.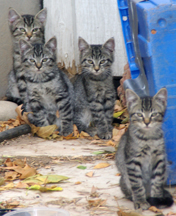 As we sat talking with Parker, shaded by a tree behind the tasting room, a mother cat came out to investigate us. Soon all of her babies followed out from behind a crate and stood like statues. According to Parker, someone dropped off the family earlier and Parker was attempting to find good homes for them.
The shelves of the tasting room were stocked with various items including organic ginger pear jam and organic blueberry jam. Browsers will also discover spicy peach salsa and Raspberry Pinot Noir Chocolate Sauce.
Parker began his winemaking with cherry, peach and plum wines and uses 100 percent fruit. The fruit wines may be sweet or tart. Parker believes he does a better job with the semi-sweet wines. His favorite grape to work with is Gewürztraminer.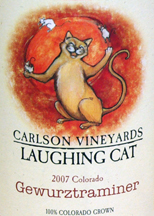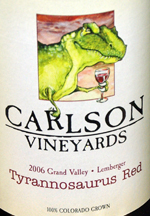 Very unique and eye catching at Carlson Vineyards are the wine bottle labels. One of the labels for wines is Laughing Cat and is comical. According to Parker, "A lot of people buy by the label." Wine tasting at Carlson Vineyards is fun. Visitors can concentrate on fun, easy to drink wines. Despite the importance of wine being fun, Parker is serious about the winemaking itself.
As you taste wines at the tasting counter, be sure to notice the top of the tasting counter. It is gneiss-metamorphic basalt. This was discovered nearby and is at least 1.7 billion years old. We tasted several wines at the nice gneiss counter. Carlson Vineyards offers two wine series Cougar Run and Laughing Cat.
White Wines
Laughing Cat Riesling offered a floral with hint of mineral aroma with a sweet, fruity taste, drying on the finish.
Laughing Cat Gewürztraminer presented a floral aroma with a tropical fruit taste. The finish was crisp and sweet but dried on the aftertaste.
Red Wines
T-Red (Tyrannosaurus Red) Lemberger offered a pepper and spice aroma with a blackberry and raspberry taste. The wine finished crisp with tannins.
Laughing Cat Sweet Baby Red, a blend of Merlot, Cabernet Sauvignon and Muscat is an easy drinking red wine. The aroma presents sweet red berry nuances. The wine ends with a dry red taste that was slightly dry on the finish.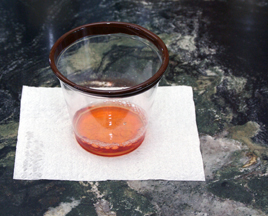 Fruit Wines
Peach produced with 100 percent fruit offered a light peach aroma and medium body. It dried on the finish.
Parker produced Cherry with Montmorency cherries. This cherry wine is excellent with smoked fish, turkey, ham or duck. Looking to make a quick dessert? Dip the edge of your glass in melted dark chocolate. The result is finger licking good. Pour the cherry wine into the glass. According to Parker, people will talk about this wine for months.
Dessert Wine
Cougar Run Fat Cat Muscat was fortified to 15 percent alcohol with a residual sugar of 19.5 percent. The aroma was orange and sweet. The taste was smooth with orange nuances and the finish was crisp.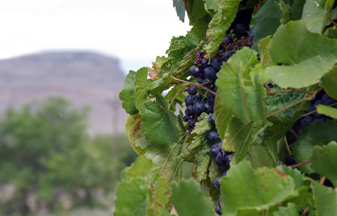 Enjoy your visit to Carlson Vineyards where you will experience a wonderful winery tasting room and be sure to ask about the special cherry wine dessert.
Carlson Vineyards
461 35 Road
Palisade, Colorado 81526
GPS N39° 04.336' W 108° 24.235'
---
Visit this Colorado lodging facility that partners with Wine Trail Traveler.
| | | | |
| --- | --- | --- | --- |
| | | | |
| | Spero Winery | Wine Country Inn | |
| | | | |