St. Kathryn Cellars, Inc.
by
Kathy Sullivan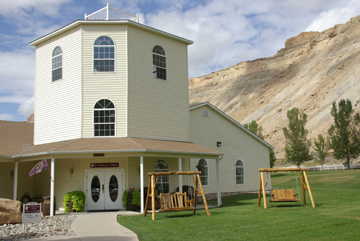 Summary: St. Kathryn Cellars is located next to Confre Cellars. This bright and cheerful tasting room offers a traditional tasting. Visitors will discover more classic wines with some sweet wines interspersed. This wine tasting room is one of four owned by Glenn and Natalie Foster. Glenn produces the wines at Meadery of the Rockies located just a short distance away.
Former owner, retired Judge Fred Strothman, named the tasting room after his mother. Shortly before she passed away, his mother said that when she was in heaven she would "keep an eye on the vineyard." Therefore, the original owner decided that since Kathryn went to heaven, the tasting room would be named St. Kathryn.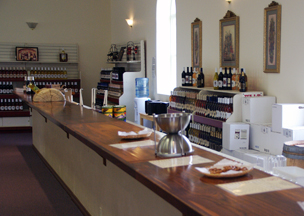 The large tasting room is bright and expansive with a high ceiling. At the far end of the tasting room, a large tapestry depicting a scenic river accessorizes the white wall. The tasting room is expansive and the layout makes it easy to browse the gift items. Numerous items are available including: gourmet items, ceramics, wineglasses, wine/picnic carriers, books and picture frames. Be sure to look at the strawberry soap with an aroma that makes it almost good enough to eat. If you are looking for a one-stop Christmas shopping experience, consider St. Kathryn Cellars.
The tasting counter is one of the longest tasting counters in Colorado. On the day of our visit we tasted several wines.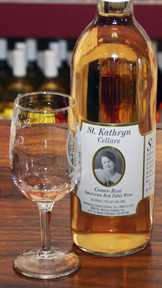 White Wines
Reserve Chardonnay offered a citrus aroma with a hint of oak. The taste had nuances of grapefruit. The finish was fruity with oak and butter on the aftertaste.
Chardelle was a blend of 50 percent Chardonnay, 25 percent Peach wine and 25 percent honey wine resulting in a light pale, yellow color. The wine offered a peach fruit aroma with a sweet peach taste. With a dry finish, the wine was well balanced.
Rose Wine
Cameo Rosé presented a light floral and fruit aroma. The taste was sweet and floral, reminiscent of rose petals or violets. The finish was somewhat dry and the aftertaste was floral.
Red Wines
Reserve Merlot provided an aroma and taste of black cherry and spice. The finish was very fruity and there was a long fruit aftertaste.
Cabernet Sauvignon had a smoke aroma with dark spices like cloves. The taste was smooth with blackberry and currant nuances. There were tannins on the finish.
Fruit Wines
Strawberry Rhubarb offered an intense strawberry aroma with a taste of strawberries. The finish was crisp and there was a long strawberry aftertaste.
Port
Merlot Port presented a molasses aroma and a smooth chocolate and licorice taste. There were nuances of molasses and chocolate on the finish.
Next to St. Kathryn Cellars is Confre Cellars. A short hallway connects the two tasting rooms. St. Kathryn Cellars offers visitors a long tasting counter with numerous traditional wines and a few sweet wines. Be sure to schedule enough time to visit both tasting rooms.

St. Kathryn Cellars, Inc.
785 Elberta Avenue
Palisade, Colorado 81526
GPS: N 39° 06.989' W 108° 21.583'
---
Visit this Colorado lodging facility that partners with Wine Trail Traveler.
| | | | |
| --- | --- | --- | --- |
| | | | |
| | Spero Winery | Wine Country Inn | |
| | | | |