Mesa Park Vineyards
by
Kathy Sullivan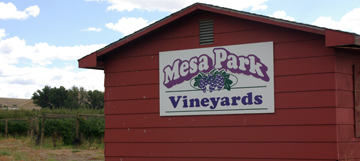 Summary: Mesa Park Vineyards, located in Palisade, Colorado offers visitors insight into a winery that began as a vineyard selling grapes to wineries, and eventually made the decision to use their own grapes to make their own estate wine.
Off the beaten path but easy to find, Mesa Park Vineyards is located in the East Orchard Mesa area of Palisade. The rich agricultural land in this area produces a variety of fruits and vegetables.
Prior to 1994 the Felczak family had always been involved in agriculture. In 1994, vineyards were planted. Today there are seven and a half acres of vines. Beautiful views of the Grand Mesa are seen in the distance. Grapes growing on the property include Cabernet Sauvignon, Cabernet Franc and Merlot. Mesa Park Vineyards' grapes were sold to other wineries. Then in 2004 they produced their first wine.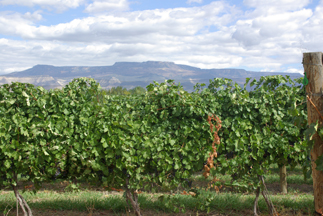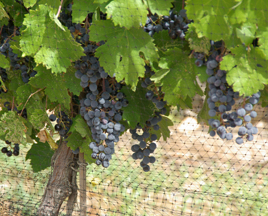 Two of the challenges they face are the weather and labor forces. When we visited, the grapes were near harvest time and there was a concern about having enough people to help with the harvest. However, their neighbors are supportive of the their winery efforts. Today they produce 500 cases of estate wine. The winery uses 75 percent oak barrels and 25 percent American. The tasting area is just inside the door where a small table has bottles and wineglasses available for a tasting.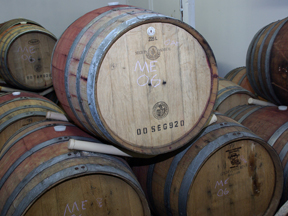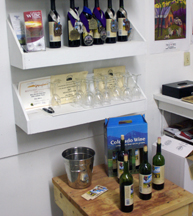 Only two wines had been bottled at the time of our visit. There was Cabernet Sauvignon in barrels that will be bottled later. The Merlot 2004 offered a blackberry nose and taste. The finish was crisp. Cabernet Franc had a pepper then black fruit aroma with a fruit taste. The fruit yields to pepper.
Mesa Park Vineyards
3321 C Road
Palisade, Colorado 81526

GPS: N 39 02.764' W 108 26.179
---
Visit this Colorado lodging facility that partners with Wine Trail Traveler.
| | | | |
| --- | --- | --- | --- |
| | | | |
| | Spero Winery | Wine Country Inn | |
| | | | |