Augustina's Winery
by
Kathy Sullivan
Summary: Augustina's Winery is a one-person urban winery operation. Gussie Walter, owner and winemaker, has used her determination to individually own and run a winery. As an entrepreneur, she has succeeded in the world of winemaking.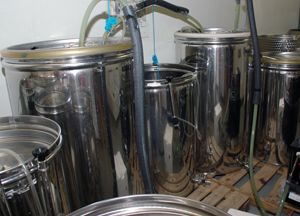 We met Gussie Walter, owner and winemaker, in a small room that serves as a tasting room and office. This urban winery is between a guitar repair shop and a car repair facility. This is a one-person winery. According to Gussie, "Everything is set so I can do it on my own." She took us into the production area. Several stainless steel tanks and wood barrels shared the room with cases of wine. Gussie commented that she has the same type of equipment as large wineries, just smaller versions.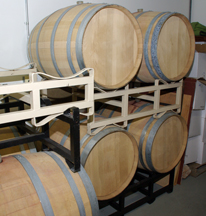 Gussie left the field of geology and as a result of enjoying wines pursued a winemaking apprenticeship in New Mexico. After the experience, where she was involved in every aspect of winemaking from vineyard to bottle, she decided to establish her own urban winery in Boulder. Augustina's Winery established in 1997 was the first winery in Boulder County. She likes the name Augustina and decided that would be the name of her winery. Gussie contracts with vineyards on Colorado's Western Slope for grapes.
Currently the winery produces 600-700 cases. Each year, she produces five to nine different wines. Many of the wines sell at Farmer Markets, restaurants and liquor stores. The wines tend to attract a younger crowd, hikers, locals and some tourists. Different artists design the wine labels.
White Wines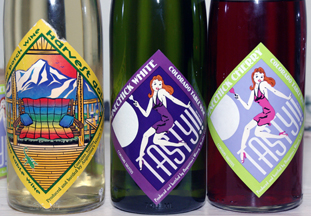 WineChick White, the winery's most popular white wine, was a blend of Riesling and Viognier. This off-dry white wine had a floral and citrus nose. The mouth feel was smooth and the taste had nuances of grapefruit. The finish was crisp with fruit and a slight sweetness.
Harvest Gold, a blend of Muscat Blanc and Cayuga, had a floral and peach aroma. The taste was creamy with peach flavor. The finish was crisp and fruity. Just relax and enjoy this semi-sweet wine.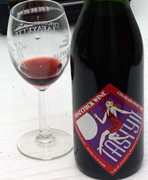 Red Wines
WineChick Wine Pinot Noir was produced with Colorado grown Pinot Noir. This dry red wine offered an aroma and taste of red cherries and spices. The finish was crisp with red cherry nuances. Consider pairing it with pizza.
Cherry Wine, made with 100 percent organic Montmorency cherries, was an outstanding cherry wine. The cherries are fermented with cold fermentation and the pits and skins of the cherries add additional character to the wine. The finish of this wine was light and reminded us of fresh cherries.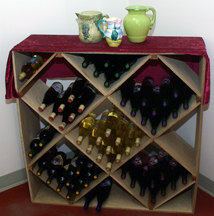 Gussie does not foresee the winery becoming larger. It appears to be the perfect size for a one-person operation. If she were to increase the production level, she would need more space and an employee.
Gussie believes wine is fun and should not be taken too seriously. She doesn't believe dinner conversation should be just about wine.
Augustina's Winery
4715 North Broadway B-3
Boulder, Colorado 80304
GPS N 40° 059.90' W105° 28.384'
---
Visit this Colorado lodging facility that partners with Wine Trail Traveler.
| | | | |
| --- | --- | --- | --- |
| | | | |
| | Spero Winery | Wine Country Inn | |
| | | | |