Grande River Vineyards
by
Kathy Sullivan
Summary: Enjoy a visit to Grande River Vineyards, located close to I-70 and just under the Bookcliffs that rise 2000 feet above. During harvest time you can taste the grapes in the demonstration vineyards.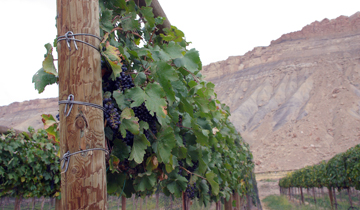 Visit Grande River Vineyards and discover a winemaker who has been very involved in the Colorado wine industry. Next to the winery there is a demonstration vineyard with 22 rows of vines, where visitors can taste a wine grape. Nine different varieties of grapes are grown in the demonstration vineyard and visitors can contrast the grapes and vines. You can also observe the vineyard throughout the year. View the architecture of the vines during the winter. Observe weeping and bud break in spring. Watch the grapes growing in summertime and see the mature grapes in the autumn.
One of the staff members mentioned that visitors are surprised to see the difference in size between "grocery store" grapes and wine grapes. If you have the opportunity to taste wine grapes you may never want to eat a table grape again. Wine grapes are more flavorful and sweeter than table grapes.
We met Stephen Smith, owner and winemaker. Stephen mentioned he had just recently turned the duties of the winemaking to an employee. However, Stephen remains very involved with the winemaking. Stephen is also a member of the Colorado Tourism Office Board. He is a strong proponent of "Colorado grown" grapes in the industry
Stephen became involved in winemaking in 1986 when he made wine with two friends using Colorado grapes. It was their first experience in making wine and it was very successful. They attributed the good wine to the quality of the Colorado grapes. Encouraged Stephen planted vineyards and supplied grapes to Colorado's first three wineries. It wasn't long before the Grande River Vineyards was supplying home winemakers some of which became wineries. Eventually Stephen was supplying grapes to between 1/3 and 1/2 of the Colorado wineries and wineries in eight other states. By 1990, he had produced his first commercial wine. At one point, Stephen had the largest acreage of vineyards in Colorado. By 2006, he decided to concentrate on winemaking and sold most of the vineyards. "Let the farmers do the farming and we'll focus on the winemaking."
Walking through the winery, we saw the bottling line. Stephen explained that Grande River Vineyards was the first winery in Colorado to have a bottling line in 1993. Originally, the bottling line was on a trailer and hauled to other wineries for bottling.
In producing 5000 cases of wine, Grand River Vineyards works to minimize tannins. They completely cluster press and with red wines they don't crush the reds but only de-stem them and use minimal maceration. We tasted some of the resulting wines in the tasting room.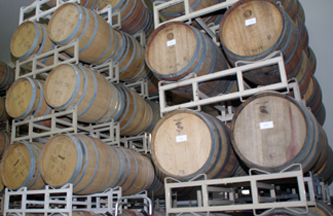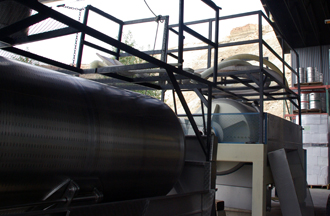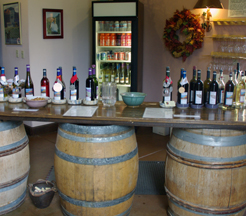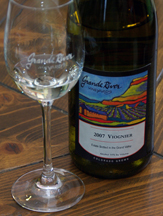 White Wine
Chardonnay 2005 offered a smooth mouth feel with butter on the finish. The aroma was of tropical fruits. Suggested pairings included crab cakes, oysters, chicken and pork. Meritage White 2004 was a blend of Sauvignon Blanc and Semillon aged in oak. The aroma was citrus with a taste of grapefruit. The finish was crisp and fruity. NV Semi-Sweet, a blend of Semillon, Chardonnay and Viognier, had an aroma of pineapple with a taste that was light, sweet and smooth. There was a lingering aftertaste. Viognier 2007 had a flowery with fruit aroma. The taste was crisp and clean. There was a good balance. The colorful image on the label was by Dianna Fritzler. White Merlot 2005 was a transparent orange. The nose and taste had slight strawberry nuances. The finish was crisp.

Red Wine
Meritage Red 2002 was a blend of Cabernet Sauvignon, Cabernet Franc, Merlot and Petit Verdot. It offered a berry aroma and taste. The finish was crisp with light tannins. This was easy drinking and food friendly. Syrah 2005 was a dark purple with an aroma and taste of black cherry, pepper and spice. The finish was crisp with pepper and fruit nuances and light tannins.
Ice Wine
Making an ice wine is a challenge in this area. Grand River was able to harvest frozen grapes twice in the last twenty years. Ice Wine 2005 offered a tropical fruit nose. The fruit salad taste was smooth. The noticeable fruits were mango, strawberries and melon. The finish had a balance of sweetness and crispness.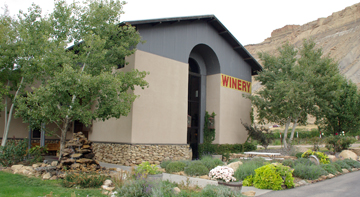 The tasting room offers a number of gift items including wine accessories. Gourmet foods included Elderberry Juice, Grand Valley Black Fig Vinegar, Sundried Apricot Vinegar, Blood Orange Vinegar, local raw honey and Grand Valley Chardonnay Raspberry Fudge. Other items of interest included terra cotta wine chillers and wine tasting music CDs.
Grande River Vineyards offers summer concerts and is available for private parties, business meetings and weddings. Check out the summer concerts and think about hosting an event at the winery. Next to Grande River Vineyards is the 80-room Wine Country Inn. They offer a great place to spend the night or even a week.
Grande River Vineyards
787 Elberta Ave.
Palisade, Colorado 81526
GPS N 39° 07.026' W 108° 21.690'
---
Visit this Colorado lodging facility that partners with Wine Trail Traveler.
| | | | |
| --- | --- | --- | --- |
| | | | |
| | Spero Winery | Wine Country Inn | |
| | | | |