Spero Winery
by
Kathy Sullivan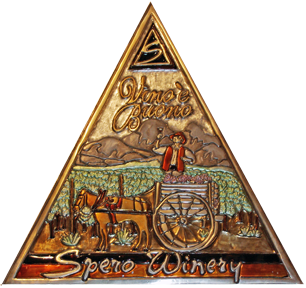 Summary: Spero Winery, located in Denver, Colorado provides a friendly welcome and finely produced wines. Clyde Spero, owner and winemaker, is particular about the quality of the grapes he uses and the length of time the wines age.
The hours open to the public are a bit unusual for a winery. The tasting room is open on Saturdays from 1pm to 5pm. Anyone wishing to purchase wine at other times can knock on the nearby winery door and Clyde Spero, owner and winemaker, will be happy to help you.
We met June Spero who led us to the winery, underneath a lovely home. While consistently praising Clyde's winemaking skills, she is an enthusiastic ambassador of Clyde and the Spero wines.
Both Clyde and June Spero grew up with winemaking in their homes. On a tour of the winery, June pointed out several barrels that had been used in her home since she was first married. Clyde and June grew up in an area of Denver that was renowned for its Italian truck gardens. She remembers doing the household chores until noon while her mother worked in the fields. June then went to the fields to work during the afternoon. She noted that at the time school schedules worked around the planting schedule.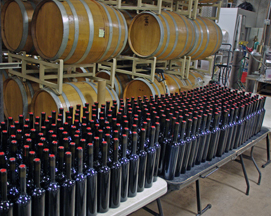 Clyde also worked in the truck gardens and later in life owned a landscaping company. Years later, in 1996, the Speros planted two acres of vineyards. A few years later Clyde decided to focus his attention on winemaking. Today the winery is crushing 75 to 100 tons of grapes each year producing 20,000 bottles of wine. On the day of our visit, workers were bottling a wine.
Clyde is very particular and takes great care to produce the best wines he can. Wines are aged for a minimum of two years and frequently four years. Most of the grapes are sourced from Colorado's Western Slope. Clyde likes to produce high alcohol wines and most wines are above 14 percent alcohol. Spero wines are bottled in Italian bottles that have unusually long, elegant necks. The bottle style is called Bellissimo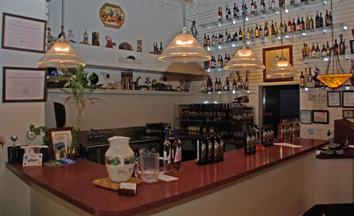 The original winery is now the tasting room and event space. Several tables in the tasting room provide an opportunity for visitors to sit down and enjoy a glass of wine while talking with friends. Walls are decorated with an array of items that are fascinating to browse. Behind the tasting counter several shelves are filled with wine bottles from many different Colorado wineries. Eventually June hopes to have every Colorado winery represented.
Wines
Muscat was a red-orange color with 17.5 percent alcohol. Clyde produced this by treating the Muscat as a red grape. The taste was smooth with a bit of smoke. June suggested using this when cooking chicken cacciatore or Italian sausage. Muscat Dessert 2006 was 15 percent alcohol. This orange wine was sweet, delicious and lingered. Cherry dessert wine was made with Montmorency cherries. The color was red/orange. The wine had a cherry taste. One taste leaves one wanting more.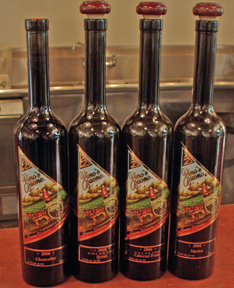 Cabernet Sauvignon 2008 was a dark purple with a ruby rim. There were notes of dark fruit including plums and raspberries. The wine offered tannins and a long fruit aftertaste. The grapes were sourced from Palisade. Cabernet Franc 2006 was a ruby color. The dark fruit notes included plum. The finish had bold tannins and was fruity. Syrah 2008 was ruby with dark fruit. The wine had tannins and a slight pepper taste was noted on the finish. Chancellor 2008 was a ruby color with dark fruit nuances. The finish had tannins and was fruity.
Enjoy a visit to Speros Winery where you will receive a warm welcome.
Spero Winery
3316 W. 64th Ave
Denver, Colorado
GPS: N39' 48.759' W105º 01.831'
---
Visit this Colorado lodging facility that partners with Wine Trail Traveler.
| | | | |
| --- | --- | --- | --- |
| | | | |
| | Spero Winery | Wine Country Inn | |
| | | | |