Desert Moon Vineyards
by
Kathy Sullivan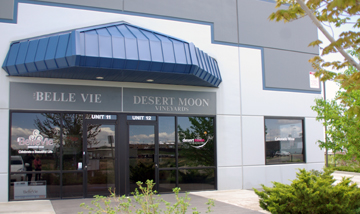 Summary: Desert Moon Vineyards' winery and tasting room is located south of Denver in Englewood, Colorado. The facility is in a high-class industrial center.
The winery is in an easy to find industrial park. A blue awning style overhang adds to the visual sight of the winery. Just inside the door three small tables with chairs provides a nice spot to taste and enjoy wines. Large windows provide plenty of light. The tasting counter is curved and covered with travertine marble. The tasting room offers a nice assortment of carefully selected wine-related giftware.
The next section of the building has more chairs and tables with oak barrels surrounding the area. The third section of the facility is the winemaking section.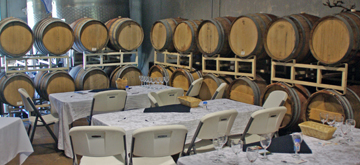 Desert Moon Vineyards owns and maintains 10 acres of grapevines in Palisade, Colorado. Grape varieties include Merlot, Cabernet Sauvignon and Syrah. The vineyards are located at an elevation of 4,700 feet. Most white wine grapes are sourced from other Colorado vineyards. Desert Moon Vineyards is located with the Grand Mesa to the east of the property. At night in the vineyards, the moon and stars are vivid. A nighttime full moon rising over the vineyards formed an impressive experience resulting in naming the vineyard Desert Moon.
We met owner and winemaker, Debra Ray, in the winery/tasting room. Debra has spent 25 years in the software industry and is an avid gardener. She has relatives in Iowa with a farm and loved to visit the farm for its peace. Debra is passionate about wine and began making wine at home in her laundry room.
The owners decided to locate the winery in Englewood near Denver, where there are 2.5 million residents. Currently the winery produces 1,000 cases of wine. Most wine is sold to restaurants and liquor stores.
Events
Small private events and public events take place at the Englewood location. Events to consider having at the winery include rehearsal dinners, birthday parties and anniversaries. Wine education classes also are available at the winery.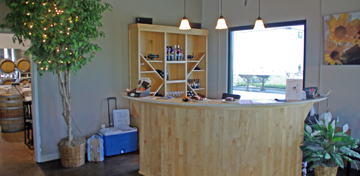 Wines
Wines are tasted in the front of the facility in a brightly lit room. Riesling 2009 was produced with grapes sourced in Colorado. The aroma was floral and the taste offered pear, apple and a hint of peach. The finish was crisp and fruity. Shiver was an ice-style Riesling. Tangerine was on the nose. The taste had orange nuances with a touch of apricot. The crisp finish had orange citrus nuances.
Enjoy a visit to Desert Moon Vineyards where you will discover a passionate winemaker and owner. Be sure to taste Shiver, a delightful ice wine style dessert wine.
Desert Moon Vineyards
12656 East Jamison Place, Unit 12
Englewood, Colorado 80112
GPS: N39º 34.587' W104º 50.500'
---
Visit this Colorado lodging facility that partners with Wine Trail Traveler.
| | | | |
| --- | --- | --- | --- |
| | | | |
| | Spero Winery | Wine Country Inn | |
| | | | |