Ruby Trust Cellars
by
Kathy Sullivan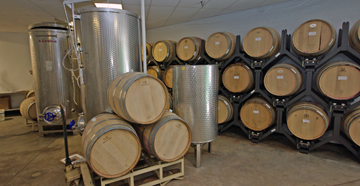 Summary: Ruby Trust Cellars is a new winery in Castle Pines, Colorado not far from Denver. This boutique winery is already making a name for itself among restaurants and fine wine shops in the Denver area. Ruby Trust Cellars does not have a tasting room.
Owner, Ray Bruening and winemaker, Branden Dodds have teamed together as a formidable force in Colorado's wine industry. Ray's winemaking philosophy is to "Let the wines do the talking." In April at the Drink Local Wine Conference in Denver, Colorado, the winery won a coveted award as the best red wine during the Twitter Taste-Off.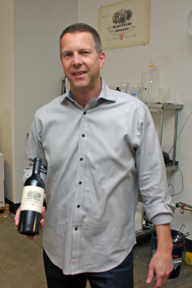 Ray Bruening has a passion for quality wine. After visiting a local wine shop and returning again and again to talk with the owner, Ray decided to start a winery. The location is a kitchen portion of a building that was originally a restaurant. The winery has an up-to-date barrel system that needs less space. The oak barrels are on rollers that can be rolled out to enable the winemaker to reach the bunge hole making it easier and more space efficient.
At Ruby Trust Cellars, the focus is on producing quality wines from grapes sourced on Colorado's Western Slope. Bruening set up the Ruby Trust winery site on the east side of the mountains because that is where customers are located. Wines were first produced from the 2009 harvest. Once the grapes reach the winery, they are hand sorted and then crushed or destemmed. Wines are barrel aged between 15 and 22 months depending on the grape variety.
Current winemaking concentrates on red wine production. All wines are available through distribution at restaurants and fine wine shops located from Colorado Springs to the Boulder region.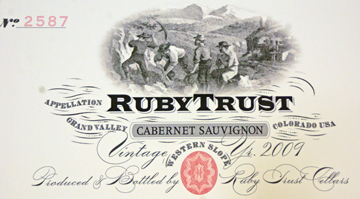 Ray wanted to name the winery after something that denoted Colorado. Ouray Company owned Ruby Trust an old silver mine. The mine was surrounded by mountains at a 14,000-foot elevation. Dirt roads pass the old mine. When drilling in the mine, water was added to cool the tools. The minerals in the ground turned the water a ruby color, thus the name for the mine.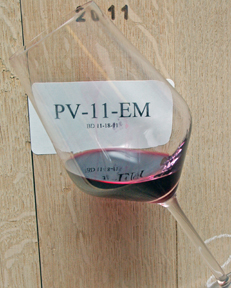 Wines
Gun Slinger 2009 was a blend of Syrah, Cabernet Franc and Petit Verdot. This dark ruby wine offered layers of dark fruit and spice. The taste had blackberry, black raspberry and black cherry notes. The finish had tannins and was crisp with fruit and a touch of pepper. The 2009 vintage is sold out. Gun Slinger 2010, a dark ruby wine, was a blend of Syrah, Cabernet Franc and Petit Verdot. The aroma was dark fruit forward with a hint of spice. The taste had notes of blackberries, blueberries and black cherries. The crisp finish had tannins and was fruity with a touch of spice. The Smuggler 2010 was a blend of Cabernet Franc, Cabernet Sauvignon, Petit Verdot and Syrah. This wine was also dark ruby. The nose offered pepper and fruit notes. Layers of dark fruit notes were on the taste. The finish with tannins was peppery and fruity. A suggested pairing was grilled steak with shallots sautéed and Chanterelles. Aging in American oak, Petit Verdot had an herbal aroma. The taste was very fruity and the wine finished with a nice fruitiness.
Ruby Trust Cellars has made significant progress in developing its wine program since beginning in 2009. To enjoy a Ruby Trust Cellars wine, ask for it at your favorite Colorado restaurant.
Ruby Trust Cellars
864 W. Happy Canyon Rd. #120
Castle Rock, Colorado 80108
GPS: N39º 25.578' W104º 54.127'
---
Visit this Colorado lodging facility that partners with Wine Trail Traveler.
| | | | |
| --- | --- | --- | --- |
| | | | |
| | Spero Winery | Wine Country Inn | |
| | | | |