D'Vine Wine Silverthorne
by
Terry Sullivan
Summary: D'Vine Wine Silverthorne is a franchise operated winery experience. Wineries are built in several states. Quality juice is purchased from D'Vine Wine and the wine is produced on the premises of the individual wineries. The consumer can visit the wineries and taste the wines, purchase wine by the glass or bottle, and make their own wine. Space can be rented for parties and meetings. Gift items are available for sale.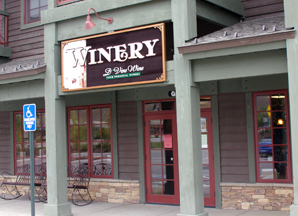 D'Vine Wine does not have vineyards. They purchase grapes from vineyards in California that can provide consistently good grapes. D'Vine Wine, the parent company, makes the juice and ships it to their franchises upon request. D'Vine Wine sets the quality standards. Of particular interest is the opportunity for interested consumers to make their own wine at the franchise locations. The winemaker at each of the franchise wineries will guide people through the initial steps of fermentation. Then they will oversee your wine as it ferments and ages. When it is ready for bottling, you will be invited back to experience bottling and labeling your wine. People have the opportunity to be involved in as much or as little of the winemaking process as they would like. This is an alternative for people who would like to produce wine but can't give it the day-to-day attention it needs.
The franchise-operated wineries have several locations throughout Texas. D'Vine Wine also operates wineries in Colorado, Missouri and plans to open wineries in Kansas and Oklahoma. As of summer 2008 there were seventeen wineries in the company portfolio. In the future there may be wineries opening in Missouri, Arizona and Florida. There are also plans to open more tasting rooms in Colorado.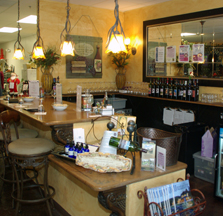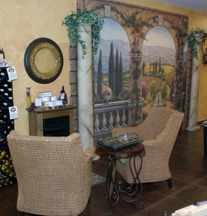 We visited the D'Vine winery located in Silverthorne, Colorado. Ross Meriwether started the franchise in 2003. He received training as a winemaker from D'Vine Wine. Ross sees winemakers who have D'Vine Wine franchises as blenders. They have available many different juices that they can turn into wines and blend. Now Ross' daughter is making many of the wines and enjoys winemaking.
The winery is located in a small shopping center just minutes from Interstate 70. The tasting room area is inviting with views of Tuscan-like pictures. There are comfortable seating areas as well as tables and chairs. The tasting counter has stools to sit on while enjoying the wine. This area also serves as an event room. Different events are held through the year and the community likes holding their events at the winery.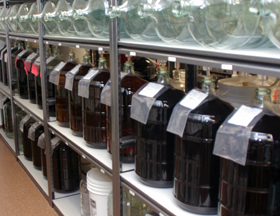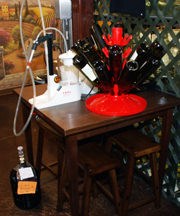 Behind the tasting room is an area where wine is fermented and aged in carboys. Just in front of this area preparations were made for a bottling party. Wine was ready to be bottled for one of their customers. A bottle filler and corker was set up for the customer to bottle, cork and label his wine. There is always a celebration for people who make their own wine at bottling time. The winery bottles 23,000 bottles, about 1900 cases, of wine each year. Ten percent of this production is made by people who make their own wine.
We tasted several of the wines. Ross related that when he first made wine he followed the recipes provided by D'Vine Wine. Now all his wines follow recipes he created. The Bronco Blanc is a blend of Chardonnay, Sauvignon Blanc and Chenin Blanc. There was a citrus aroma with apple and red grapefruit taste. The wine was crisp with a citrus aftertaste. The Pinot Grigio was crisp and light with a refreshing citrus aroma and taste. The Chardonnay was slightly sweet with an oak and citrus aroma and taste. It had a long fruit aftertaste.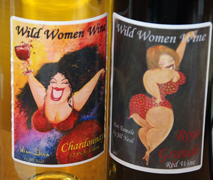 The Chardonnay and Rojo Grande wines are in a series of wines labeled Wild Women Wine. Wine labels were designed by artist Jill Neal.
The Rojo Grande was made from Tempranillo grapes. It offered a fruity taste and aroma with hints of blackberries, black cherries and figs. The Continental D'Vide was a Cabernet Sauvignon and Merlot blend. The berry aroma and taste was reminiscent of a fruit salad made from several berries. There were mild tannins on the crisp finish. The Red Tango was made from Malbec grapes. This very fruity wine offered hints of plums. All the wines tasted were light and refreshing. These everyday wines would pair well with many foods.
Stop by the D'Vine Wine winery in Silverthorne. The tasting room is pleasant and offers a wonderful venue for meetings. If you have the time, you can become a winemaker and participate in the winemaking process from fermentation to bottling.
D'Vine Wine Silverthorne
358 Blue River Parkway
Silverthorne, Colorado 80498
GPS: N 39° 37.918' W106° 04.437'
---
Visit this Colorado lodging facility that partners with Wine Trail Traveler.
| | | | |
| --- | --- | --- | --- |
| | | | |
| | Spero Winery | Wine Country Inn | |
| | | | |