Black Forest Meadery
by
Kathy Sullivan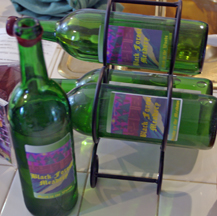 Summary: The owners of Black Forest Meadery produce food friendly meads. The Two Brothers Vineyards, named after the owners two sons, were planted recently. Eventually the fruit produced will be used for making wine.
Adam and Shawna Shapiro, the owners and winemakers of Black Forest Meadery, are an enthusiastic couple living in the outskirts of Colorado Springs. They planted vineyards at a high elevation, some reaching 7,500 feet. Two Brothers Vineyards were named for their two sons while the meadery was named for the Black Forest area where they are located.
Adam and Shawna fell in love with wine while studying in Spain. They began making their own wine in 2007. They also planted grapevines beginning with a very few as an experiment. They began by planting Cabernet Franc, Merlot and Gewurztraminer, Pinot Noir and Pinot Gris. Unfortunately the Cabernet Franc did not survive. Today they have 1,000 grapevines. Vineyards are treated organically and only natural fertilizer is used. Weeds are a problem in the vineyards and the Shapiros bought sheep to help keep the weeds down. Unfortunately the sheep also like eating the vines.
The couple owns five acres in the Black Forest area of Colorado Springs where they live and have planted one acre with vineyards. Adam and Shawna noted the difficulties of growing grapes in their location. Elements to contend with include the high altitude, harsh sunshine, deer and lack of water. Experimentation to deal with these issues is a continuing process. Some of the vines are climbing trees, something that has a long history for grape growers in Europe. The vines are very young but Adam and Shawna are hopeful that the vines will grow and provide grapes.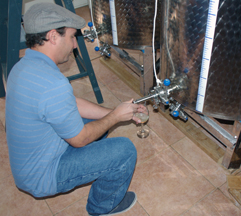 About four years ago, the Shapiros discovered mead. Friends told them that while waiting for their vines to grow, they could produce mead. Their goal was to create meads that are food friendly. Mead is sourced from Colorado apiaries. They like to vary their meads by the variety of honey including clover and a wild flower honey that is mostly from alfalfa. Adam noted that many types of mead are available and was inspired to create rose mead from wild rose hips growing on his property. Unfortunately, the rose mead was not bottled at the time of our visit.
The Shapiros are enthusiastic about creating wines and meads. Currently they are creating 100 cases but certainly want to grow. However, they expressed the desire to be a boutique winery.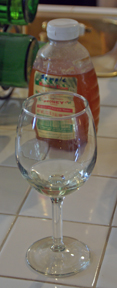 Meads
Forest Mead was a light straw color produced with wild flower honey. Floral notes were on the aroma and taste. The mead had a five percent alcohol level. It was good chilled. With the very low alcohol level, the mead is a good sipping wine.

Mead in the Woods, also made with wild flower honey, was aged in oak. The mead was a light straw color. The taste was floral with oak hints. The back label noted, "Best enjoyed with friends and quality sunsets."
Melody in the Meadows was clear with a straw color hue. The aroma and taste was of floral notes specifically honeysuckle and grass. The mead was crisp with a perceived sweetness on the finish.
A tasting of a Mead in the Woods still in the tank showed a mead that was silky and sweet with honeysuckle notes that dried on the finish.
Mead tastings can be enjoyed at the Black Forest Meadery tasting room or at some of the Colorado wine festivals. Keep an eye on this meadery, and see what they will produce as their vineyards began to bear grapes.
Black Forest Meadery
6420 Burrows Rd.
Colorado Springs, Colorado 80908

GPS: N38º 59.975' W104º 42.415'
---
Visit this Colorado lodging facility that partners with Wine Trail Traveler.
| | | | |
| --- | --- | --- | --- |
| | | | |
| | Spero Winery | Wine Country Inn | |
| | | | |